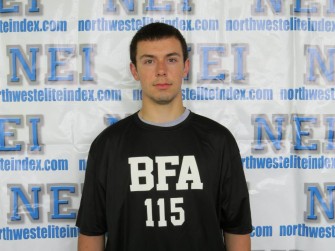 The Mead Panthers are fresh off a (10-2) season where they featured some of the top talent in the region. Danny Mattingly, Langston Ward, and Davian Barlow were three of the better players to come out of the Northwest in recent years, with Mattingly projecting as a future NFL athlete, now at Oregon.
The GSL power loses some elite kids, but they always produce consistent talent. This year's group will be led by quarterback/safety Matt Wetzel (6-1 190 Sr.) and multi D1 offer lineman Jonah Jordan (6-2 270 Sr.). Both are quality kids on and off the field and provide this year's Panther team with the leadership needed to have a successful season.
Jordan has offers from Air Force, Army, and Eastern Washington and will be a three year all league starter. Jonah is fundamentally better then most and does the necessary things off the field to be dominant on it.
Wetzel is the ideal leader and the type of kid you want to build around. His play at Safety last season was impressive and his 3.92 GPA with honors classes speaks to his upside. He says, "My personal goals and my team goals are one in the same… We want to win a GSL championship for a third consecutive year and make a playoff run similar to the one we made last year."
Referencing his teammates he says, "Obviously we'll look to run behind Jonah who will anchor the O-line as a third year starter… He'll have some help from the efforts of guys like Harrison Fine, Jordan Anderson, Eli Davis, and Nick Russell who all look like they should have great seasons."
The skill kids will have to step up this season as they have some big shoes to fill. Wetzel says, "Running the ball, we hope for big numbers from Luke Hilmes at tailback, along with Garrett Norris and Braden Barranco at wings." He continued, "Defensively, AJ Layton at rover and Sam Johnson at OLB should put up some solid numbers for us, with a big D-line and a quick secondary making our defense tough to face this season."
Wetzel will be courted by some of the more high end academic schools from across the country at all levels. Jordan has some outstanding collegiate options and will need to have a monster season up front for the Panthers to thrive. Mead is (19-4) over the last two seasons and is looking to continue its winning ways. We wish Sean Carty and his group continued success as they are consistently one of the better teams in Washington.