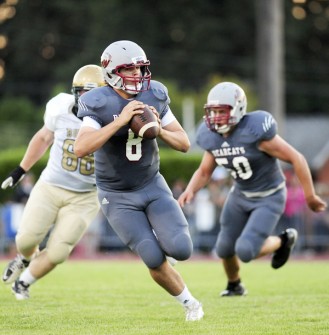 You would think that earning All-League honors in three sports, All-Area recognition in football, and a State Championship and 2nd Team All-State honors in baseball would be a pretty good resumé for most players entering their senior year of high school – one that would leave a player pretty content with what they had accomplished in their high school athletic career.
But Tanner Gueller is not like most players.
The 6-foot-3, 225-pound 2nd-year quarterback has put together one of the most impressive individual off-seasons in the state of Washington, as he prepares to lead a Chehalis (Wash.) W.F. West Bearcat team that will be looking to contend for an Evergreen Conference title and a 2A State Championship this fall.
Many athletes are driven by different motivators, for Gueller, it's about not being complacent with past accomplishments. "I'm very proud of what I have been able to accomplish, but I believe there is always room for incredible amounts of improvement," Gueller tells NEI. "I didn't want to go out this year and be the same guy I was last year."
The "guy he was last year" threw for 1,613 yards 21 TD's and added another 563 yards and 3 TD's on the ground while leading W.F. West to a 6-4 record.
"The way last football season ended really left a bad taste in all of our guys' mouths, especially my own, so that also gives you some extra motivation to improve as well," he adds.
Gueller has spent countless hours honing his skills with QB coaches Taylor Barton and Alex Brink, and the work has paid dividends, as Gueller climbed the rankings to become the state's No. 4 ranked QB.
He isn't the only Bearcat who has put in tremendous amounts of work this summer, as the team conducted voluntary weight workouts at 6:30am 4 days-a-week, with virtually the whole team attending regularly. Additionally, whenever Gueller was getting QB training in, WR's Bryan Moon and Alex Cox and TE Bowe McKay were there with him either running routes or getting their own training in with WSU-great Mike Bush.
Another area in which Gueller, who holds a 3.2 GPA, has made a real concentrated effort this offseason is as a leader.
"I believe it's my responsibility as the QB to be best leader I can be for my teammates. It starts with leading by example and thats what I committed to doing this summer," he says. "I love football and it's and what I've always wanted to do at the next level, so this offseason I dedicated myself to doing everything it takes to achieve that goal."
Gueller's excitement about the upcoming season is evident. Ask him about his offensive line, and he's quick to tell you about returning starters Nick Lund, Anthony Painter and Dakota White. Ask him about skill players, and he praises RB Dylan Verderico and returning all-league DB Toby Johnson, along with Moon, Cox and McKay.
"We have goals we want to accomplish this season, and we understand the process that to achieve our goals we have to take things one practice at a time," he says.
When all is said and done, Gueller will have had one of the more decorated athletic careers at W.F. West, but to him, he doesn't want his legacy to be about trophies or awards. "I just want to be known as team-first guy who did everything he possibly could to help his team," he says.
It's safe to say that he's made a lot of groundwork towards leaving that legacy.