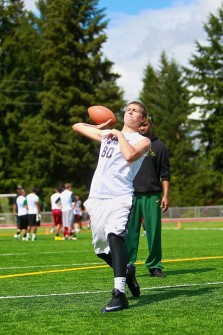 Last season, Bremerton head coach Nate Gillam ended nearly two decades of frustration, taking the Knights to the state playoffs with a 9-2 record and an Olympic League title.
Now the question is…can they sustain that momentum?
By the looks of it, Gillam and his staff have the makings of what could be the top team on the Kitsap Penninsula this year with a big offensive and defensive line, some playmakers at the skill spots and enough experience at key positions to help lead the way to another league title.
"We have had great buy-in with the program since the end of the season," Gillam told Northwest Elite Index. "We've had over 30 guys working out during the summer and since I've been here it's never been that good. We want full participation obviously, but as we continue to build this, I think that will come. Right now though, we've had a great offseason and we're all pretty excited to see how good we can really be."
Leading the way for the Knights as they try to return to post-season play is a huge, experienced offensive line that will be counted on to help ease the transition from now graduated quarterback Mikey Lawrence who was the Olympic League Player of the Year to a first-time starter.
"Our line has two seniors, two juniors and a sophomore and pretty much all of them played a lot last year," Gillam said. "At tackle we have senior Skyler Mullins (6-4, 240) and junior Taylor Saylor (6-4, 230). Those guys are just great football players and they really go out and just pound people. Saylor is a great athlete (he's a very good baseball player) and he's naturally strong. He could be the best guy we've had here in a long time. He'll play defensive end for us too.
"At guard we have Terrick Houston-Sims (6-3, 250) who is a senior and sophomore Keith Moore (6-4, 230) and then at center we have a junior Tim Riders (6-0, 240) and all three of those guys are just grind-it-out guys and they will really get after you. Riders is a great leader and that's why he's in there at center and he's super quick and very smart."
One other thing that sets the Knights apart from many other prep programs is that Gillam feels they have at least two more players who they feel will be able to step in and play line as well in senior Robert Hill (6-4, 240) and a freshman, Zach Cantrall (6-4, 200) who Gillam thinks could be a big-time player in a few years.
In the offensive backfield, the Knights lost Lawrence and Andrew Shadle to graduation, but in their place, Gillam thinks he might have some very solid replacements who could wind up being better, but in different ways.
"It's hard to replace what Mikey was able to do because he was such a good athlete and he put up huge numbers running as well as throwing, but we like what we have in Connor Mahoney (6-3, 180). As a sophomore last year, he probably could have started for us and probably several other schools, but he had to wait his turn behind Mikey and now he gets his chance. He's ahead of Mikey as a passer and he can move around a little, so while I think we can run some read-zone stuff, more often than not he will be a straight drop-back guy and we'll put in a few wrinkles for him. He went to the Portland State camp and did really well there and he hit a few other camps too and I think that will only help him down the road."
Next to Mahony in the backfield will be junior tailback Calvin Cardwell (5-9, 170).
"Whereas Andrew was more of a bruiser who would punish you, Cardwell is a guy who will make you miss in the open-field and when he gets into the clear he can run away from you," Gillam said.
At receiver, the Knights will feature sophomore Christian Laumen (6-4, 190) who will play as a standup tight end and should be able to put up some big numbers this year.
Along the defensive line, Gillam is just as excited about what his charges can do there as he is on offense.
"We'll play Taylor and Moore as our ends and both of those guys have great futures there," Gillam said. "They are so young and talented, it's pretty exciting.
"Inside, Riders and Houston-Sims will be our guys and then backing those guys up will be Mullins and Hill and we'll play some more guys, but those will be our main five or six."
Carwell will be a playmaker at one of the linebacker with sophomore Ryan Aaro (6-0, 200) who Gillam said is raw, but has plenty of potential.
The secondary will be led by cornerback Ty Haley (5-10, 175) and free safety Buddy Gaines (5-8, 165), two juniors with plenty of speed and instincts and who can play multiple positions.
"I like what we have coming back and I feel pretty good about where we are, but now that we've gotten a taste of what it's like to play in the post-season, we want to take that next step," Gillam said. "We've worked hard to build the program up and get to where we want to be and now is when it really starts to get fun."
Bremerton will kickoff the season with a game on the road against Foster on September 6th.