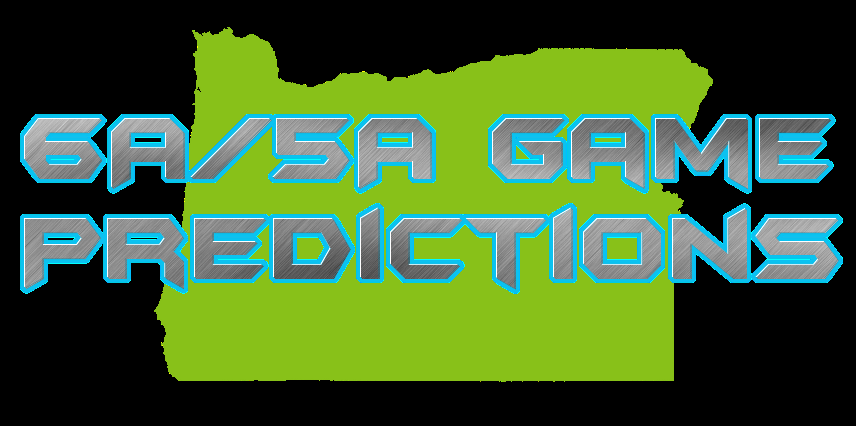 Every year its fun to make predictions on a weekly basis within the state of Oregon. Each week I will post my picks, all in good fun, with a weekly breakdown and analysis of the top 10.
Last year I hit on 84.7% percent of my picks overall and over 90% on Top 10 games. Feel free to chime in and make your predictions as well. You may send any picks JordanPayton2808@gmail.com as we are very excited to get the 2013 season underway.
Jordan Johnson
6A Top 10
#4 Sheldon 24 @ Co #1 Southridge 29
The Skyhawks are looking for revenge after losing twice to the state champs last year. One of the state's top Sr QB's AJ Woodin will throw to the NW's top receiver, Arizona commit Jordan Morgan (6-2 200 Sr.), against three D1 secondary kids for the Irish (Yadie Dunmore Sr, Mitch Herbert Sr, Kellen Strahm Jr)
This game will be telling as Southridge returns starters up front on both sides of the ball led by Tyler Cox (6-3 260) and Willie Eteaki (6-2 345 Sr. DT). Sheldon loses Oregon POY Connor Strahm and a phenomenal senior group so it will be tough to compete up front, but 6-4 230 pound DE Liam Talty is a player.
Southridge is loaded on both sides of the ball with 2 of the state's top 5 backs returning in Devin Martinez (Sr. 5-8 190) and Jake Pruit (Sr. 6-3 215). If they can stay healthy and focused they are the state title favorite.
#6 Lake Oswego 20 @ Co #1 Jesuit 42
Lake O is always good, but they lose a lot. Jesuit returns some of the top skill kids in the region/country (Joey Alfieri LB/FB, Henry Mondeaux Sr. TE/OLB, Trent Werner Sr. Slot/S, Chase Morrison Jr. RB/CB), but graduate 4 D1 offensive lineman and will be inexperienced up front. I for see the Crusaders experience being to much for Lake O.
Grant 14 @ #3 Central Catholic 38
The Rams will be without Oregon's #1 ranked QB Aidan Wilder, but they have a ridiculous amount of talent on both sides of the ball. Holden Oglessbee is a very capable backup, but look for the Rams to run up and down the field with Junior standout Cam Scarlett (6-2 205) and Oregon St bound Ryan Nall (6-3 235 Sr. ) carrying the rock.
#7 Canby 19 @ #5 Tigard 35
The Cougars feature one of there best teams in years, with Conference POY Candidate Sam Bodine (Sr. LB/FB) and a veteran line averaging 6-3 275 across the board.
That said, Tigard is legit and extremely fast. Manu Rasmussen is one of the best players in Oregon, and will be a Conference POY favorite on both sides of the ball. The combination of Manu and one of the nation's top Fullback/LB's AJ Hotchkins (6-0 235 Sr.) will be tough for anyone to stop.
Coeur d'Alene, ID 34 @ #8 West Linn 23
I like Mike Fanger's group as I think the Lions will have a good year. Coeur d'Alene is the real deal, but Hayden Coppedge is a winner and a D1 projected QB that's good at whatever he does.
Cam Schmitz is a difference maker on D, and is back and healthy. Line play will be key for West Linn as three seniors, Noah Bagley, Ellis Eaton and Isaiah Molden will have to play lights out all year.
Grants Pass 16 @ #9 Clackamas 42
The Cavs have one of their best senior classes in school history, led by 6-7 270 #1 ranked OL David Reese, 6-4 250 pound bruiser and D1 offer kid (Montana) Brody Haehlen, and one of the state's leading tacklers in Zach Farnes.
Add in one of the state's best backs in Daniel Sherrell (2100 yds, 27 Tds) and you have problems for GP. The Cavemen are decent, but it will be tough.
#10 Sunset 31 @ David Douglas 16
The Apollos are a bubble top 10 team, but have some legit skill kids. Josh Brown (6-6 Sr. TE/DE) is one of the top two way threats in Oregon and Willy Pflug has proven early in his career that he knows how to win.
David Douglas only returns 6 or 7 starters and will have trouble stopping a Faustin Riley led air attack that will probably utilize 6-4 WR Jeff Bieber. The Scots will turn to Andre Reasno again after he went for 15 Tds last season.
| | | | | |
| --- | --- | --- | --- | --- |
| Score | Visitor | | Home | Score |
| 20 | West Salem | @ | South Medford | 29 |
| 14 | Century | @ | Beaverton | 37 |
| 24 | McMinnville | @ | Centennial | 26 |
| 34 | Tualatin | @ | Crater | 13 |
| 27 | Dallas (5A) | @ | Glencoe | 25 |
| 32 | Oregon City | @ | Gresham | 14 |
| 27 | Wilson (5A) | @ | Lincoln | 31 |
| 24 | North Medford | @ | McNary | 33 |
| 20 | North Salem | @ | Newberg | 21 |
| 42 | Lakeridge | @ | Reynolds | 20 |
| 35 | Churchill (5A) | @ | South Eugene | 14 |
| 23 | Roseburg | @ | South Salem | 24 |
| 20 | Aloha | @ | Thurston | 27 |
| 20 | Barlow | @ | Westview | 22 |
5A Top 10
#1 Sherwood 68 @ Milwaukie 6
The Bowmen are loaded once again and will be tough for anyone to beat. Scott Skurdahl (Sr. LB) , Keegan Lawrence. ATH/DB), Mickey Shaefer (Sr. RB), Zak Taylor (Jr. LB) and 6-10 (Sr. DE) Jordan Kurahara are just a few of the state's top 5a players as they will be dominant. The Mustangs lose everyone after an impressive 2012 season and will most likely get blasted.
#4 Marist 22 @ #2 West Albany 32
One of the top 5a games of the year. Frank Geske is a phenomenal coach but it would be tough for anyone to makeup for the losses of Kamerun Smith, Austin Baird, and Josh Harper.
West Albany returns double digit all league athletes, and Oregon Gatorade POY Jake Lacoste who will carry the ball 35+ times and most likely go for 250+. Even against Marist.
#6 Springfield 12 @ #3 Silverton 28
The other top game state wide. The Miller's return a very talented group as head coach Dave Heuberger has proved to be a game changer for the Eugene based program.
Sophomore starting and returning QB Trever Watson will be tested against last years stingiest defense in the Foxes. Matt Craig and Max Wilson will lead the D, while one of the state's top juniors returns in 1st team all league QB Cole Chandler. The John Mannion led Silverton group will be tough for anyone to beat and are a legit state title contender.
Lebanon 14 @ #5 Mountain View 30
Head coach Brian Crum is a players coach and everyone wants to play for him. The Cougars have equally talented Junior and senior classes, and 3-4 guys that could start and do well at QB.
Lebanon is never a push over as they are always decent, but Mt View will be one of the better teams in the state at the 5a level.
Scappoose 20 @ #7 Roosevelt 38
The Roughriders squeaked out a 48-41 win in last season's opener against the 4a power. This year's Roosevelt team could be the best group in school history with 4 D1 offer kids and counting under head coach Christain Swain.
Junior's Kimane Domena and Billy Nelson both hold D1 offers with Domena accounting for 35 Td's last season (19 passing, 16 rushing). D lineman Sione Tauemoe 'anga and Semise Kofe are both double digit D1 offer athletes and will lead a dominant line, with 3 year all league starter James Schell- Buchanan returning in the secondary.
#8 Crescent Valley 19 @ Nordhoff, CA 42
I respect the fact that Coach Scott Sanders lines up elite non league competition. The Raiders will travel and play CIF champ Nordhoff who went (13-1) last season.
Oregon St commit Tanner Sanders (6-5 200 Sr. QB) is a POY candidate and has talent all around him, but this will be a VERY tough contest.
Sprague 19 @ #9 Wilsonville 27
Both of these teams lose a lot from last season, but Sprague has to completely reload, other then Oregon #1 ranked junior lineman Levi Long.
Wilsonville brings back two of the NWOC's top Defensive players in Cooper Whittaker and Parker Nielsen while Derek Sunkle could be the breakout player within the conference. Head coach Adam Guenther and assistant Greg Barton are two of the best football minds anywhere.
Putnam 18 @ #10 Hermiston 36
The Bulldogs bring back a host of all league athletes, led by junior Chase Knutz at QB. They feature two of the better backs at the 5a level in Trenton Anteau (Sr.RB) and Cory Adams (Jr.RB).
Head coach Mark Hodges has completely turned around the program, but will get a tough test from a young and talented Putnam team led by another phenomenal football mind in Brad Lewman.
Winners in Bold
| | | |
| --- | --- | --- |
| Visitor | @ | Home |
| Forrest Grove | @ | Benson |
| McKay | @ | South Albany |
| Klamath (4A) | @ | Ashland |
| Pendleton | @ | Bend |
| St. Helens | @ | Cleveland |
| Willamette | @ | Corvallis |
| Hillsboro | @ | Liberty |
| The Dalles | @ | Madison |
| Eagle Point | @ | Mazama (4A) |
| Summit | @ | North Eugene |
| Franklin | @ | Parkrose |
| Hood River | @ | Sandy |
| Redmond | @ | Sweet Home (4A) |
| Jefferson | @ | Woodburn |