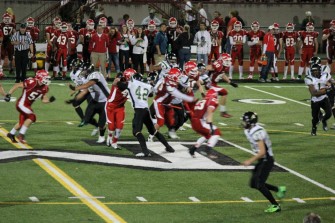 The football program at Marysville (Wash.) Getchell is entering its third season of competition, and after posting a 5-5 record in 2012, the Chargers are looking to take another step forward this fall towards becoming a contender in the Wesco North 3A.
One player who has become not only a key component for Getchell, but also a major-college prospect is defensive end John Clark.
The 6-foot-3, 250 pound Clark was a 2nd Team All-League performer last season, and this summer picked up his first Division 1 offer from the Pac-12's Utah Utes.
"The experience at Utah's camp was great," Clark told NEI. "I love the facilities and the campus. I earned D-Line MVP honors at camp, but right now they haven't decided if they like me better at defensive end or at tight end."
Clark followed the Utah camp up by attending Eastern Washington's team camp with Getchell, where he also took home D-Line MVP recognition and the Chargers really came together as a team.
MG as a whole has been hard at work this offseason, spending considerable amounts of time in the weight room. "I feel like overall we have had a productive offseason," Clark says. "We have opportunities to get work in daily, and I know personally I have really noticed a difference."
"One of our coaches is working on a degree as a personal trainer, his name is JJ Gamalinda, and over the offseason he created a set of workouts along with a diet for me and it really clicked."
The work Clark has been putting in this offseason hasn't gone unnoticed by his coaches and teammates either, as he was recently selected as a team captain for the upcoming season.
"He is great at physically leading the team. He can always be counted on to do his job, and lead the defense," QB Michael Cameron says of Clark. "He is also a huge target on offense, and I love throwing the ball to him. He is looking to have a fantastic year and is a key to both our offense and defense, and now as a captain as well."
Clark understands the accountability that comes with his new captain role, but jokes that he's most excited to call "heads or tails" during the coin toss.
The Chargers' performance as just a 2nd year program last season came as a surprise to some, and not the team is focused on dealing with elevated expectations, and hopefully earning a playoff berth in the process.
"Nobody expected us to go 5-5 last year or make an impact, so the expectations for this season are even higher," Clark says. "The ball is in our court, it's really up to us on how this season goes."
Personally, Clark hopes to earn 1st Team All-League honors this time around, and possibly do it on both sides of the ball.
We wish John, Michael and all their Charger teammates luck this fall as they continue to build the Marysville Getchell program into a contender.