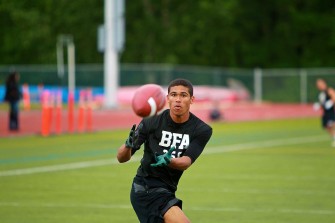 As Curt Kramme looks onto the Lynden practice field, you can tell he's filled with excitement as he instructs his 2013 Lions. Sure, the team lost 19 of their 22 starters from last season, but that doesn't matter to the 21-year Lions' head coach.
Lynden enters this season with two consecutive 2A state championships under their belts, but they will now move forward without the heart and soul of last year's squad.
Quarterback Josh Kraght (2,759 yards and 31 TDs last season), who is now at Portland State, will no longer be throwing deep bombs down the field and standout wide receiver Zach Vis won't be hauling in incredible receptions. The team also lost OL Matt Meyer (Washington State) and standout DE/LB Caleb Newman (Army).
"Next guy in" has become the mentality for the boys from Lynden and although it may not seem like it, this year's team does have plenty of experience.
"The thing about last year is we were up 40 points in 10 of our 14 games," Kramme said. "Because of that, a lot of our players saw plenty of action in the second half of those games and had the experience of practicing against one of the best teams to come out of Whatcom County in a long time."
One of the biggest questions this offseason for Lynden was who would line up under center to place Kraght. That question has since been answered, though. The starting nod for the week one showdown against King's on Sept. 7 at the University of Washington's newly renovated Husky Stadium, Kramme said, will go to junior Lucas Peterson.
Peterson played wide receiver for the Lions last year, but shot up four inches during the winter months and now checks in at 6-3, 180-pounds. His size and quickness provides just what Kramme is looking for in a signal caller.
"He came out of our June camp (at Eastern Washington) as the starter," Kramme said. "Lucas is just an all-around athlete and has good hand-eye coordination. He's a tough guy who throws the ball well.
"He was very competitive at camp. He made plays when we needed them to be made and that would probably separate him right now."
Senior signal caller Cameron Wainwright will also see some time at QB for the Lions against the Knights. Wainwright, who backed up Kraght last season, will get at least one series and possibly two in the first half. Kramme added that the QB position will be evaluated at halftime and the offense will move forward from there.
Both quarterbacks will have the luxury of throwing the ball to senior wide receiver Jalani Phelps. The 6-3, 190-pounder will be the Lions' number one threat in the air this season after hauling in 30 receptions for 570 yards and seven touchdowns in 2012.
Phelps, who is being recruited by Eastern Washington, Montana and Montana State, said he's ready to step in and be a leader for not just the offense, but the entire team.
"I was voted as a team captain and that was a pretty big honor for me," he said. "I think guys on this team will look up to me a little bit because I'm a returning starter from last season who knows the program. I'm ready to be a leader for us this year for sure."
In the backfield, junior Trent Postma looks poised to lead the Lions ground game after backing up standout ball carrier Luke Christianson last season. Postma, who will also start at outside linebacker on defense, finished 2012 with 291 yards and five touchdowns.
"It feels great to be back again," Postma said. "It was an honor to back Luke up last year and gaining experience last season was big for me. My goal this year is to run as hard as I can. I know we don't have the same offensive line as we did last year, but the guys we have this year are really aggressive and I know they'll be able to get the job done."
That offensive line will have five new faces this season. Kramme said the projected line for this season is LT Bryce Sterk (6-4, 220), LG Trevor Lange (6-0, 290), C Tristan Campbell (6-0, 180), RG Caden Lair (6-2, 210) and RT Kody Ames (6-4, 210). Kramme added that hosses Derron Dunnigan, Cole Hayes and Alex Kildall are also in the mix for some playing time.
"Those guys will be key for us and we think we have a pretty good group of kids," Kramme said. "Obviously, they have to show they can show it in game circumstances, but their effort (so far in practice) has been high."
As for the rest of the team, Kramme said the focus for 2013 is simple: Focus on what's ahead and not behind.
"The biggest thing is we don't need to compare ourselves to last season (13-1)," Kramme said. "My preaching to our guys is we don't have to win by 40. We just need to win by one. The potential to be good is there and we're going to go do the best we can. Our guys are excited to play and I think we'll go out and do well."