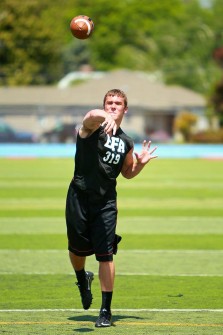 Cade Smith Jr. QB West Salem – One of the state's top ranked Jr's went off leading his team to victory at South Medford (19-14), always a tough place to come in and win…16-27 for 163 Pass yards with, 26 rushes for 170 yards and 2 Tds.
Cameron Scarlett Jr. RB Central Catholic – Scarlett and Morrison are the top 2 Jr backs in the state. Cam projects at the D1 level rushing 9 times for 214 yards and 3 Tds in CC's 55-14 win over Grant.
Chase Morrison Jr. RB Jesuit – Chase is going to have a big year. Expect him and Alfieri to go for 3000+ on the ground. Went for 217 yds on 28 carries and 2 Tds in Jesuit's 28-21 win over Lake O.
Joey Alfieri Sr. FB/LB Jesuit – Joey is dominant on both sides of the football and has the unique ability to be the best blocking back or top rusher on the field. 14 carries, 128 yards, 1 Td
Keegan Lawrence Sr. RB/S Sherwood – Keegan could end up one of Sherwood's all time single season rushing leaders; 10 carries, 241 yards, and 4 Tds …Sherwood 68 Milwaukie 19
Hayden Coppedge Sr. QB West Linn – One of the state's top 2 ranked Sr QB's.. Coppedge was 24-36 for 321 yards and 4 Td's keeping WL in the game against a tough Couer d Alene ID team losing 49-35.
Willy Pflug Jr. QB Sunset – Another top ranked Jr accounted for 4 Tds (2 rushing, 2 passing), throwing for 244 yds on 20-24 passing.
JR McLaughlin Jr. WR Lakeridge – McLaughlin returns as one of the top 3 Sr WR's in Oregon. He went for 116 yds and 3 Tds, but had two called back which would have given him 5 touchdowns and 180 yards.
4A Power Scappoose stomps 5A Roosevelt team 41-8 – The Roughriders feature a handful of D1 athletes with size so the Indians made a big statement Friday.
Daren Rodrigues Sr. Slot Tigard – Could be one of the breakout players of the year state wide. Had 7 receptions for 159 yards and 1 Td.
Jake Pruit Sr. RB Southridge – Pruit is the real deal and could play a high level of collegiate football if he wanted.. He had 18 carries for 199 yards and 1 Td.
Joseph Kuehn Sr. QB Sheldon – The kid dropped dimes all night and was one of the most impressive players week 1; 16-22 for 320 passing yards.
Stephen Marcille Jr. Slot Beaverton – Marcille is talented and impressed over the off season. He had 5 catches for 136 yards and 2 TDs in the Beavers 35-6 victory over Century.
Barlow Defense – The Bruins pitched a Shutout 14-0 against Metro League Westview. Barlow should be the most improved team in the Mt Hood.
Daniel Sherrell Sr. RB Clackamas – One of the state's top backs started off the season where he left off last year, carrying the ball 28 times for 145 yards and 3 Tds in Clack's 42-23 win over GP.
Max Wilson Sr. RB/LB Silverton – The talented two way threat scored 3 Tds and is one of the best defensive players in the state. The Silver Foxes are a 5A state title contender beating a good Springfield team 34-7.
Tyler Lunceford Sr. RB/DB Wilson – The 1st team all league DB from last season is now the featured back. He had an impressive night going for 278 yards and 2 Td's.
Kellen Strahm Jr. CB/WR, Yadie Dunmore Sr. RB/CB, Mitch Herbert Sr. ATH/S – The Sheldon secondary has 3 D1 athletes.. They will pose problems all year for anyone trying to throw.
Jonathan Boland QB Parkrose – The Bronco QB is legit accounting for 500 passing yards and 6 Td's on 19-27 passing, with a rushing TD in their 54-6 win over Franklin.
Jett Even Sr. QB Tigard – The rangy QB started the season off right going 14-20 for 285 and 3 Td's, in what is usually a run oriented offense.
Zach Standish K Barlow – The Barlow kicker accounted for a 4 FG's including a school record (50) yard kick in there 14-0 win.
Holden Catlett So. RB Lakeridge – The young RB had a breakout 1st Varsity appearance rushing 9 times for 203 yards and 2 Tds
Derek Sunkle Sr. ATH Wilsonville – Another kid who could be one of the breakout performers state wide. Sunkle had 2 Tds on 147 yards rushing.