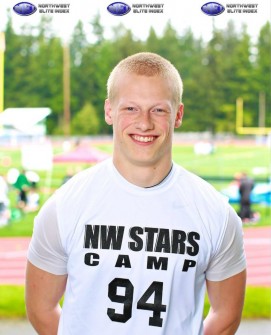 There is a lot of excitement surrounding the Olympia (Wash.) football program this fall. There are the obvious reasons, like the addition of transfer quarterback Derrick Becker from Capital, and the return of talented skill players such as Randy Jones, Mitch Fettig, and Cedar Frost.
Another player back for the Bears is 5-foot-8, 160-pound defensive back, Cooper Murphy. Murphy was a part time starter for Oly in 2012, starting five games in total at the cornerback spot where he total 15 tackles and hauled in one INT.
Murphy will see an in expanded role as a two-way starter this fall, adding slot WR to his duties, and he's got the makings of being a pretty good one.
Cooper is a player we've seen a lot of this summer, as he attended a Barton Football Academy Combine, the NW College Showcase and trained several times with WR coach Mike Bush. Murphy is an explosive player, crisp route-runner and his overall athleticism really catches your eye.
He's not the only player putting in work for the Bears this offseason, in fact, according to Murphy the team has its goals outlined and has been working hard to lay the foundation for reaching them.
"Our goal is to go undefeated in league and be Narrows League champions, go undefeated in non-league games as well, and eventually make it to state and win,' Murphy tells NEI. "As a team, we've spent the summer working out 3 times a week at 7:30 in the morning to help build team unity as well as strength and speed."
And if that wasn't enough, groups of players have been finding ways to get additional preparation in, as well.
"I have also been working out with our starting running back Cedar Frost on our own time. I am trying to prepare myself the best I can by using someone just as dedicated as me to push me to my full potential, as I continue to push him too," Murphy says.
In addition to Fetting, Frost and Jones, the Bears also feature talented linebacker Elijah Dela Cruz, a 2nd Team All-League performer from a year ago. Also linebacker Clay Markhoff is one to watch, as Murphy tells us he is one of the strongest players on the team. Another pair of skill players to keep an eye on will be Collin Courter and Brandon Komenda. From the sounds of things, the Olympia offensive line has been putting together a solid fall camp and could pave the way for a big year for backs Frost and Caden Waggoner.
This fall, for Olympia to bounce back from last season's 4-7 record and get used to hearing the name Cooper Murphy, as we think he's got a big senior season in store on both sides of the ball.