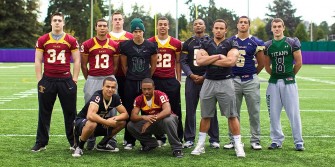 6A
1. Jesuit (1-0) W 28-21 #6 Lake Oswego – The Crusaders got a hard fought win against a Lake O team that is good regardless of how many athletes they graduate. Chase Morrison and Joey Alfieri went for close to 350 on the ground to lead the Crusaders. This week's game against Camas will be one of the best regular season contests in NW history.
Next: @ #1 Camas, WA (0-0)
2. Sheldon (1-0) W 35-15 @ #5 Southridge – The defending state champs were very impressive. QB Joseph Kuehn showed up big as the play calling was outstanding. The secondary is most likely the best in Oregon with three D1 kids (Jr. Kellen Strahm, Sr. Yadie Dunmore, Sr. Mitch Herbert)
Next: vs #3 Central Catholic (1-0)
3. Central Catholic (1-0) W 55-14 Grant – The Rams are for real. CC has the talent to win the state title but have to get passed the Mt Hood conference collapse during the playoffs. NW top Junior RB Cam Scarlett went for 214 yds and 3 Tds on 9 carries, and Holden Oglesbee did a good job filling in for Oregon top Sr QB Aidan Wilder. It was apparent early that Grant was outmatched.
Next: @ #2 Sheldon (1-0)
4. Tigard (1-0) W 38-7 Canby – The Tigers are maybe the fastest team in the state as they showed no mercy against a good Canby squad. Daren Rodrigues went off catching 7 passes for 159 yards and 2 Tds. They will most likely not be tested for the next two and a half months, as the Pacific Conference is down.
Next: @ Aloha (1-0)
5. Southridge (0-1) L 15-35 #2 Sheldon – The Skyhawks didn't play up to par and have work to do. Losing Logan Sackley to injury on the first series was brutal, and you can't turn the ball over like they did. Jake Pruit was a bright spot rushing for 199 yds and a TD on 18 carries. The Irish WR's presented a complete mismatch, but Southridge when healthy is as good as anyone.
Next: @ Tualatin (1-0)
6. Lake Oswego (0-1) L 21-28 @ #1 Jesuit – Lake Oswego is just a phenomenally run program . Nick Underwood is hands down one of the top players in the NW, as the Lakers almost pulled off the upset against a top ranked Jesuit team. Olympia will be in a for a big test.
Next: vs Olympia, WA (0-0)
7. Clackamas (1-0) W 42-23 Grants Pass – Clack took care of business against GP, with top RB Daniel Sherrell going for 145 yards and 3 Tds. TE/DE Brody Haehlen continues to toss kids, doing great work on both sides of the ball. They will be tested every week in the TRL.
Next: @ Newberg (1-0)
8. West Linn (0-1) L 35-49 #1 Coeur d'Alene, ID – The Lions played well and showed they are for real this year. Hayden Coppedge had a nice day, throwing for 4 Tds on 324 yards passing. A healthy Coppedge keeps the Lions TRL contenders.
Next: vs Grants Pass (0-1)
9. Canby (0-1) L 7-38 @ #4 Tigard – Canby got smoked and they realize they will need to make some changes moving forward. The Cougars are better then what they showed and will still be a top team.
Next: vs McNary (1-0)
10. West Salem (1-0) W 19-14 @ South Medford – Just can't say enough about Shawn Stanley and the coaching staff. Spiegelberg Stadium is a tough place to come in and win. Top Jr QB Cade Smith had one of the top performances state wide. He threw for 163 yards and a TD to #1 ranked Jr WR Keegen Hlad, while rushing for 170 more yards on 26 carries and 2 Tds.
Next: vs Thurston (0-1)
Others: Sunset (1-0), Lakeridge (1-0), South Medford (0-1), Tualatin (1-0) , McMinnville (1-0)
5A
1. Sherwood (1-0) W 68-19 @ Milwaukie – This was over early as the Bowmen are once again loaded. Keegan Lawrence went for 241 yards and 4 Tds on 10 carries. One of the best 5a games in some time will be played this week, as they host the #2 ranked Bulldogs.
Next: vs #2 West Albany (1-0)
2. West Albany (1-0) W 17-7 #4 Marist – Two of the top 5A programs state wide. Randy Nyquist and Frank Geske will have their teams vying for a state title and could see each other again.
Next: @ #1 Sherwood (1-0)
3. Silverton (1-0) W 34-7 #6 Springfield – The Foxes were dominant against a good Springfield team as Max Wilson went for 3 Tds. The D continues to go on lockdown mode against most. They were (12-0) last year before running into a buzz saw that is Sherwood.
Next: @ Bend (0-1)
4. Marist (0-1) L 7-17 @ #2 West Albany – Played the Bulldogs tough even with the departure of some big time seniors. Korey Thompson and JJ Banks (10 tackles, 1 FR) did a great job inside, as both defenses looked legit.
Next: @ Grant (0-1)
5. Mountain View (1-0) W 64-0 Lebanon – The Cougars blasted what is usually a decent Lebanon team as Mt View could be a 5A contender. They have good depth and outstanding coaching and will be around late in the season.
Next: @ 6A Century (0-1)
6. Springfield (0-1) L 7-34 @ #3 Silverton – The loss was not indicative of the team, as the Millers have 30+ seniors and a bunch of legit skill kids. The Foxes are just that good. Look for a vast improvement.
Next: vs Corvallis (0-1)
7. Crescent Valley (0-1) L 7-24 @ Nordoff, CA.– The Raiders have a bunch of talented kids and played the elite Cali school tough. If CV can put it together this will be one of the better teams in school history led by all everything athlete Tanner Sanders.
Next: @ Putnam (0-1)
8. Wilsonville (1-0) W 23-7 (6A) Sprague – The Wildcats are a different group without Shipley/Ragin/Walsh but still very talented. Derek Sunkle will be a name you hear often going for 147 yards and 2 Tds on the ground, as the D played well also.
Next: @ St Helens (1-0)
9. Hermiston (1-0) W 48-7 Putnam – This year's Bulldog team has the potential to be the best in school history. Mark Hodges has a solid group back with experience, and it showed on Friday.
Next: @ Hillsboro (1-0)
10. Ashland (1-0) W 38-0 @ (4A) Klamath – The Grizzles have looked really good thus far and are well coached. Returning Conference POY Mason Montgomery is a player.
Next: @ Lebanon (0-1)
Others: Wilson (1-0), Dallas (1-0), Parkrose (1-0)