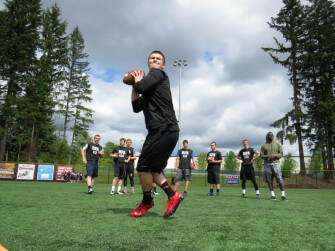 Despite going just 2-7 and 4-5 the last two seasons, Longview (Wash.) R.A. Long has the makings of what could be a pretty good football team this fall – one that should certainly contend in the Greater St. Helens 2A league.
Led by quarterback Ryan Peerboom, one of the state's better signal-callers, the Lumberjacks' passing attack could be one of the better ones in 2A. Peerboom is an efficient passer who can really spin it.
Peerboom's top target will be returning All-League wide receiver Brady Hulings. Hulings was the league leader in receiving yards last year in the GSHL.
At running back Jacob Yordy will get the bulk of the work, and he is a speedster who is capable of lining up in multiple spots, and could be in store for a huge season.
Along the offensive line, the Lumberjacks were already set to return a pretty experienced group, and then got even better when center Treshon Long moved into the area, transferring from North Thurston. Long played last season at 6-foot-2, 320-pounds and has since dropped 30 pounds, really helping his athleticism.
Joining Long on the offensive line will be a trio of three-year starters in Mitch Moe, Matt Fugleberg, and Skylen O'Brien. Second-year starter Stevie "Snacks" Smith rounds out the group, while also taking home the award for best nickname.
"Being a transfer, I am just now getting the fact that R.A. Long has been looking forward to this season for a while," Long tells NEI. "All these guys have been playing football together for since Pop Warner, and they've really made me feel welcome."
The anticipation Long is referencing surrounding this season stems from the fact that the Lumberjacks haven't won a league championship since 1995, and as Peerboom pointed out to us, that title was won with a losing record. This R.A. Long squad is looking to be the first to win a league title and post a winning record since 1968.
"We had a great offseason. There was a lot of excitement and hard working as well as some good bonding," Peerboom tells us. "We are a very close team and we take pride in that."
Along the defensive side of the ball, Long will anchor the defensive line along with Smith.
The linebacking corps will be led by Mitch Moe, one of many two-way starters for R.A. Long. Moe is big and athletic and Peerboom described him as "extremely football-smart".
Round out the defense is a talented group of players in the secondary. Payton Miller and Richard Clark will line up at the cornerback spots, while Lamar Swagerty and Brandon Ziegler will handle the safety positions.
With a group of players this talented and deep, it's not surprising to see why there is so much optimism surrounding this season for the Lumberjacks. A GSHL crown is certainly an attainable goal, and with a powerful offense, getting to the Tacoma Dome isn't out of the question as well.
Best of luck to R.A. Long when they open the season this Friday against Battle Ground – a program with several former Lumberjacks on its coaching staff.