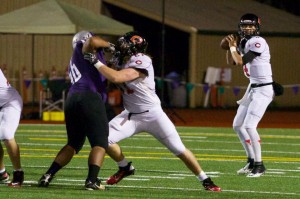 While he's preparing for his senior season, Camas (Wa.) OL Drew Clarkson continues to look forward. Last weekend he visited Washington unofficially and in two weeks he will take his first official visit.
"Right now, the only official visit I have set up for sure is Cal," Clarkson told Northwest Elite Index recently. "I will visit them on September 14th for their game against Ohio State. I'm also looking at visiting Washington State the next weekend, September 21st for their game against Idaho and then I'm probably going to visit Boise State the weekend after that (September 28th) but those two aren't officially set up yet."
As for his visit to Seattle and Husky Stadium, he said he couldn't have had a better time.
"The game was a great atmosphere," Clarkson said. "Boise State is my most recent offer, probably two weeks ago they offered me, and Washington has been on me for a while, so it was cool to see both of them in action.
"The facilities (at Washington) are amazing and something they should be really proud of because they did a great job with it. I had a great time and my family did too."
Clarkson said, aside from his most recent offer from Boise State and recent interest from Purdue, he still has the same schools after him that have been there all along.
"Cal, Washington, Washington State, Eastern Washington, Northern Colorado and Oregon State are all of my offers right now and those are the schools I am focused on," Clarkson said. "All of them like me inside at guard or center and I'm fine with that."
After a battle with testicular cancer over the offseason, Clarkson had to work very hard to get not just his strength but also his conditioning to where it needs to be in order to hold up for Camas on the edge for what he and the rest of his team hope is a championship run this fall.
"We have big plans and aspirations and I wanted to be part of that, but I had to get my health taken care of and then I had to get my strength back," Clarkson said. "My family, my friends, my teammates, my coaches, everyone has been real supportive of me and I feel like I've come through on the other side now and I'm only looking forward."
And it's a good thing he's looking ahead because on the horizon this weekend is Portland (Or.) Jesuit, one of the best teams on the West Coast, who Camas will face at home on Friday night.