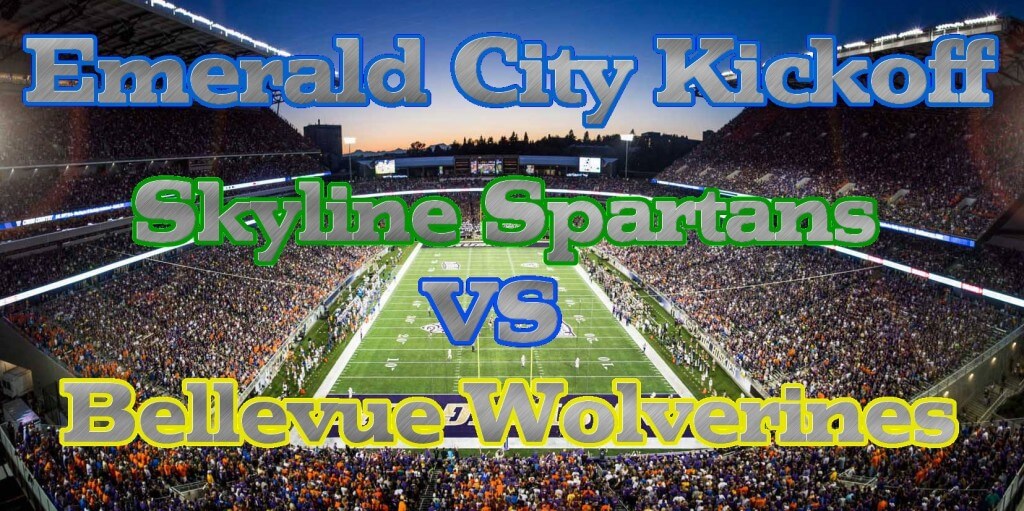 Quarterbacks
Advantage: Skyline
Skyline features highly-touted Florida transfer Kilton Anderson who is committed to South Alabama. Anderson, the state's Co-No. 1 signal-caller, is a dual-threat QB in every sense of the word, running s 4.5 40 yard dash and possessing a cannon for an arm. He also earned All-State honors last year while attending Naples (FL) High School and leading them to the State Semi-finals. Bellevue's QB Timmy Haehl is special in his own right. He replaces Jack Meggs as the starter for the Wolverines, and is an even-keeled player who will direct Bellevue's vaunted Wing-T attack. Bellevue won't be a team that ever throws much, but when they do, Haehl is more than capable of getting the job done.
Runningbacks
Advantage: Bellevue
Bellevue boasts one of the state's best overall athletes in its backfield in Budda Baker, and in their Wing-T offense, there are plenty of other backs who will get touches as well. Expect Max Richmond and Mustafa Branch to also get a good share of the workload, among others. For the Spartans, Drew Lunde and another transfer, Rashaad Boddie, will share carries, with Lunde likely getting the bulk of the work. Elijah Nichols could also see time for Skyline. The edge here goes to the Wolverines, as their backfield has both explosiveness and experience.
Wide Receivers / Tight Ends
Advantage: Skyline
Year in and year out Skyline has one of the best coached groups of receivers in the state. The Spartans replace everyone from last year's group, but with Skyline, they always seem to just reload. Senior Sam Mix will likely be a favorite target for Anderson, along with Derek Loville. Blake Sypher and Michael Cowin should also play a role. For Bellevue, although its wideouts won't get many chances, they're a talented unit that can make plays if need be. Ryan Gilbert and Jack Michael should be the guys that the Wolverine's line up at wide receiver, along with a host of other young players they feel good about. One fun thing to watch will be how good of a job the blocking from the WR's is for both teams. You'd be hard-pressed to find two teams in the state who take make pride in it.
Offensive Line
Advantage: Bellevue
The Wolverines always seem to have tons of talent in the trenches and this year is no different. They feature two of the better offensive linemen in the state in senior Morgan Richey and junior Henry Roberts – both of whom hold a number of Division 1 offers. The Bellevue linemen are true "road graders" and should be able to get good push against Skyline's talented, but undersized, defensive front. For the Spartans, their front five will feature talented interior lineman Reggie Long, along with Cam Saffle and Riley Griffiths. The Spartans are a talented group up front, but somewhat unproven and will have their hands full with Bellevue's defensive line.
Defensive Line
Advantage: Bellevue
Bellevue has what is possibly the most talented defensive line in the state. Oregon State commit Shane Bowman and Washington State commit Marcus Griffin are the types of players who Skyline will need to be aware of every down. The Wolverine D-line is able to stuff the run, as well as rush the passer, equally well. On the defensive line for Skyline, what they lack in size, they make up for in quickness. Defensive end Josh Wright and nose tackle Elliot Welnak are two of the better defensive lineman in KingCo 4A. If Welank can prove disruptive enough to command a double team most of the night, that could really go a long way in freeing up the Spartans' linebackers to make plays.
Linebackers
Advantage: Skyline (slight)
Of all the position groups, this is without a doubt the most evenly matched. The Spartans will feature talented run-stuffer Chandler Wong and Grant Evans inside, and Cam Saffle and Drew Lunde on the edges. Saffle, a junior, has all the makings of a very special player, and is already receiving interest from programs across the Pac-12 despite missing all but one game last season due to injury. For Bellevue, the linebacking core is young, but extremely talented. By season's end it could prove to be a very special group, but in the week 1 matchup we still think Skyline gets the slight edge. Look for the Wolverine's to use Mustafa Branch, Justus Rogers and converted safety Ross Connors. Their asset will be their speed and athleticism, and playing behind that talented defensive line should help their learning curve.
Defensive Backs
Advantage: Bellevue
Bellevue gets the edge here for several reasons. For starters, you've got Budda Baker, who can play either corner or safety. The unit also features Timmy Haehl, who holds several Division 1 offers, and youngster Jack Michael. In addition to pure talent, the secondary will benefit from Bellevue's dangerous pass rush we mentioned earlier. This group of DB's can really keep a "lid on the defense" and limit explosive plays. Skyline, on the other hand, doesn't share the same athleticism and experience. The Spartans are still a skilled group of DB's, however, with Cole Blackburn, Michael Cowin and Sam Mix leading the way. But the reality of the matter is, they probably won't be tested much because of how little Bellevue throws the ball anyway.
Overview
This game is the headliner of the Emerald City Kickoff Classic which returns to the Western side of the state after being played last year at Eastern Washington University. You won't find a matchup of two more dominating programs in their respective classifications. Skyline is the defending 4A state champion, and Bellevue the defending champ in 3A. As noted, both teams lost a lot of production off of their squads from a year ago, but still feature plenty of talent. For the first time in recent memory Skyline will have a dual-threat QB under center, providing a lot of intrigue as to what the Spartan offense will look like. Bellevue teams under Butch Goncharoff are always prepared and well-coached, and this group should be no different. Both teams have been spending their entire offseasons working towards this showdown, and the anticipation surrounding this game couldn't be any higher. Expect a fun, physical matchup of two very prepared and disciplined football teams Saturday nigh at Husky Stadium.