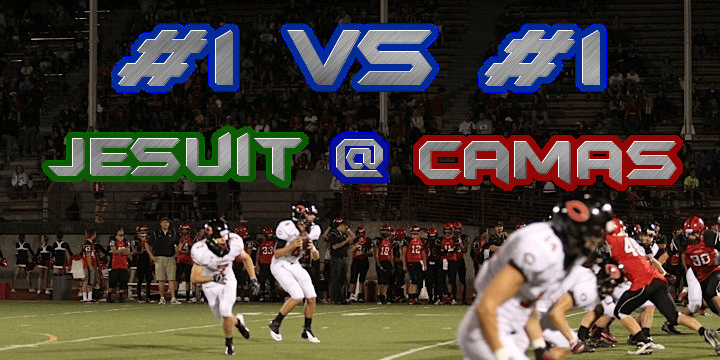 Live from Doc Harris Stadium in Camas, WA 7pm.
Todd Pickett & Jordan Johnson on the call.

Quarterback
Camas' Reilly Hennessey (6-3 190 Sr.) is one of the top QB's in the region and carries a demeanor that makes him special as a quarterback. Eastern Washington got a steal, as I think he is the best Senior QB in the Northwest. The 1st team all league returner will be the key if the Papermakers are going to be successful in 2013.
Jesuit QB Eric Restic (5-10 145 So.) did a good job in week one, running the run oriented offense, but also hitting Trent Werner on a 54 Td pass.
Advantage – Camas
Runningback
Co-Conference Offensive POY Nathan Beasley (5-11 175) returns after going off last season. Beasley was one of the most exciting players in WA last year with over 20 TDs, while shredding most defenses. The presence of Jason Vailea (6-2 245 Sr. FB/DL) out of the fullback position is intimidating, as the kid is very athletic and almost ensures TD's close to the goal line.
The Joey Alfieri (6-3 225 Sr. FB/LB) and Chase Morrison (5-10 175 Jr. RB/CB) duo is as good as any pair in the Northwest, indicated by their 350 yards rushing and 3 TDs last week. This will be their toughest test of the year as the Papermaker D has been dominant.
Advantage – Even
Wide Receiver/Slot/Tight End
The Papermakers feature Co-Conference POY Zach Eagle (5-9 165 Sr. Slot/DB) back at slot, after going for over 1,000 yards receiving and 12 TDs last year. He is the exception to the rule when we are talking about undersized kids that can play at the D1 level. He is that good.
Dylan White (6-5 225 Sr. TE/LB) is the other big time target, projecting as a D1 kid on both the football and baseball field. Another athlete with quicks and a lot of talent is Michael Johnson (5-11 170 Sr. WR/CB). He could be a factor on both sides of the ball.
The Crusaders have one o the top TE's to ever come out of the Northwest in Henry Mondeaux (6-5 245 Sr.). He has incredibly unique body control for a big man, sporting double digit high profile D1 offers including Oregon. You can also expect Trent Werner (6-1 190 Sr. Slot/S) to be a major factor as he is one of the best overall players in the state. His 54 yard TD reception last week could be just beginning of an incredible season for the three year starter. Don't sleep on Mitchell Powers (6-3 195 Sr. WR) as he is big and athletic and looked good over the off season.
The problem for Jesuit is that they don't really throw and the Papermakers will be all over the run. You can bet Camas will do everything in their power to make Nestic go up top.
Advantage – Camas (slight)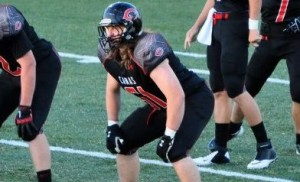 Offensive Line
This could be where the game is won as Camas returns a very talented cast of all league and all state talent. Drew Clarkson (6-4 275 Sr. OL) is one of the most talented lineman on the west coast, pushing double digit D1 offers which includes half the Pac 12.
Chris Durrett (6-2 270 Sr. OL) returns as a 3rd year all league starter, with Matt Walser (6-2 265 Sr. OL) and Matt Danis (6-2 235 Sr. OL) being the other returners who provide veteran leadership. The Papermakers up front cast was as talented as anyone that we saw last year and they were only Junior's.
The Crusaders lose four D1 lineman and have a lot of question marks. Charlie Landgraf (6-2 260 Sr. OL) returns after an impressive junior season that saw him start, with Mike Miller (6-4 285 OL) being one of the breakout lineman state wide over the off season . Both kids will have to play the game of their life if they want to compete. David Brugato (5-10 250 Sr.) will be the other kid with experience that will need to get in the mix.
Jesuit is always good up front, but they are in for the test of their life.
Advantage – Camas
Defensive Line
Mondeaux (6-5 245 Sr. DE/LB) projects equally on both sides of the ball. Its rare to see a kid that can play at the highest level on either side. Christian Martinek (6-4 225 Sr. DE) would be a D1 defensive end if he pursued football, but his 1st round MLB projection takes precedent. He was a 1st team all league athlete as a sophomore and is ridiculously athletic coming off the end. Brugato will once again contribute with Junior Sam Brunson and Senior Andrew Shaw getting in the mix.
The Camas D line is good, but their O line is better and more experienced. Vailea (6-2 245 Sr.) is a beast and creates match up problems all over inside, but this could be one area where the Crusaders create problems.
Advantage – Jesuit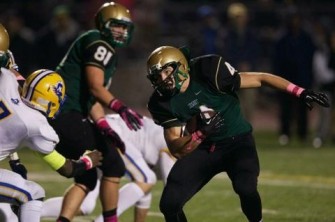 Linebacker
Stanford commit Alfieri is one of the top backers in the country as he will cause havoc regardless of how you prepare. I would imagine the Papermakers and Hennessey will know where he is before every play. He is as good as they come on and off the field. The Crusaders feature some other young backers that will need to step up.
Camas is loaded at backer with 1st team all league LB's Michael Digenova (6-2 215 Sr. LB) and Brad Hansen (6-0 210 Sr. LB) leading the way. Digenova plays with no fear and is just very athletic and Hansen made the transfer from Mt View to be a part of what will be a special Camas D. Dylan White (6-5 225 Sr.) will be the kid that you could see playing anywhere from DE to Strong safety, but projecting as a backer. He is one of the best in Washington.
Advantage – Even
Defensive Back
The Jesuit DB's are for real led by two of the state's best in Werner and Morrison. Trent is ranked our #2 DB in the entire state of Oregon and will have to be lights out at Free Safety. Chase comes back after a 2nd team all league season in 2012, and projects as one of the top corners in the region for the 2015 class.
You can also expect Senior's Josh Anderson, Wyatt Neff, and Matt Bauer to be a factor, with sophomore standouts Zach Houlemard and Jason Talley being two of the top 2016 kids in Oregon.
The Papermaker DB's will play more of a physical role this week then usual. They are extremely quick and athletic but they will have to be ready to play some smash mouth football. Beasley was a 2nd team all league kid as a sophomore, but has stayed primarily on offense. Eagle is legit whenever he is on the field.
Expect a big season out of 2nd team all league returnee Jorden Payne (5-9 165 Sr. CB) who looked phenomenal over the off season. Michael Johnson is the other kid with elite speed that should have a big year. Usually Camas would have a big advantage with their secondary, but since Jesuit doesn't really throw it will be time for the secondary kids to lay some hat. You could also see Junior's Cole Zarcone and James Price at the skill positions.
Advantage – Camas (slight)
Game Overview
This may be the game of the year. Its rare to get an Oregon #1 vs Washington #1 matchup. I'm a big fan of both programs and genuinely have nothing but respect for each of the communities. That said, I think this year's Papermaker team could be one of the best in NW history.
Its a group that has won in everything that they have done since youth ball, as last year's squad was state title worthy before running into one of the best ever in Skyline. The Papermakers went (12-0) last year before their loss to the Spartans, blasting everyone.
Its rare for me to ever bet against Jesuit. The Crusaders have some of the top skill kids on the west coast, but Camas has a phenomenal run D and will load the box. Jesuit will have to implement some trickery or throw the ball effectively Friday night. As good as Alfieri and Morrison are they will need to mix it up…
Camas 38 – Jesuit 23