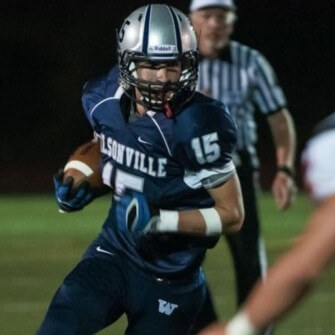 A kid that impressed all off season and has continued the trend into the first week of the year is Wilsonville two way threat Derek Sunkle (6-2 185 Sr. RB/CB). This past Friday he ran for 147 yards and 2 Td's in the Wildcats 23-7 win over 6A Sprague.
Derek looks to fill a big void created with the loss of NWOC 2012 Conference POY Tanner Shipley, now at Boise St. Not to mention the graduation of current CAL athlete RB/LB Johhny Ragin and the very talented Ryan Walsh.
Sunkle is all of 6-2 with a frame where he could still add significant size. Referencing the upcoming season and his role Derek says, "My goal as a senior is to help lead our team to a NWOC title…Size wise we are not the biggest group, but we are fast and if we play as one we will have a chance to make a run in the playoffs."
He added, "Although I play corner on defense, my role this year is mostly on offense..Coach Guenther likes me primarily in the tailback position, but during the game he will also move me to the quarterback spot, or even out to slot or the wide receiver positions."
Wilsonville has consistently been one of the top 5a programs in the state under Guenther, with the addition of all time great Greg Barton coming to the staff this season. Derek says, "We are very fortunate to have Coach Guenther and Coach Barton, as both have take an active roll in developing us as student athletes." He continued, "Coach Guenther stresses academic preparation before football preparation, and Coach Barton is special with so many years coaching and teaching athletes.. I have been going to his camps since the 7th grade."
Sunkle didn't have big numbers last season playing behind two high profile D1 athletes, but he did have a monster off season. Derek was one of the breakout performers this year during our Barton Camp and Combine Tour. He carries a 3.4 GPA and says, " I feel like I project as a slot or wide receiver in college….This summer I worked a lot on my fundamentals with Oregon Head Barton WR Coach Elvis Akpla, who recently was with the Philadelphia Eagles after a record setting career at Montana St."
Look for Sunkle to be one of the better players in the NWOC as his future looks bright on and off the field..