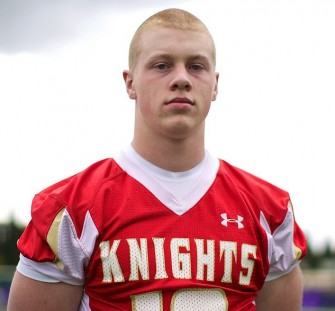 Bellevue (Wash.) Newport RB/DB Conner Baumann, who was one of the more dominant players in the region in 2012, has picked up yet another Division 1 scholarship offer from the University of Wyoming.
The 6-foot-2, 223-pound Baumann rushed for 1,338 yards and 14 TD's as a junior, and was a 1st Team All-KingCo and 2nd Team All-Area RB selection in 2012 – a season that saw him break Newport's single-season rushing record.
Baumann, who is drawing interest from schools for his play on both sides of the ball said that the Cowboys were offering him as a running back.
"Coach [Jason[ Gesser called me on Tuesday. It was a great way to kick off my senior year. He told me they were looking for a powerful running back and that they would like to offer me," Baumann recounted to NEI. "I have been in contact with Coach Gesser since the spring and I have really enjoyed talking with him throughout the recruiting process."
Baumann, the state's No. 4 ranked running back, has steadily picked up a handful of offers throughout the spring and summer, including Air Force, Army, Northern Colorado and UTEP.
While Baumann remains wide-open in terms of where he plans to play at the next level, but Wyoming is a program he's been keeping a close eye on.
"I enjoyed watching their game against Nebraska last weekend," he says. "They also offer my academic field of interest, which is important to me.'
Asked what his timetable is for making his decision, Baumann indicated that he's in no hurry and wants to be thorough in the evaluation process.
"I feel extremely blessed to have 5 great offers," he says. "Right now my main focus is my team. I am planning on taking official visits to figure out which school will be the best fit for me. I have really enjoyed getting to know all of the coaches and learning about what the different schools have to offer. I plan to make my decision after I take my official visits."
Baumann's Newport Knights will be one of the top teams in 4A this fall, and with another season like he had last, more schools could be added to the mix of those vying for his services. We will continue to keep you updated on Conner as the season progresses.