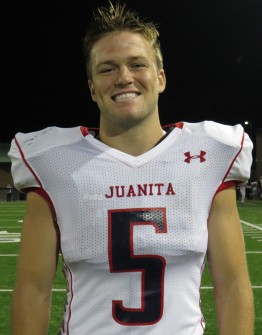 The Juanita Rebels made a statement with a season-opening win Friday night at Pop Keeney Stadium, as they knocked off the host Inglemoor Vikings 50-27.
The Viks looked like they might make it interesting early on, moving the ball well on their opening drive before stalling and turning it over on downs. Juanita wasted no time in taking advantage of the opportunity, marching down the field and capping the drive off with a touchdown run from Austin Cole from 7 yards out.
From there on out, it was pretty much all Rebels, as their play in the trenches proved difficult for Inglemoor to handle much of the night.
On the defensive side of the ball DT's Thomas Toki and Dee Angelow Viena commanded double-teams much of the night, allowing Max Millett to have himself quite a night as well, including a recovery after Toki forced a fumble in the first quarter and then forcing another fumble of his own while sacking the QB in the second half.
Needless to say, Rebels coach Shaun Tarantola was pleased with the effort of his guys up front on both sides of the ball. "Our guys make each other better in practice. Going against Thomas and Dee Angelo makes our guys better,' Tarantola said. "What we've found is we've had a number of young players emerge at the line of scrimmage, that going against those guys every day has made their own level of play better."
The real star of the game for Juanita was WR Landyn Milburn who sophomore QB Tavin Montgomery found for scoring strikes of 61 and 25 yards along with several other spectacular catches. Milburn also had an impressive performance on the defensive side of the ball.
"It feels good to come out and get a great win like this," Milburn said. "We've been working so hard all summer, and have a bitter taste in our mouth since losing in the playoffs to end our season last year. Now it's on to Monroe."
While Milburn deflected much of the attention and credit on to his team, Tarantola had no problem heaping praise on his senior captain. "We sort of expect that kind of performance from him every night. It's just the type of player he is," Tarantola said. "Any time we practice or scrimmage that's the player Landyn is, and so it was fun to see him do that under the lights."
At one point the Rebs were up 47-13, but credit goes to Inglemoor which continued to battle until the end. Senior John Gardner has a solid game, scoring a touchdown on offense and performing as one of the better players defensively for the Vikings.
Next week Inglemoor will look to bounce back on the road against Meadowdale (1-0), while the Rebels will host Monroe (0-1), a team that got the better of them last year.
"The word is 'refocus' on what we do every day," Tarantola said. "We just will look at what we have to improve on from the film of tonight and just keep grinding."