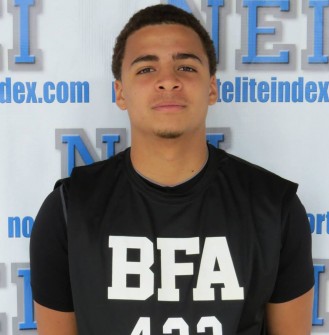 Year in and year out the Central Catholic Rams produce some of the top talent in the state. Head Coach Steve Pyne has a phenomenal staff and another elite group of kids.
So the question remains why is this year's CC team different? A Mt Hood Conference school hasn't played in an Oregon State title game in 30 years (Gresham 1983), and the Rams last made an appearance 60 years ago (1953) when they beat Grants Pass 14-13.
Central is now (2-0) after beating the defending state champion Sheldon Irish 59-49 down in Eugene. The Irish had rattled off 15 straight wins, including last years (14-0) season before losing Friday night. CC is loaded up and down the board with legit D1 kids everywhere.
Connor Humphreys (6-4 260 Sr.) will go down as one of the top DE's to ever come out of the state. The Arizona State commit is going to be one of the best in the Pac 12 and is a game changer right now. Oregon State commit Ryan Nall (6-3 225 Sr. RB/LB) is a freak and will end up being a steal for Mike Riley's Beavers. He accounted for 186 yards on 23 carries and a TD against Sheldon, and can play at the highest level on either side of the ball.
The Rams feature the state's top ranked Senior QB in Aidan Wilder, who is a 4 year starter and a leader in every sense of the word. He has been offered by Portland St and says, "We are a family this year… We had doubles at a military camp and spent a good amount of time bonding and becoming brothers." He continued, "There is just a different mantra about this team, everyone wants it."
Central features one of the top junior running backs on the west coast in Cameron Scarlett (6-2 205 Jr. RB/S). He will end up being a major D1 athlete as he has the legit size and speed needed to play at that level. He went off Friday accounting for 403 All Purpose yards (17 car – 203 rushing yards, 4 rec- 101 receiving yards, 99 yard kick return) and is averaging 300+ over the past 2 weeks. The kid is the real deal.
NEI favorite Aaron Washington is ranked the state's #1 corner and is a threat to take it to the house anytime he has the ball in his hands. He is on the D1 bubble with a host of schools, while Zack Davis (5-11 175 Sr. WR) has put himself in the conversation as one of the top skill kids in Oregon. He has abused secondary's the last two weeks accounting for 4 Tds and double digit catches.
The list just goes on and on as Aidan says, "We need young guys like Ronnie Rust and Lamar Winston to step up and they have." He added, "Each of them have made huge plays in the last two games and the athleticism between the two of them is incredible… Lamar was doing 360 dunks at the start of his freshman year." Both Rust and Winston are incredibly talented, and will be two of our top ranked 2016 athletes in Oregon when we release those lists later in the year.
They legitimately have double digit D1 athletes on their roster which is rare at any high school. It almost gets tiring talking about all of the talent. James Cory (6-3 265 Jr. OL), Blake Brandel (6-5 215 Jr. DE), Riley Gallant (6-5 260 Jr.), TJ Salu (6-0 260 Jr. DL), and Joseph Wilson are just a few of the very talented young athletes on the line.
Chase Cole (5-7 160 Sr. ATH) returns from injury last season and is one of the more exciting players in the Mt Hood with the ball in his hands, while Saadiq Calhoun (5-9 155 Jr. CB) is a kid that has legit skills on the corner and will learn from one of the best in Aaron Washington. We could go on and on, but it comes down to whether or not this group can be elite and get that state title. We will be releasing our updated rankings first thing Monday and CC could be the #1 ranked team state wide. In my opinion there will be a 5 team battle for this years state title with CC, Tigard, Jesuit, Sheldon, and Southridge all being contenders.
I have seen some ridiculous talent come out of Central but for whatever reason they have not been able to get over the hump. I would agree this is a special group of kids on and off the field, and we will see if they have what it takes to do what no other Ram team has done in the last 60 years.