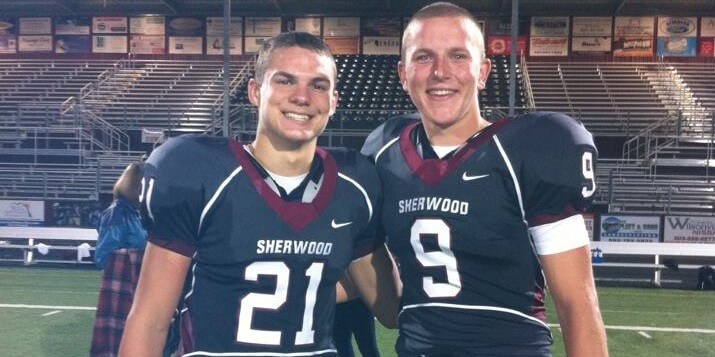 Cam Scarlett Jr. RB Central Catholic – One of the West's top junior RB's went for 403 All Purpose yards (17-203 rush yds, 4-101 rec yds, 99 KR) and 4 TDs in a 59-49 win at #2 Sheldon… He is now averaging 300+ a game all purpose over the last two weeks.
Keegan Lawrence Sr. RB Sherwood – Talented senior has 9 Tds in 2 games, carrying the ball 8 times for 143 yds and 5 TDs. He will now enjoy watching his dad shave his mustache.
Keegen Hlad Jr. WR West Salem – Oregon's #1 ranked 2015 WR caught 6 passes for 158 yards and 3 TDs in the Titans 42-41 comeback win over Thurston.
Zack Davis Sr. Central Catholic – The talented Sr WR is having a breakout season, catching 3 more Tds' in CC's win giving him 4 for the season.
Joseph Kuehn Sr. Sheldon – Kuehn continues to impress hitting on 30-35 passes for 358 yards and 2 TDs, completing 20 straight passes at one point. He has been maybe the biggest surprise state wide thus far.
Daniel Sherrell Sr. RB Clackamas – The state's leading returning 6A rusher ran for 159 yards on 19 carries with 3 TDs, including a 97 yard kick return in the Cavs 29-28 come from behind win.
Sam Noyer So. Beaverton – The talented sophomore was 17/22 for 193 yards and 3 Tds.. He has been very impressive over the last two weeks.
Manu Rasmussen Sr. Tigard – Manu went for approximately 150 yards and 3 TDs (18, 15, 53) as he will be a player of the year favorite on both sides of the ball.
Mickey Schaefer Sr. RB Sherwood – Lawrence's talented sidekick carried the ball 8 times as well for 151 yards and a TD in Sherwood's win.
Connor Mitchell So. RB Oregon City – Rushed for 311 yards on 40 carries with 2 Td's and will be part of some special classes up coming at OC.
Sherwood Defense – The 48-0 shutout, over what was thought to be the state #2 5A team, left no doubt that the Bowmen are the overwhelming favorite to win another state title.
Tanner Sanders Sr. QB Crescent Valley – The Oregon State commit went off in a 63-34 win over Putnam. Sanders was 7/10 through the air for 199 yds and 3 Tds, while rushing 7 times for 132 yards and 2 TDs. The Raiders are good and could challenge for a MWC title.
Taylor Jensen So. QB Forest Grove – The talented young QB was 25 of 38 for 402 yards and 3 Tds in the Tigers 49-33 win at Hood River. He is the future of the program.
Derek Sunkle Sr. RB Wilsonville – The talented RB continued his impressive start to the season rushing 20 times for 189 yards and a TD.
Roosevelt Roughriders – The Roughridgers got a much needed and hard fought win against a talented 4A Gladstone team. The win was very impressive after the disappointing 41-8 loss to Scappoose to start the season.
Willy Pflug Jr. QB Sunset – Pflug continued his impressive start to the season going 15/20 for 390 yards and 5 Tds in the Apollos 51-17 pasting of Barlow.
Silverton Defense – The Foxes pitched another shut out as their defense continues to be the stingiest in Oregon dropping Bend 42-0.
Bryce Barker Jr. WR Beaverton – The 6-3 talented underclassmen had 7 rec's for 137 yards and is one of the top two way threats in the 2015 class.
Nick Janakes Jr. RB North Medford – The two way threat went for 4 Tds carrying the ball 21 times for 203 yards in the Black Tornado's 42-14 win over Mckay.
Zach Hannan Jr. RB Grants Pass – Maybe the breakout performance of the week helping GP upset West Linn 44-30 , carrying the ball 11 times for 181 yards and a TD.
Kory Bennett Sr. WR Crater – One of the fastest rising players in Oregon caught 5 passes for 126 yards after an outstanding first week.
Garry Garvin Jr. RB West Salem – A kid no one really knew about had a breakout day going for 220 yards and a TD. He will be part of a special Titan 2015 class.