*This list is a way to showcase this weeks top performances. I am sure I missed a few and would like to know the ones I did. You can either comment on here or send me an email at Ringerland@gmail.com.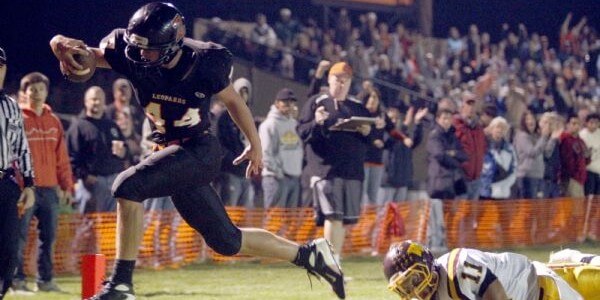 Kurt Calhoun, Sr. RB Zillah – The top ranked 1A Leopards started the season off by blasting Wapato 63-0 on Friday night. On just six carries, Calhoun rushed for 207 yards and four touchdowns (52, 13, 72, 40). He is a player I look forward to watching each week as I believe he could end up over 2,000 yards this season.
Jalen Hicks, Jr. ATH Ferris – One of the best all-around athletes in the 2015 class, Hicks did a little bit of everything for the Saxons. He finished with 9 carries, 128 yards and three TDs (17, 13 and 66 yards), and also had six catches for 153 yards and another TD (65 yards). The Saxons are the favorite in the Greater Spokane League and won 42-14 over Central Valley.
Tyler Yarber, Sr. RB Rochester – Eric Snelson picked a win in his first game as Head Coach when the Rochester Warriors shutout the Ridgefield Spudders 34-0. Yarber lead the way with 25 carries for 229 yards and a touchdown.
Brett Rypien, Jr. QB Shadle Park – Rypien was in typical form as he complete 15 of 21 passes for 323 yards and five touchdowns. The sixth-ranked Highlanders hammered Rogers (Spokane) 62-14 and look to be the favorite in the 3A Greater Spokane League.
Dejon Devroe, Jr. RB Oak Harbor – Devroe rushed for 215 yards on 26 carries and two touchdowns as the Oak Harbor Wildcats picked up a 38-20 Non-League win over the Snohomish Panthers. The Wildcats were hit hard by graduation after last season and Devroe looks like a player that is ready to step up and take charge in the run-heavy offense.
Christian Cummings, Sr. RB Tumwater – One of the top 2A backs in the state got off to a good start with 11 carries, 150 yards and 2 TDs. The Thunderbirds are the #1 ranked team at the 2A level and with a week one 41-0 win over 3A Shelton, they will stay there again this week.
Austin Joyner, Jr. RB Marysville-Pilchuck – Possibly the state's top 2015 athlete made a bold opening statement Friday night rushing for 254 yards on 16 carries and scoring three touchdowns as the #4 ranked Tomahawks doubled up Arlington 42-21. Joyner already has multiple D1 offers and will surely add more before the end of 2013.
Nick Mitchell, Jr. QB Mount Si – The Oregon State commit finished 16 of 19 for 312 yards and four touchdowns as the Wildcats picked up a 35-12 win over Kennedy Catholic. Ninth ranked Mount Si travels to Issaquah this week for a rematch of last year's week two win over the Eagles.
Shane Nelson, Sr. QB & DeShon Williams, Sr. WR Tahoma – Nelson completed 22 of 34 pass attempts for 348 yards and four TDs. Nine of those passes, 195 yards and one TD went to his favorite target in 6'3″ DeShon Williams. The Bears beat Kent Meridian 51-6 and appear to be the early favorite in the SPSL North.
Myles Gaskin, Jr. RB O'Dea – In a game that was suspended at halftime due to lightning, Gaskin rushed for 203 yards and two TDs. The game will not be finished so the halftime score of 35-7, in favor of O'Dea, will stand. The Fighting Irish looked tough in ever aspect of the game and showed balanced rarely seen before out of the program.
Cole Stephens, Jr. RB Lakeside (Seattle) – "The CEO" played one of the better all-around game in the state this week. He rushed eight times for 71 Yards and 2 TDs including the game winning touchdown with 2:30 remaining. He also had four catches for 27 yards and contributed 10 tackles on defense, as Lakeside upsets "Seattle Times 7th ranked" Nathan Hale 27-24.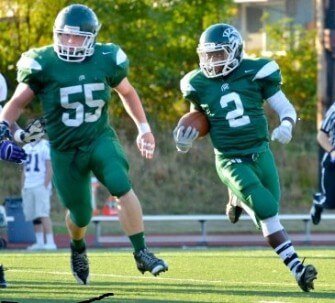 Andrew Rickman, Sr. RB Cedar Park Christian – Rushing for 222 yards and a TD on just 17 carries, Rickman showed he is one of the top 1A backs in the state. The Eagles beat Mission (British Columbia) 18-15 in Non-League play.
Junior Opoku-Mensah, Sr. RB Edmonds-Woodway – One of the top all around athletes in the state, Opoku-Mensah rushed for 222 yards on 17 carries and 2 TDs as the Warriors beat Everett 49-0. As usual, Edmonds-Woodway is one of the better teams in Wesco and have a legit chance to make a run in the playoffs.
McKoy Bichler, So. QB Rainier – In a 42-7 win over the Naselle, Bichler rushed 13 times for 192 yards and 4 touchdowns. This is a big start for Rainier as they only scored 44 points all season in 2012, finishing 1-8.
Keenan Curran, Sr. QB Federal Way – The two-time defending SPSL South Champion Eagles got off to a slow start, but turned it on late and beat Rogers (Puyallup) 62-42. Curran rushed 14 times for 274 yards and 3 TDs. The Eagles are ranked ninth in the state and are home this week vs Emerald Ridge.
Reilly Hennessey, Sr. QB & Nate Beasley, Sr. ATH – In a game featuring Oregon's #1 vs Washington's #1, the Camas Papermakers proved which state is best by hammering Jesuit (Portland) 47-14. Hennessey, an Eastern Washington commit, completed 14 of 17 passes for 277 yards and four TDs. Beasley had three catches for 119 yards and three scores. He also had 41 yards rushing and two more TDs.
Tanner Gueller, Sr. QB W.F. West – Completing 8 of 11 passes for 200 yards and five TDs, Gueller showed why he is one of the top 2014 QBs in the state. The Bearcats are a top 5 team in 2A and solidified that ranking with a 41-6 win over Port Angeles.
Bryce Steckler, Sr. RB Redmond – The Redmond Mustangs opened the Jason Rimkus era with a 28-20 win over Mercer Island. Steckler rushed for over 100 yards and accounted for all four Mustang TDs. The Mustangs look to be one of the more improved teams in KingCo and Steckler is a big reason.
Keynan Foster, Jr. ATH Jackson – In a rematch of last season's Wesco 4A Championship, the Jackson Timberwolves beat the Monroe Bearcats 59-37. Foster scored a touchdown three different ways. He had a 49 yard punt return, 78 yard kickoff return and a 5 yard receiving TD. Foster is one of the top athletes in the 2015 class, and a player that can score on literally any play.
Nick Streubel, Sr. DL Coupeville – Standing 6'3″ and about 315 pounds, Streubel is a load for just about any lineman to handle. This week he gave Bellevue Christian fits finishing with three sacks, three tackles for losses, seven solo tackles and five assists, a forced fumble and a fumble recovery, as the Wolves came away with a 32-0 win.
Clark Hazlett, Jr. QB Squalicum – After playing the last two years in a run heavy offense, Hazlett went wild passing for over 300 yards while completing 80% of his passes, in a 48-28 Storm win over Kingston. Hazlett has made huge strides in the last year and is a player to keep an eye on.
Kevin Thomson, Sr. QB Auburn Riverside – The senior leader finished the night 13 of 17 for 296 yards and four TDs as the Ravens gave new head coach Bryant Thomas a 47-13 win over Mount Rainier in his first game.
Aeron Watson, Jr. LB Auburn Mountainview – In a loss to Sumner, Watson finished with 15 tackles and a fumble recovery. Watson is an emerging player for the Lions and someone we will be keeping a close eye on.
Brendan Illies, Jr. QB & Levi Jordan, Sr. ATH Puyallup – In Puyallup's 37-21 win over Todd Beamer on Saturday night. Illies and Jordan hooked up nine times for 250 yards and three touchdowns (50, 16, and 73 yards). Illies would finish the game 20 of 32, 379 yards and 4 TDs. They appear to be picking up where they left off last season.
Chris Sawyer, So. QB / Ridge Harmon, Sr. WR & Darius Pati, Sr. WR Eisenhower – Sawyer completed 18 of 28 passes for 397 yards and three TDs in a 27-21 win over #7 Wenatchee. Harmon had 10 catches for 208 yards and a TD (80yds), while Pati returned from a season off due to injury to haul in five passes for 132 yards and two TDs (29, 21 yards).
Isaiah Brandt-Sims, Sr. Wenatchee – In a losing effort, the Stanford commit had over 300 all-purpose yards. He had 151 yards on the ground, 114 yards and a TD through the air.