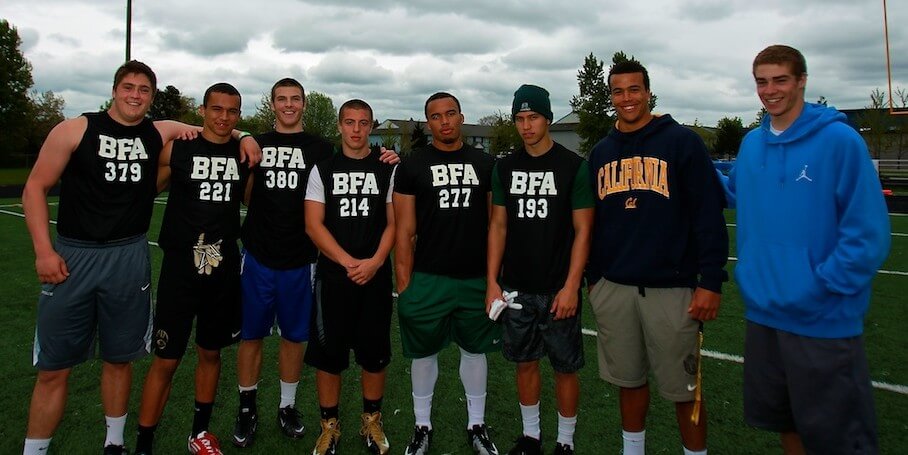 6A Top Ten
1. Tigard (2-0) W 56-7 @ Aloha – The Tigers are one of five teams that I feel could win a state title. They are most likely the fastest team in the state and have a lethal combo at RB with Manu Rasmussen/AJ Hotchkins. The difference with this years team is that they have a legit passing attack led by Jett Even. They blasted Aloha last Friday.
Next: vs Glencoe (1-1)
2. Central Catholic (2-0) W 59-49 @ #3 Sheldon – Player for player the most talented team in the state, as this could very well be the team that ends the 60 year drought of state title appearances. That said, its tough to put the Rams at the top of the charts as ridiculously talented teams, much like this one, have consistently gotten bounced from the playoffs. If the Rams can dominate in their next two games against top competition they may jump up.
Next: vs #6 Lake Oswego (1-1)
3. Sheldon (1-1) L 49-59 vs #2 Central Catholic – The Irish uncharacteristically turned the ball over 5 times against the Rams and paid the price. You can expect Sheldon to make some adjustments and still be a legit state title contender.
Next: vs South Eugene (2-0)
4. Jesuit (1-1) L 14-47 @ #1 Camas, WA – Jesuit is extremely talented even though they lack size up front. Camas is one of the top HS football teams I have ever seen and last week's score is not indicative of the talent on the roster. The Papermakers will not be challenged all year.
Next: @ #6 Union WA
5. Southridge (1-1) W 35-14 @ Tualatin – The Skyhawks played much better with Devin Martinez and Jake Pruit going for over 350 on the ground. When Southridge is healthy and get Logan Sackley and Danny Tanabe back on D they are as good as anybody.
Next: vs Centennial (0-2)
6. Lake Oswego (1-1) W 7-6 vs Olympia, WA. – Give the kids from Olympia a lot of credit as they came in and played the Lakers tough. You would be hard pressed to find a better run program, but they lose a ton from last year and that will be hard to make up for. If there is any year their conference winning streak is in jeopardy its this one.
Next: @ #2 Central Catholic (2-0)
7. Canby (1-1) W 42-14 vs McNary – Played much better against a better the average McNary team. When the Cougars are on they are tough to beat. They will have their hands full this week playing one of the top teams in the country in Camas.
Next: vs #1 WA Camas
8. Sunset (2-0) W 51-17 @ Barlow – Sunset had a much better week, blasting an improved Barlow team. Junior QB Willy pflug has had two solid weeks throwing 9 Tds, while going 15/20 for 390 yards and 5 touchdowns against the Bruins.
Next: vs Grant (0-2)
9. Clackamas (2-0) W 29-28 @ Newberg – The Cavs have one of their most talented senior classes in school history. They have legit size up and down the board, but they must avoid playing at the level of their competition squeaking out a 29-28 win against an average Newberg team.
Next: vs Aloha (1-1)
10. West Salem (2-0) W 42-41 vs Thurston – If you want excitement go watch the Titans on a Friday night. West pulled off another incredible comeback against a feisty Thurston team, getting the 1 point win. Keegen Hlad was clutch grabbing 6 receptions for 158 yards and 3 Tds.
Next: vs 5A Bend (0-2)
Others: McMinnville (2-0), Lakeridge (2-0), Oregon City (2-0), Beaverton (2-0)
5A Top Ten

1. Sherwood (2-0) W 48-0 vs #3 West Albany – The Bowmen held LaCoste to 69 yards on 22 carries which is unheard of, and left no doubt as they are the overwhelming favorite to win the another class 5A State title. Sherwood will get a much needed bump up to 6A next season.
Next: @ #8 Hermiston (2-0)
2. Silverton (2-0) W 42-0 @ Bend – Silverton's D is the real deal, and coach John Mannion's guys will be the favorite to repeat as MWC champs this season.
Next: vs Dallas (2-0)
3. West Albany (1-1) L 0-48 @ #1 Sherwood – Not sure if anyone saw this coming. The Bulldogs will have to be able to exploit other options with all of the talent on their roster, as Sherwood made sure LaCoste wasn't going to be the guy to do it.
Next: @ #5 Crescent Valley (1-1)
4. Marist (1-1) W 38-16 @ 6A Grant – The Spartans are a well balanced team this season as sophomore QB Brody Cooper did a good job of spreading the ball around. They could have a challenging game down in Ashland this week.
Next: @ #10 Ashland (2-0)
5. Crescent Valley (1-1) W 63-34 @ Putnam – Tanner Sanders went off as the Raiders could have one of their better teams in school history. Sanders accounted for 5 passing and rushing TDs to go along with 331 total yards in the win. This weeks game could go either way.
Next: vs #3 West Albany (1-1)
6. Mt View (2-0) W 24-21 @ 6A Century – In what was somewhat of a surprise the Cougars had a tough time with a Century team that lost everyone from last season. WR Nick Hjelm has looked good thus far and LB Jace Johns continues to impress.
Next: @ 6A Sprague (0-2)
7. Springfield (1-1) W 64-20 vs Corvallis – The Millers got back on track blasting the Spartans at home. Elite Sophomore QB Trever Watson showed why he is one of the region's best for the 2016 class, passing for 179 yards and rushing for 176. He piled up over 300 yards and 4 Tds in the first half alone.
Next: @ Woodburn (1-1)
8. Hermiston (2-0) W 49-22 @ 6A Hillsboro – The Bulldogs have one of their better teams in school history and put this one away in the first half. This next week will be telling as the #1 ranked Bowmen come to town.
Next: vs #1 Sherwood (2-0)
9. Wilsonville (2-0) W 21-12 @ St Helens – The Wildcats fought off a decent St Helens team, behind 189 yards on 20 carries and a TD from Derek Sunkle.
Next: vs Parkrose (2-0)
10. Ashland (2-0) W 51-14 @ Lebanon – The Grizzlies will find out if they are for real this week as a win here could change the overall dynamic of their season.
Next: vs #4 Marist (1-1)
Others: Dallas (2-0), Roosevelt (1-1), Sandy (2-0)