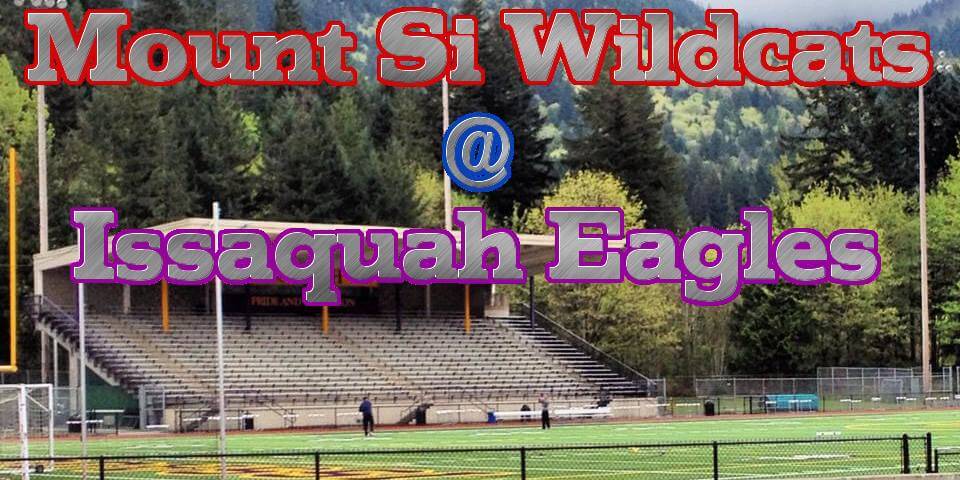 Quarterbacks
Advantage: Mount Si
The Wildcats will have the state's co-No.1 signal-caller under center, in senior QB Nick Mitchell. Mitchell, who is already committed to Oregon State, had a monster season as a junior, and picked up right where he left off last Friday night against Kennedy. What makes Mitchell most dangerous is that he does a great job of avoiding mistakes and not turning the ball over – he's a true field general. For the Eagles, senior Jack Neary will lead the way. Neary is a talented QB in his own right, taking over as the starter for Issaquah midway through last season. He's shown great progress this offseason as well, helping lead Issy to the championship in UW's 7 on 7 tourney. While Neary is a capable passer, the edge here goes to Mitchell.
Runningbacks
Advantage: Issaquah
Issaquah running back Jack Gellatly is one of best in the state. He enters his senior season as a three-year starter, solidifying his spot among KingCo's top backs. He's deceptively fast, but his bruising, physical running style is what makes him such a weapon. He can wear a defense down, while seemingly getting better himself as the game goes on. Mount Si will rely on a few backs, Bailey Takacs and Jordan Chapman. They are both downhill, physical runners who bring balance to the offense when the Wildcats need to go to the running game. Gellatly's experience and ability, however, give Issaquah the edge in the backfield.
Wide Receivers / Tight Ends
Advantage: Issaquah (Slight)
The play out of this position group could end up being the difference-maker in the game. The Eagles will look to the get ball in the hands of Tommy Nelson, Derek Chapman and Jeff Shipley. Nelson was the MVP of UW's 7 on 7 tourney, Chapman is the fastest player on the team and is a three-year starter, and Shipley is an aggressive wideout with good hands. The Wildcats also have a skilled group, but lack a lot of experience. That's not to say they aren't playmakers, though. Trevor Daniels and Parker Dumas will probably get most of the targets, with Jake Smith and Sean Hyland seeing some action as well. Tight end Beau Shaine could also be a factor for Mount Si, when called upon.
Offensive Line
Advantage: Mount Si (Slight)
Much like the WR/TE group, the play by both teams up front could have a major impact on the outcome of the game. Bradley Christiansen, Chris Schlicting and Jack Nordby are the names to keep an eye on for the Wildcats. Christiansen and Schlicting are gifted blockers, and Nordby is a big 6-3, 300 pounder. For Issaquah, Shay Dingfelder is the cornerstone up front. Andrew Dieken and Jacob Peterson will also help open up holes in the run game and give Neary time in the pocket. Mount Si gets the slight edge here for the simple reason that both lines feature a number of two-way starters and we think Issaquah's guys are more natural at their defensive positions, whereas Mount Si's are in most in their element on the offensive side.
Defensive Line
Advantage: Issaquah
As state above, both sides of the line of scrimmage is littered with two-way starters, and we really like what the Eagles have up front. Andrew Dieken was an all-leaguer as a sophomore and his hoping for a big junior season. Jacob Peterson is another gifted pass-rusher for the Eagles. The combo of Dieken and Peterson could be problematic for Mount Si's pass protection. For the Wildcats, Cameron Davis joins Nordby, Schlicting and Christiansen inside, with Jon Proctor and Grant Thomas handling the edges. Mount Si should play a lot of guys up front to stay as fresh as possible.
Linebackers
Advantage: Mount Si
Other than the QB spot, the linebacking corps for Mount Si is probably its strongest overall position. Evan Johnson, Andrew Thompson, and Beau Shain are all very skilled and instinctive players, and the Cotto brothers – Drew and Cory – are very physical. Across the board, there just isn't any drop off from one guy to the next. For the Eagles, their group of linebackers is talented, but unproven. Cody Lamarque returns as the only backer with varsity experience. Matt Sarkozy and Paul O'Neill will also line up for Issaquah. O'Neill is a player coaches spoke highly of this offseason, and his speed could be a real asset when used in coverage.
Defensive Backs
Advantage: Issaquah
The secondary for Issaquah features four seniors who all started at various points throughout last year. They're experienced and talented and will be tested facing the OSU-bound Mitchell. Nelson is the safety to keep and eye on, while Chapman is a lockdown CB. He has been an all-league player each of the last two seasons. Bailey Takacs and Mark Farmer will handle the cornerback duties for Mount Si, while Trevor Daniels will keep a lid on the defense from his safety position. Both secondaries should get tested throughout the night, as neither team is afraid to air it out and push the ball downfield.
Overview
Both squads had impressive week one victories, with Mount Si beating Kennedy and Issaquah getting the better of Interlake. With both victories being pretty one-sided, this game poses the first "real test" for both squads. Issaquah tends to be more balanced offensively, while Mount Si's can be a little more "explosive". Both defenses will have their work cut out of them as a result of that. Mount Si currently sits at No. 9 in our 3A rankings and Issaquah is a team that could work it's way into the 4A poll if it can pull off the win at home Friday night.