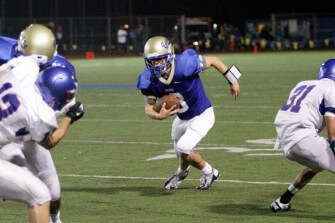 It could shape up to be a pretty fun season at Tahoma (Wash.) High School this fall. Especially if it can continue to play the way it did last Friday night. The Bears beat Kent Meridian 51-6, and look to be an early favorite in the SPSL North.
Led by senior QB Shane Nelson, Tahoma put on an offensive clinic – one that earned Nelson and WR DeShon Williams recognition in Ryland Spencer's "Elite Performers of the Week" roundup.
The 6-foot-2, 170-pound Nelson was 22 of 34 for 348 yards and four touchdowns on the night. While Williams hauled in nine of those passes for 195 yards and a TD.
Speaking with NEI following his big game, Nelson was pleased with how he played, and definitely is hoping to build on it moving forward. "I felt I did good job," Nelson said. "I felt comfortable reading the defense and taking what they gave me, but I also definitely feel I can improve upon my performance."
There were several other bright spots for the Bears in addition to Nelson and Williams. Denham Patricelli also is a favorite target for Nelson offensively, and had 3 total TD's on night. Defensively, senior linebacker Elijah Suka had a big night of his own, with 13.5 tackles.
"Elijah is more than just a middle backer, he is our defensive captain and really anchors the middle of our defense," Nelson said.
The victory over Kent Meridian just reinforces the Bears' goals for the rest of the season according to Nelson. "Our team expectations from the start have been to win league and make it to state," he says. "For me, my goal is to just find ways to do my part and help us win games, whether it's through the air or on the ground. It's a team effort."
With week 1 behind them, the Bears now turn their attention to their week 2 opponent, Bethel, an SPSL South foe, in a game that will be broadcast on ROOT Sports Thursday night.
Nelson's 348 yards put him near the top of the state's leaders coming out of the first week of games, and now in his third year as a starter he's really starting the experience pay off. Currently ranked as our No. 12 QB in state, Nelson has what it takes to make 2013 a memorable season for Tahoma.