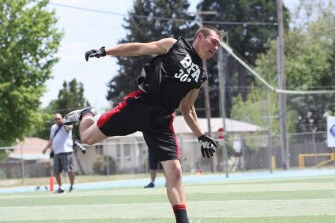 One of the top Juniors in the state, and a conference player of the year candidate down South is Nick Janakes (6-0 190 RB/S) of North Medford. He was an all league athlete on both sides of the ball as a sophomore and only got better this off season, with standout MVP type performances on the Barton Camp and Combine Tour.
Janakes carried the ball 21 times for 203 yards and 4 Td's last week against Mckay being named one of our players of the week. He is one of the hardest workers we have come across, and is a favorite among all of our coaches and staff.
The Black Tornado went (2-8) last season, but started 13 sophomores in what looks to be a special 2015 class. Referencing this season he says, " The difference between this year an last year is that our whole team is a family now, and no one is above anyone else… we all love each other like brothers and our seniors are more involved this year."
North dropped its opener to a better then average McNary team 20-13 and then laid the wood on Mckay 42-12 last Friday. This will be a telling season for the up and coming group, as they have the potential to finish towards the top half of the SWC, but will have to win some big ball games in a very balanced conference.
Speaking on his coaches and teammates Nick says, "They have really emphasized intensity, as our practices have been like life and death situations which makes the actual game experience second nature." He continued , " Jared Evans has been a huge asset to our team as I see him being the best receiver in the conference, while QB Troy Fowler has been our leader and maybe the toughest kid I know."
We have talked a lot about North Medford over the last year, getting to know a majority of their athletes through training and off season events. Its a class group that is attempting to put North back in the conversation as one of Oregon's tradition rich football schools.
Nick is one of the top two way threats in the state, and could very well project as a DB at the next level. As good as he is on offense, he has an equally bright future on the defensive side of the ball. Janakes adds, "My O line all across the board is fantastic, particularly Jeremy Sparks who executes and can throw around other lineman being one of the most fundamentally sound kids I know."
We wish Nick and the Black Tornado continued success. Janakes will be a kid that we hear a lot about over the next year as he has earned all of the recognition that he has been given.