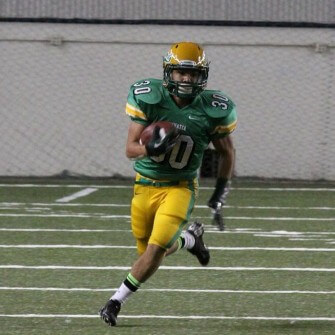 The Tumwater (Wash.) T-birds are always considered one of the top teams in both the Evergreen Conference and the 2A classification at the state level, and this season is no different.
Ryland Spencer currently has Tumwater atop his 2A rankings, and virtually ever publication in the state has them at or near the top as well.
One of the players expected to star for the T-birds this season is running back Christian Cummings, and if his week one performance is any indication, then he is more than ready to carry the load this fall as Tumwater's featured back.
In week one's 41-0 victory over 3A Shelton, Cummings rushed for 11 carries, and 150 yards with 2 TDs.
"It felt good showing out the first game. Our offense was firing on all cylinders and they just couldn't stop it," Cummings told NEI. "Expectations are high for me and I'm up for the challenge and ready to lead throughout the weeks."
T-bird QB Jayden Croft had high praise for his partner in the backfield. "Christian is the hardest runner I've ever seen," the senior QB said. "He doesn't take a play off. He can kill you with speed or run you over with his power."
Tumwater head coach Sid Otton has been a fixture at the school since taking over as head coach in 1973. He is the state record holder for career wins, and is just weeks away from posting career win number 350. His wing-t offense has proven difficult for opponents to handle for decades, and his players love playing in it.
Cummings speaks highly of both what it's like to play for Coach Otton, and to play in his offense.
"It's an honor playing for Coach Otton. He's taught me a lot about football and helped me through my personal problems throughout my career, which has helped me mature into a young man" Cummings says. "I like the wing-t offense. No team knows where the ball is if you run it right."
The T-Birds play a challenging schedule, one that should prepare them well for the rigors of the state tournament. This week they face 3A #10 Timberline on the road, and they're up for the challenge. Cummings and his teammates aren't shy about acknowledging their expectations for a state title.
"This year everyone bought in to the program we had lots of kids go to camps and to our team workouts and stuff," he says. "As a team we are just going to keep on grinding day in and day out until we are on top at the end of the season."