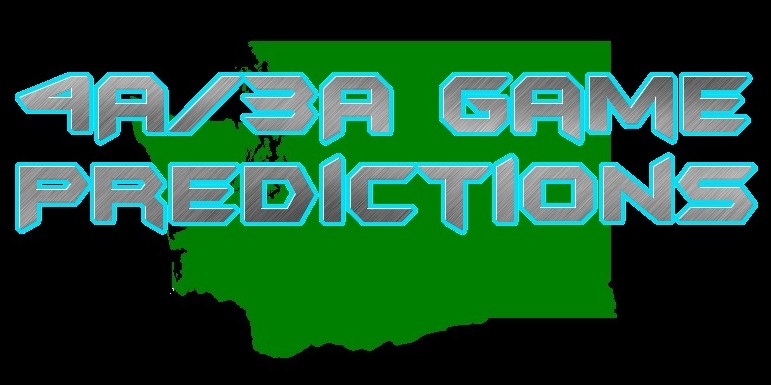 | | | | |
| --- | --- | --- | --- |
| Name | Wins | | Losses |
| Scott | 19 | – | 2 |
| Ryland | 18 | – | 3 |
| Jordan | 18 | – | 3 |
4A Top Ten
1. Camas Papermakers (1-0) @ 6A #7 Canby Cougars (OR) (1-1)
Coming off one of the biggest wins in their history, the Camas Papermakers solidified their number one ranking. The offense was very impressive and looks to be one of the state's best. The trio of Reilly Hennessey (QB), Nate Beasley (RB) and Zach Eagle (WR) are as good as you will find, and have the ability to score on literally any play.
The Canby Cougars are one of the better teams in Oregon, but last week the Papermakers make quick work of that state's #1 teams. If you are headed down to the game, be sure to check out LB Sam Bodine from Canby. He is one of the better linebackers in the northwest and is still very much under the radar. I have seen Sam perform many times and still can't figure out how he doesn't have more offers.
Picks: Ryland – Camas, Scott – Camas, Jordan – Camas
2. Ferris Saxons (1-0) vs 3A #6 Shadle Park (1-0)
This is the biggest game of the week in Eastern Washington and one I really wish I could attend. Both teams are coming off big first week wins. Ferris played a Central Valley team that some people had very high in their rankings, we didn't. Shadle Park took it to a Rogers (Spokane) team that hasn't been very good as of late, but putting up 62 points on anyone can't be overlooked.
There should be a lot of offense in this game. Shadle Park QB Brett Rypien is one of the state's best, and Ferris ATH Jalen Hicks showed last week he can hurt you in more ways than one when he rushed and received for over 100 yards each. One of these two teams will take a huge step towards the race to the playoffs this week with a win.
Picks: Ryland – Ferris, Scott – Ferris, Jordan – Ferris
3. Chiawana Riverhaws (1-0) vs Kennewick Lions (0-1)
Last week the Riverhawks blasted the Hanford Falcons 43-7, and frankly this week shouldn't be a whole lot different. Kennewick lost 42-10 to a Lake City (Coeur d'Alene, ID) team that is not one of that state's best.The Riverhawks are highly ranked for a reason and highly ranked teams should dismantle lesser opponents.
Look for this game to have a running clock in the second half.
Picks: Ryland – Chiawana, Scott – Chiawana, Jordan – Chiawana
4. Graham-Kapowsin Eagles (1-0) vs Curtis Vikings (1-0)
The next two weeks are huge for Graham-Kapowsin as they play host to the Curtis Vikings and Federal Way Eagles on back to back weeks. Teague James picked up where he left off last season rushing for 100+ yards and WR Dylan Campbell chipped in for over 100 receiving. The Vikings are one of the top three teams in the league and will be a tough test. The team that wins will have the inside track on the SPSL South Championship.
Picks: Ryland – Graham-Kapowsin, Scott – Graham-Kapowsin, Jordan – Graham-Kapowsin
5. (T) Eastlake Wolves (1-0) @ Eastside Catholic Crusaders (1-0)
The Wolves could probably walk to the game if they wanted as the two schools are separated by a KFC, a church and a couple houses. The teams might be separated by even less as they are two of the top teams in the entire state. Both could be considered league favorites, and both have a ton of talent across the board.
The game is a battle of top underclass QBs. The Wolves send out second year junior starter Blue Thomas, while the Crusaders counter with sophomore Harley Kirsch. Both are highly regarded in their class and each had a good first week. If the Wolves are to be successful they will need another big day from the Lewis twins, Drew and Troy, who were both key contributors in a week one 41-7 win over Lakes.
Picks: Ryland – Eastside Catholic, Scott – Eastlake, Jordan – Eastside Catholic
5. (T) Union Titans (1-0) vs 6A #4 Jesuit (OR) (1-1)
The general consensus around NEI is that 2014 is the year of the Union Titans. That isn't to say they aren't good this year, but it does show the incredible ability of their underclassmen. In week one they were led by RB Leon Siofele who rushed for 187 yards on just 12 carries and a TD. Junior WR Thomas Lampkin had one carry (14 yards) and one reception (55 yards), both of which ended up in the endzone.
This week the Titans play a reeling Jesuit squad who went into Camas and got absolutely taken to the shed by the number one Papermakers. Regardless this will be a tough test for the Titans.
Picks: Ryland – Union, Scott – Union, Jordan – Jesuit
7. Newport Knights (1-0) @ South Kitsap (1-0)
It might have taken the Knights a few minutes to get going last week, but once they did they reeled off a 35-7 victory over the Capital Cougars. Senior RB Conner Baumann rushed 8 times for 174 yards and two TDs. I would expect much of the same this week for the Knights who do like to run the ball. South Kitsap hammered Kentridge last week, but I don't see it as a real sign of who they are. The Wolves may be one of the better teams in the Narrows league, but Newport is on a different level.
Picks: Ryland – Newport, Scott – Newport, Jordan – Newport
8. Bothell Cougars (1-0) @ 3A #1 Bellevue Wolverines (1-0)
The Cougars overcame a not so great first half to beat the Coeur d'Alene Vikings 44-43 at Husky Stadium on Saturday night. If they start that way again this week, they will lose by 50. The Bellevue Wolverines are on a level of their own again. Last year's game was never really close as the Wolverines walked to a 35-7 win at Pop Keeney. I find it hard to see this year's game being much different. I do think the Cougars are one of the better teams in KingCo, but don't see a way they beat the Wolverines.
Picks: Ryland – Bellevue, Scott – Bellevue, Jordan – Bellevue
9. Bellarmine Prep Lions (1-0) @ Lakes Lancers (0-1)
Replacing QB Sefo Liufau (University of Colorado) looked to be a weakness heading into the season. After week one it doesn't look to be much of an issue as former RB Lou Millie has made the transition to the QB spot. He threw for 245 yards and two TDs and the Lions beat 3A Peninsula 26-14.
This week they face a Lakes team that took a real beating at the hands of the Eastlake Wolves. The Lancers are still one of the more talented teams in 3A and could be the favorite to win their league. Last year's game between these two turned out to be on of the best games of the year with Lakes winning 42-38.
Picks: Ryland – Bellarmine Prep, Scott – Bellarmine Prep, Jordan – Bellarmine Prep
10. Jackson Timberwolves (1-0) vs Everett Seagulls (0-1)
I think out biggest mistake in the original rankings was leaving the Jackson Timberwolves off. They are very talented and have as much team speed as anyone in the state. Junior athlete Keynan Foster had three touchdowns, three different ways, including a kickoff and punt return. Senior WR Trey Robinson also had a kick return TD as part of a 59-37 win over the Monroe Bearcats.
Highly likely you see a running clock in the second half of this game.
Picks: Ryland – Jackson, Scott – Jackson, Jordan – Jackson
3A Top Ten
1. Bellevue Wolverines (1-0) vs 4A #8 Bothell Cougars
See 4A #8 above.
2. Eastside Catholic Crusaders (1-0) vs 4A #5 Eastlake Wolves (1-0)
See 4A #5 above.
3. O'Dea Fighting Irish (1-0) @ Ballard Beavers (0-1)
In just a half of play, O'Dea RB Myles Gaskin rushed for just over 200 yards and I have no reason to think he wont do that again this week. It is very likely he will only have to play the first half of the game as the Fighting Irish will more than likely be up by plenty at the midway mark. O'Dea has never seen this much balance offensively, but you may not see it this week as they will not likely have to use it.
This is another game you can expect a running clock.
Picks: Ryland – O'Dea, Scott – O'Dea, Jordan – O'Dea
4. Juanita Rebels (1-0) vs Monroe Bearcats (0-1)
The Rebels looked very good Friday night beating rival Inglemoor… Read more Right Here . Monroe might be one of the better winless teams in the state and ATH Gabe Moore is one of the more under rated players in the state. The Rebels have their own under rated player in WR/LB Landyn Milburn. Sophomore QB Tavin Montgomery looked very good as the Rebels, one of the state's youngest teams, showed why we are so high on them.
This game is a rematch of a week two Monroe win last season. The Rebels were coming off a victory over Inglemoor last season as well, but had problems holding onto the ball and the Bearcats came away on top.
Picks: Ryland – Juanita, Scott – Juanita, Jordan – Juanita
5. Marysville-Pilchuck Tomahawks (1-0) vs Lake Stevens Vikings (0-1)
The Tomahawks looked the part of a top five team, outside of about a one minute span of the second quarter, and ran away with a 42-21 win over Arlington. Austin Joyner showed why he is on the top prospects in the 2015 recruiting class when he rushed for 250+ yards and three TDs.
I had really high expectations for Lake Stevens, but their stay in the top ten only lasted a week. While I do still see them as the favorite in the Wesco 4A North, but I don't think they are the dominant team I was looking at before the season.
Picks: Ryland – Marysville-Pilchuck, Scott – Marysville-Pilchuck, Jordan – Marysville-Pilchuck
6. Shadle Park Highlanders (1-0) @ 4A #2 Ferris Saxons (1-0)
See 4A #2 above.
7. Lincoln Abes (1-0) vs Stadium Tigers (1-0)
For the second straight season the Lincoln Abes started the season by beating the Bonney Lake Panthers. Sophomore QB Jordan Kitna impressed in his first varsity appearance and is one of the top players in the 2016 class. The Stadium Tigers ended up scrimmaging South Kitsap's JV team after Mount Tahoma had to forfeit because they didn't have enough players. Stadium does return some nice athletes that could keep them in this game for a bit, but in the end I see Lincoln pulling away.
Picks: Ryland – Lincoln, Scott – Lincoln, Jordan – Lincoln
8. Kamiakin Braves (1-0) vs Hanford Falcons (0-1)
This game will be broadcast online by the Washington Sports Network . QB Kylle Robertson led the Braves with three total TDs on the night as they beat the Prosser Mustangs last week. The Braves may be the best all around team in the 3A Mid-Columbia and should only be tested in week 6 when they travel to Chiawana.
Picks: Ryland – Kamiakin, Scott – Kamiakin, Jordan – Kamiakin
9. Mount Si Wildcats (1-0) @ Issaquah Eagles (1-0)
NEI's Scott Enyeart previewed this game and that preview can be found Right Here .
Picks: Ryland – Mount Si, Scott – Mount Si, Jordan – Issaquah
10. Timberline Blazers (1-0) vs 2A #1 Tumwater Thunderbirds (1-0)
This is one of the bigger games in the state this week. Not often will a 2A school be favored to beat a 3A school, but I think this is one of them. Tumwater QB Jayden Croft is one of the more under the radar QBs in the state and is the definition of "Dual Threat". RB Christian Cummings had a big week one and NEI's Scott Enyeart caught up with him for an article you can view Right Here .
If the Blazers are to win this game, Asan Neil-Evergin and Gabe Gutierrez will need to have big games.
Picks: Ryland – Tumwater, Scott – Timberline, Jordan – Tumwater