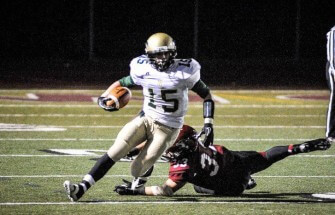 It's a new era at Redmond (Wash.) High School. The Mustangs began their 2013 season last friday as they held on for a 28-20 win over visiting Mercer Island. In addition to the victory being the 'Stangs first win under new head coach Jason Rimkus, it was also a breakout game for senior running back Bryce Steckler.
The 5-foot-11, 185-pound Steckler rushed for 20 carries totaling 118 yards and 4 touchdowns – all of Redmond's scores on the night. He also added four tackles and a sack defensively.
Steckler's big night helped the Mustangs earn a season-opening victory for the first time since 2007. But like all great running backs, he was quick to deflect the praise to his offensive line.
"I can't take full credit for all of the touchdowns, our line is who had the great performance of the night," Steckler told NEI. "They battled through adversity with not having any subs due to eligibility issues, and time and time again opened holes for me to run through."
In addition to Steckler's four-touchdown performance, the other stroyline of the night was that it marked the Redmond debut for Coach Rimkus. And according to the players, he's brought new excitement to the program.
"Playing under coach Rimkus thus far has been a great experience. Everyday he brings energy, enthusiasm and leadership," Steckler said. "Also, he pushes us everyday to be better which makes us want to work even harder and leaves us better prepared for games."
Now that the Mustangs have that first win under their belts, the focus is on building on that momentum. The way they plan to do that, according to Steckler, is by continuing to follow the lead of Coach Rimkus and execute his vision for the rebuild of the Redmond program.
"It's a great feeling being 1-0, however, we know that it doesn't mean anything if we can't start stacking wins together," he says. "Our team goals this year are to be competitive in every game. Play fast, physical and our style of football for 48 minutes."
Steckler also says his big game against Mercer Island doesn't change how he is approaching the season. For him, it's all about building each day as an individual in the same way that the team is trying to build as a whole. 'I am just trying to get better everyday, train harder and do my part for our football team," he says.
The Mustangs will travel to Interlake high school this Friday night as they look to get to 2-0. Congrats again to Bryce on his big performance and Coach Rimkus on his first win at Redmond.