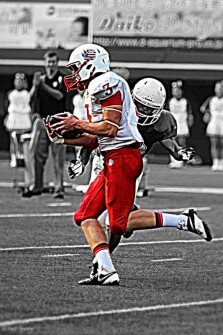 One of the fastest rising teams in the state at the 5a level is Ashland. The tradition rich football school got a big win last night 21 -7 over Marist, avenging the last two years where they lost a by a combined score of 96-0.
Returning Co Conference Player of the year Mason Montgomery (6-0 220 Sr. LB/FB) was once again the catalyst of a Grizzlies D that is legit this season. He amassed 12 total tackles, 3 tackles for a loss, and a clutch sack late to help seal the deal. The Spartans of Eugene led 7-0 at the half, but Ashland got the offense going in the second.
Mason says, " Everybody stepped up last night and did their part, it was a really big win for us." He continued, " Matt Hedges had a really good game and Danial White had a nice second half." Hedges caught 4 passes for 129 yards, including a 50 Yd TD to put the game away. Montgomery added, "Our line really played well…Tyree Heesacker, Cody Eisenberg, and Joe Hearn make up some of the best lineman in the state."
You can expect the Grizzlies to make a significant jump in the polls, and for their game against Springfield in two weeks to determine the conference championship. The excitement in Ashland is real, as Marist had yet to ever lose a conference game since joining the MWL in 2010.
The Grizzlies feature a couple of the better underclassmen state wide at the 5A level in Parker Layton (6-2 200 Jr. TE/LB) , Shashi Penn (5-11 165 So. ATH), and Max Montgomery (5-11 170 Jr. S), Mason's younger brother. Combine this with a talented senior class and you have a group that could make a run come playoff time.
Head coach Charlie Hall is one of the better coaches in Oregon and this years group has a chance. The Grizzlies are (3-0) and have looked solid each week thus far. Referencing the team Mason says, "Our trip to Japan as a team I really think helped us bond together, there really isn't anything like it." Each of the past few years the Ashland kids have traveled to Japan to play a team to start the season, something very unique.
Montgomery is being recruited by a host of different schools including multiple Big Sky's (Portland St, N.Arizona, Montana, Montana St). He is on the D1aa bubble and will look to feed off this to only enhance his stock. Mason is also one of the region's top wrestler's but is looking to pursue football.
Exciting times for those in Ashland as this years team could be one of the best to represent the area in some time.