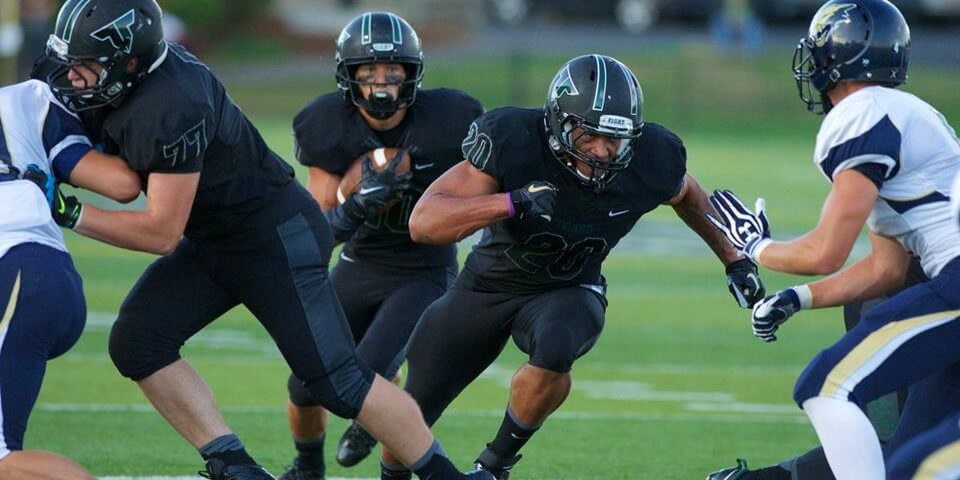 Josh Benton Sr. RB South Salem – The Saxons continue to produce talented tailbacks as Benton had a big night going for 172 Yards and 2 TDs, along with 48 yd screen pass setting up another score in their 28-22 win at Beaverton
Derek Sunkle Sr. RB Wilsonville – Sunkle is having a breakout year with his 3rd top player award in as many weeks. He carried the ball 18 times for 250 yards and 4 TDs.
Daniel Sherrell Sr. RB Clackamas – Sherrell returns as the state's leading returning 6A rusher, and has continued where left off. He laid the hammer on Aloha Friday, rushing 26 times for 309 yards and 3 TDs.
Jonathan Hall Sr. QB Oregon City – Hall is a senior leader for an OC team that has some of the most talented younger athletes in the state. The Pioneers are 3-0, as he went 10 of14 for 242 yards and 5 TDs.
North Medford – The Black Tornado could officially be back, as they set the tone for the SWC season with a big win at Grants Pass Pass 28-21. Never an easy place to go in and win.
Jordan Morgan Sr. WR Southridge – The Arizona commit did his thing, catching 3 TD passes, all in the first half, with two coming from QB AJ Woodin.
Manu Rasmussen Sr. RB Tigard – The Oregon State Player of the Year candidate averaged 25 yards per carry, rushing 7 times for 175 yards and 2 Tds (68, 71).
Jeff Bieber Sr. WR Sunset – One of the state's top ranked WR's has been clutch thus far, catching 7 passes for 134 yards in the Apollos 33-30 OT win over Grant.
Keegan Lawrence Sr. BB Sherwood/ Mickey Schaefer Sr. RB Sherwood – This years Bowmen team is one of the most dominant ever at the 5a level. Its unlikely they will be tested all season as the pair rushed 16 times for 289 yards and 4 Td's together.
Charles Wenzel Sr. RB Sunset – Wenzel had a solid day off setting the passing attack and rushing 21 times for 144 yards and 3 Tds
Willy Pflug Jr. QB Sunset – Pflug has been one of the most impressive players in Oregon early this season. He completed 21 of 27 passes for 292 Yds and 2 Td's.
Tahri Robertson Jr. ATH Grant – Robertson had a big day, carrying the rock 21 times for 182 yards as the Generals almost beat Sunset at home.
Hunter Knighton Jr. WR Oregon City – One of our top ranked WR's for the 2015 class. Knighton had 7 receptions for 147 yards and 3 Td's.
Cade Smith Jr. QB West Salem – The Junior QB rushed for another 143 yards and 2 Td's, while passing for 122. The Titans are now 3-0, beating Bend 47-7 as Smith has proven to be one of the top dual threat athletes in the state.
Treven Bradford So. WR Oregon City – Another elite youngster from OC. Bradford is legit catching multiple passes or 93 yards and 2 Td's in the win.
Louie Germain Sr. RB West Linn – The Senior RB was clutch and helped the very talented Hayden Coppedge as he rushed 38 times for 151 yards and 6 Td's as the Lions held on against Barlow.
Ashland High School – The Grizzlies beat Marist 21-7 at home and are now in the drivers seat for the MWL title, playing Springfield in two weeks. They had been beaten by a combined score of 96-0 over the last two seasons, as the Spartans had never lost a conference game since joining the league in 2010.
Austin Brisbee Jr. QB Westview – Brisbee has had back to back impressive weeks. The Junior went 14/20 for 232 yards and 4 Td's in the Wildcats 42-18 win over Lincoln.
Brenden Quinn Sr. QB Thurston – The 6-4 QB was 25 of 34 for 336 yards, while rushing for 3 Td's with only. Head Coach Justin Starck is one of the top offensive minds in the Pacific NW.
Kellen Strahm Jr. WR Slot Sheldon – One of the state's top players for the 2015 class had 5 receptions for 99 Yards and 2 Tds as the #3 ranked Irish got back on track.
Jake Lacoste Sr. RB West Albany – Oregon's 2012 Gatorade Player of the Year helped the Bulldogs beat a tough CV squad 31-21 after being shut down by Sherwood the week before for the first time in his HS career. He rushed 31 times for 278 yards and 3 Td's last Friday, after gaining 69 yards on 22 carries against the Bowmen.