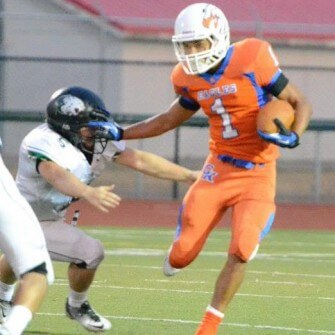 DeJon Lynch, Sumner: Lynch had 225 yards on 20 carries and a TD to help the No. 4 (2A) Spartans improve to 2-0 with a 49-28 victory over Bonney Lake.
Brian Thomas, Steilacoom: In a losing effort, Thomas kept the Sentinels in the game rushing for 177 yards on 20 carries and all 3 of his team's TD's, coming up just short against Lindbergh, 26-21.
Teague James, Graham-Kapowsin: James had a big workhorse-type night in the Eagles' big win over Curtis rushing for 176 yards on 28 carries and scoring 3 TDs. GK won 24-14.
Joey Cassano, Auburn Mountainview: The Lions had a big 52-0 win over Mt. Tahoma, and Casano's 153 yards on 9 catches as a big reason why. His 3 TDs were also big for Auburn Mountainview.
Triston Wedington, Sumner: Another Spartan had a big night in their win over Bonney Lake. Wellingtons's 7 catches for 149 yards and 2 TDs helped Sumner keep its offensive attack balanced on the night.
Brendan Illies, Puyallup: The Vikings are proving to be one of the upstart teams in 4A. Illies was 22-41 for 248 yards and 6 TDs in Puyallup's 47-20 victory over Spanaway Lake.
Gresch Jensen, Auburn Mountainview: The Lions' QB had an incredibly efficient night against Mt. Tahoma going 16-19 for 217 yards and 3 TDs in the win.

Kentwood defense vs Thomas Jefferson: Kentwood had a defensive performance for the ages, with a school record minus-53 rushing yards and 62 total yards allowed in a 22-7 win over Jefferson.
La Center head coach John Lambert coaches his 100th win 49-6 against Stevenson. WR Connor Wonderly had 3 catches for 164 yards and added a 35yd punt return.
Jay Becker, King's Way Christian: Becker rushed 11 times for 327 yards and scored four touchdowns as King's Way Christian beat Sunnyside Christian, with scoring runs of 97, 71, 15, and 9 yards in a 62-6 win.
Mark Morris 55-8 over Hudsons Bay: Backs Keigan Baker and Austin Smith had big nights. Baker rushed 14 times for 114 yards and 2 TD's and Smith rushed 15 times for 109 yards and 3 scores in the blowout win.
Kurt Calhoun and Brady Widner, Zillah: Calhoun ran 4 times for 129 yards adding scoring runs of 54 and 41 yards. Widner added 3 carries for 78 yards and TD's and a 76yd punt return for a TD in a 52-6 win over Kiona-Benton.
Wenatchee WR Spencer Smith had 5 catches for 174 yards, including scoring plays of 30, 31 and 48 yards. QB Dillon Sugg was 14-23 for 281 3 TDs in the Panthers' bounce-back 53-13 win over Davis.
Mason Schutt, Prosser: QB Mason Schutt was 16-25 for 276 yards and threw for 3 scores in Prosser's 50-0 over Grandview.
Garrett Hull, Ellensburg: Ellensburg rolled to 37-7 over Ephrata, with Hull getting it done through the air and on the ground. 17-28 311 (26,4) 8-75 rushing
Nathan Steenkolk, Friday Harbor: The Wolverines brought home a 49-21 win over Lynden Christian, with Nathan Steenkolk rushing 15 times for 215 yards, including scoring runs of 79 and 30 yards.
Daniel Jones and Marcus Nightingale, Ferndale: In a 48-21 win over Sehome, Marcus Nightingale had 20 carries for 190 yards and a TD, while Daniel Jones added 10 rushes for 149 yards with 38 and 35 yard scores.
Jae Evans, Burlington-Edison: The Tigers cruised to a 42-21 victory over Bellingham and Jae Evans had a huge night. He rushed 13 times for 248 yards and 5TDs with scoring runs of 65, 26, 59, 10, and 37 yards.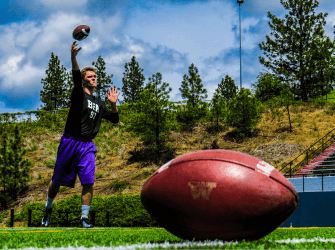 Nick Tabanera, Kingston: Nick Tabanera had a big night, where he rushed 17 times for 233 yards and 3 TD's in a 40-6 victory over Bainbridge.
Sheyenne Sams and Dejon Devroe, Oak Harbor: Running back Sheyenne Sams rushed for 168 yards on 17 carries and had three touchdowns. While fellow running back Dejon Devroe rushed for 197 yards on 23 carries and had three touchdowns of his own in the Wildcats 40-36 comeback victory over Arlington.
Adam Hinthorne, Lakeside: Hinthorne had a historic day for the Lions. He went 23 for 37 and 378 yards, tossing 4 TDs. He broke the school record for completions and yards in a winning effort.
Austin Hall and Thomas Batie, Kamiak: Running back Austin Hall rushed for 121 yards and had four interceptions on defense. Also, Thomas Batie returned kickoffs of 85 and 94 yards for touchdowns, and also recovered a fumble and had an interception in the Knights 49-7 win over Marysville Getchell.
Austin Otis, Lake Stevens: Austin Otis had 211 yards rushing on 27 carries, scoring from 2 and 68 yards out in a losing effort as the Vikings fell to Marysville-Pilchuck.