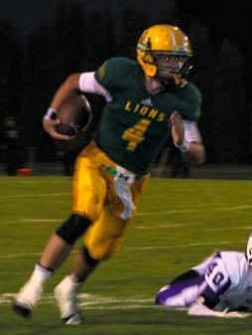 If there's one thing that's been clear through the first two weeks of the season in the Northwest Conference, it's that Lynden quarterback Lucas Petersen isn't showing growing pains in his first year under center.
The junior signal caller entered the 2013 season as Lynden's new quarterback, replacing four-year Whatcom County standout Josh Kraght, who is a freshman QB this year for the Portland State Vikings.
Petersen certainly had some big shoes to fill, but the 6-3, 180-pounder has stepped up for the Lions and helped lead the team to a 2-0 start. Last Friday night, Petersen tallied four touchdowns (three rushing and one in the air) in Lynden's 51-14 dominating win over Anacortes. He threw for 120 yards and added 42 on the ground.
He also did that in just one half.
With Lynden up 37-0 entering halftime, Lynden coach Curt Kramme decided to pull Petersen and let senior Cameron Wainwright take over the offense for the second half.
For the season, Petersen has 290 yards throwing and two scores, while adding 95 yards and three touchdowns on the ground. Now, although Petersen may not have the speed and athleticism that Kraght showcased last season (2,759 yards and 31 TDs), there's no question he's been showcasing some veteran leadership for the new offense.
Following Lynden's regular season 14-6 win over King's, Petersen admitted that he certainly had some nerves in taking over, but the support he's received from the coaching staff and his teammates has helped him remain calm on the field.
It's certainly yielded positive results this far this season.
"I was just trying to stay relaxed and not think too much out there," Peterson said following Lynden's win over King's. "I made a lot of mistakes, but I will learn from them. I think I did some good things, so I just need to take what I learned and move forward."
Petersen indeed learned from some his mistakes and consistently had the Lions moving the chains and putting points on the board against the struggling Seahawks defense. His ability to keep drives alive has also caught the attention of senior leader Jalani Phelps, who is ranked as one of the top wide receivers in the state by the Northwest Elite Index staff.
"We're a lot better offensively than I thought we'd be," Phelps said following the win over King's. "We can run the ball and pass the ball. Coming into the game I wasn't quite sure how Lucas would do, but now I have 100 percent confidence in his abilities and I know he can make plays for us."
If Petersen can continue to make those plays, there's no reason this Lynden team can't make a push for an NWC conference title and try to make a run for the state playoffs.