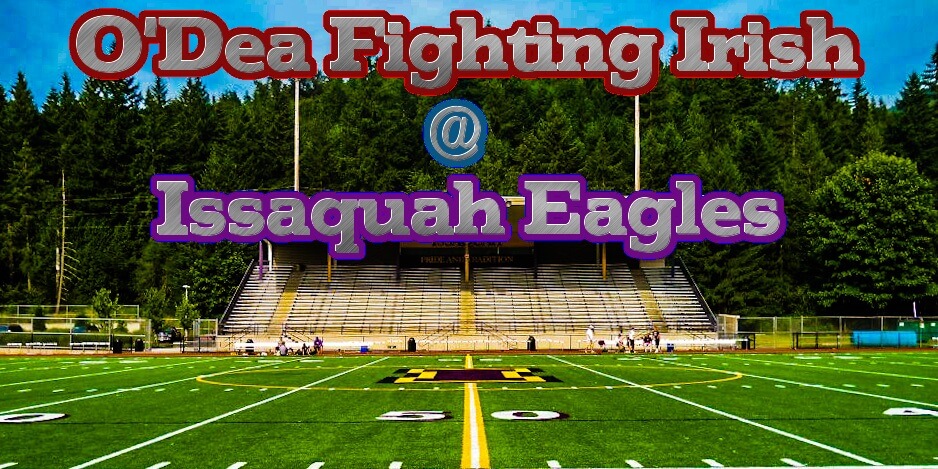 Quarterbacks
Advantage: O'Dea (slight)
Both teams feature senior QBs. O'Dea will send out duel-threat Pierre LeDorze (6'2″ 220). While he is not your traditional duel-threat, in the Fighting Irish offense he will see his fair share of carries and is a threat. He is a three year starter, having led O'Dea to runner-up finish at state as a Sophomore. LeDorze is also one of the state's top baseball players and is being looked at by Ivy League schools in both sports. He will be given a chance to throw the ball more this season as the Fighting Irish have become more balanced offensively.
Issaquah's spread offense will be under the direction of Jack Neary (6'3″ 205). In the Eagle offense he is asked to do more throwing than running, and a lot of handing off, but Neary is more than capable of taking off at any point. He is one of the more unknown QBs in the state and has steadily risen up our rankings.
Runningbacks
Advantage: O'Dea
I had to take a second to make sure I am not giving the advantage to Jack Gellatly, but that is exactly what I am doing and here is why. The duo of senior Jack Flor (FB 6'2″ 210) and junior Myles Gaskin (RB 5'10" 195) is one of the best in the state. If it was just Gaskin and Gellatly I would've probably gone even or maybe just a bit to Gellatly, but the blocking and running ability of Flor is what tips the scale to O'Dea. Flor is a two-way stud, not only is he the top FB in the state, but his ability as a LB also ranks him in the top 3. Gaskin is one of the state's top backs and rushed for just over 200 yards in a week one game that was suspended at halftime.
Senior Jack Gellatly (5'11" 210) gives the Eagles the ability to move the ball on anyone. His combination of speed and power is rare, and when added to great vision, he is considered to be a top collegiate prospect.
Wide Receivers/Tight Ends
Advantage: Issaquah (slight)
The Eagles feature a lot of 4 and 5 WR sets, usually using Gellatly as the 5th receiver. Senior's Tommy Nelson (6'2″ 190), Derek Chapman (6'0″ 170) and Jeff Shipley (5'11" 160) form a trio of great targets for Neary to find. Nelson is Neary's favorite target and a player that is on the rise. He come from an athletic family and is only beginning to scratch the surface of his potential. Chapman is the name most football fans would know as he has been on All-KingCo teams in the past for his performances. Shipley is a captain and one of the more consistent two-way players in KingCo, getting it done on both sides of the ball.
The Irish counter with junior Mikel Owes (6'0″ 160) and Bobiono Sims (6'0″ 170). Owes is considered one of state's top WRs in the 2015 class, and saw significant playing time as a sophomore last season. Senior Jack Murphy (5'11" 165) is a good option in the slot for LeDorze, especially on third down. What makes the Issaquah advantage slight is the play of Irish TE Alexei Oro (Sr. 6'2″ 242). He is one of the best blocking TEs in the state, and has shown great ability in the passing game. With the Irish throwing the ball more than usual this season, Oro is a play that should really play a big part.
Offensive Line
Advantage: O'Dea
The Irish have always been known for great line play and this year is no different. They aren't the biggest group, but they're well coached and all have a bit of a nasty streak in them required to play the position for coach Kohler. This year's line features four juniors, that are led by center and lone senior Mikey Hernandez (5'10" 220). Guards Che'lon McLennan (5'10" 245) and Dylan Ledbetter (6'3″ 230) are two of the stronger players on the team and do a great job getting off the ball with their powerful strike. On the outside the Irish feature Erik Fulleton (6'1″ 203) and their member Seamus Courtney (6'2″ 265).
For the Eagles it is mostly about senior center Shay Dingfelder (6'1″ 300). He is a three year starter and one of the best lineman in KingCo. Alongside Dingfelder look for Jacob Peterson (Sr. 6'2″ 205) and Andrew Dieken (Jr. 6'2″ 205) who both play significantly on both sides of the football.
Defensive Line
Advantage: O'Dea
O'Dea's line is one of the best in the state and it is led by senior DT Jarius McDade (6'2″ 315). Currently ranked #5 in the NEI rankings, McDade holds multiple D1 offers and should continue to add them as the season progresses. Teaming with McDade to clog the line are senior's DeJuan Ransaw (6'1″ 255) and Gerald Kennedy (5'10" 230). While neither may not have the big time expectations of McDade, they are still two of the better linemen in the Metro conference and should have a nice day. Alexei Oro and Dylan Ledbetter both play two-ways and will see time on the DL, and when you add junior Curtis Delgardo (5'10" 220), the depth on the defensive line is really difference between the two teams.
Last week I came away very impressed with the play of Jacob Peterson (4 sacks) and Andrew Dieken (1 sack) of Issaquah. Defensive coordinator Fred Abila told us to keep an eye on DT Conner Smith (So. 6'3″ 215), and he didn't disappoint. He has a good motor and ability that will put him in our 2016 rankings when they come out. When you add Shay Dingfelder into the mix, you have a very good front four for the Eagles.
Linebackers
Advantage: O'Dea
The early play of Jack Flor has put all possible questions about weather the Irish could replace league mvp Jack Oman to rest. Flor's toughness and all-around athleticism, he first dunked a basketball at the beginning of his freshman year, is what makes him so special and the reason we have him so highly ranked. Teammate Nathan Proctor (Sr. 6'0″ 205) brings speed and toughness to the position and is a return All-League Honorable Mention.
This group is where the Eagles are the most inexperienced and that is why O'Dea gets the advantage. Senior Cody Lamarque (5'11" 185) is the only returning starter and was impressive last week against Mount Si. Paul O'Neill (Sr. 6'1" 190) and Matt Sarkozy (Jr. 6'2″ 215) round out the backers that should see a lot of action and will need to really play big if the Eagles are going to win.
Defensive Backs
Advantage: Even
The most experienced position group for Issaquah is their secondary. Derek Chapman is considered the best of the bunch, but it was Tommy Nelson that really impressed me last week. They might not be tested all that much this week, but when they are they will need to be tough and make plays when needed.
Justus Ross (Sr. 5'10" 180) of O'Dea is one of the state's top DBs. He has the ability to run with just about anyone and is one of the harder hitters in the area. Davarea Proctor (Jr. 5'10" 200), Nate's younger brother, plays strong safety for the Irish and he is just that. Proctor carries on a long tradition of feared Irish players that are the epitome of Monte Kohler Football. Senior Ryland Kerr (5'9″ 160) and junior Kaleb Swain (5'9″ 150) are two of the more athletic players defensive players for O'Dea and will be tested all night as the Eagles will need to throw the ball.
Overview
O'Dea comes in highly ranked and for good reason. Through just a game and a half, week one suspended at halftime, the Irish have compiled over 800 yards of offense. They are stacked at just about every position and head coach Monte Kohler is great at getting the best out of his players. That's not to say Issaquah can't win this game. They won 33-30 last season in a game they were also not favored. If they can establish the run on offense, and stop it on defense, they could be in for a good day. The Irish are going to look to pound the ball as usual and if Issaquah tried to stack the box the Irish will throw. This game has the makings of one that will go down to the wire.