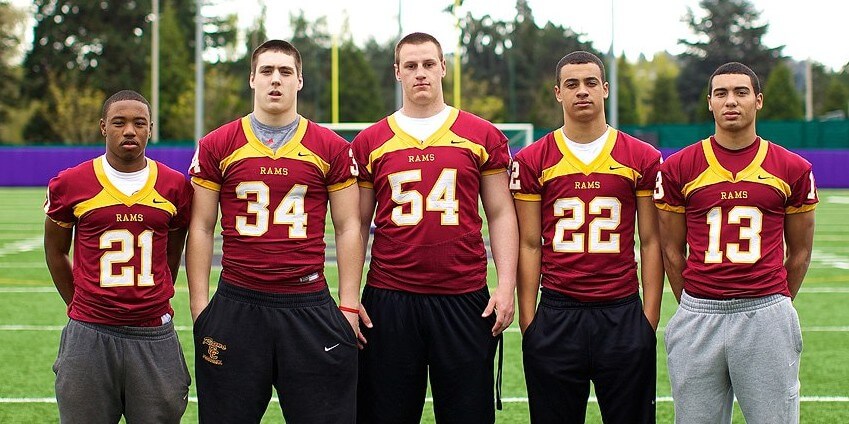 Quarterbacks
Advantage: Central Catholic
Aidan Wilder (6-0 190 Sr.) comes in the state's top ranked Senior QB, as he is a D1 kid currently holding an offer from PSU. This is a game where he will need to step up and show why he deserves that ranking. Aidan will be a 4 year starter and one of the best overall athletes to ever come out of CC. If the Rams can win this, they most likely wont be challenged for a couple months.
Jesuit QB Eric Nestic (5-10 155 So.) has done an outstanding job thus far, as I liked what he brought to the table against Camas. The kids undersized, but tough and will be one of the better QB's in the Metro before he is done.
Runningbacks
Advantage: Even
Its rare to ever see seven D1 backs on one field, during one game, but here you go. Two of the region's top recruits will go head to head in Stanford commit Joey Alfieri (6-3 225 Sr.) of Jesuit and Oregon St commit Ryan Nall (6-3 225 Sr.) of CC. Add to this the state's top two Junior RB's and it only gets more real.
CC's Cameron Scarlett (6-2 205 Jr.) has been lights out so far this season, leading the state in rushing and showing that he should be considered one of the top backs on the west coast. He will battle all everything athlete Chase Morrison (5-10 175 Jr), who also projects as a D1 corner. Central Catholic young gun Ronnie Rust (6-0 190 So) will be one of Oregon's top ranked athletes for 2016, already starting on both sides of the ball for the Rams. Jason Talley (So.) and Zach Houlemard (So.) might not play as much, but both kids are super legit and will also be two of the state's best.
Wide Receivers
Advantage: Central Catholic
Zack Davis (5-11 170 Sr.) is one of the fastest rising recruits in the NW, having a breakout season thus far with 4 TD receptions. Backup QB Holden Oglesbee (6-0 190 Sr.) is a legit wideout with size, looking like one of the best players on the field last week. Chase Cole (5-7 165 Sr.), Lamar Winston (6-3 200 So.), and Xavier Pinder (6-2 180 Sr.) will all play, as Cole is a 165 pound ping ball with Winston being one of the top players in the Northwest for 2016.
Jesuit's Trent Werner (6-1 190 Sr.) has had a phenomenal year thus far, with multiple long TD receptions. Werner projects as a D1 DB, but can dominate most one on one. The Crusaders are smart putting Christian Martinek (6-5 230 Sr.) out wide as he is able to body most DB's and pose problems at 6-5. If the Crusaders throw the ball 6-5 Mitchell Powers is always a viable target for a jump ball.
Tight End
Advantage: Jesuit
Henry Mondeaux (6-5 245 Sr.) is one of the top TE's to ever suit up in Oregon and poses a mismatch against basically everyone. CC will need to double him otherwise Nestic should be able to use him as a primary receiver. He is an even more valuable blocker.
CC doesn't typically use a TE.
Offensive Line
Advantage: Central Catholic
4 D1 O Lineman graduated from last year's Jesuit squad. It probably gets tiring hearing that, but it has made a difference. (Doug Brenner-Oregon, Andrew Kirkland-Washington, Max Rich-Harvard, Ryan Brown-Portland St) , with Mike Miller (6-5 285 Sr.) and Charlie Landgraf (6-2 270 Sr.) both stepping up to lead. Ben Jarrett (6-2 215 Sr.) and David Brugato (5-11 250 Sr.) have done a good job, but they are just much smaller then last year's group that averaged 6-5 1/2 290 across the board.
Central's O line features 6-7 Junior Blake Brandel, who has a frame much like Clackamas standout 6-7 David Reese. James Cory (6-3 280 Jr.) and Riley Gallant (6-5 265 Jr.) will be two of the state's top ranked Jr. lineman, with one of the nations top D end's also playing offense in Connor Humphreys (6-4 270 Sr.). Junior TJ Salu (6-2 250) also did a nice job against LO.
Defensive Line
Advantage: Even
If the Rams want to win Connor Humphreys will need to have a monster game on defense. The Crusaders don't have anyone that can stop him off the end, so he will need to be doubled. This gives other's on the CC D a chance to shine. Sam Gomez (6-0 215 Jr.) was super quick off the ball on Friday and can play multiple spots on defense. Senior D lineman Sean Rogers (6-2 225 Sr.) could also get in the mix
Martinek comes off the ball as fast as D end in the region, and would play big time D1 football if chose to pursue it. Mondeaux can line up at backer or end, and is one of the top two way threats in America. Between the two of them CC will have to adjust. Brugato is beast inside due to his size and leverage and Jr Paul Vickers (6-0 245 Jr.) could come in and do some things.
Linebackers
Advantage: Jesuit (slight)
I would bet a lot on Joey Alfieri playing one of the best games of his career. He is the type of kid that rises to challenges, which is what ultimately makes him so special. Look for Alfieri to be the X factor on offense and defense. Mondeaux playing backer is unique, as its extremely rare to see such an agile 6-5 245 pound athlete. Sophomore Mike Petroff (6-1 215) will be special and Zach Houlemard (6-1 185 Jr. LB) is one of the top multi dimensional athletes in the 2016 class. Junior Dane Strength could also see time.
Nall is one of the most dominant backers in the west and will be a huge factor. Junior Matt Vanoudenhaegen (5-10 190) had the play of the night taking a pick 60+ yards to the house to sea the deal against LO. He has had an outstanding season so far. Sophomore LB's Lamar Winston (6-3 200) and Rust (6-0 190) were one of the feature stories last week, as they are elite talent on a national level for their class. Rust plays with a non stop motor, and Lamar is just a flat out freak. The group is young and will need to play beyond their years. Eamon McNeil (5-10 205) and Tyson Cooper (5-11 195) are the other top juniors that will play a role.
Defensive Backs
Advantage: Jesuit (slight)
The Rams feature the state's #1 corner Aaron Washington (5-9 170 Sr.) and one of the fastest rising juniors in Saadiq Calhoun (5-9 165). Oglesbee has stepped up on both sides of the ball and been maybe the surprise of the season thus far. The kid is good. AJ Newman (5-9 165 Sr.) could also be a kid that sees time. They lose one of the top safety tandems in state history with Dallin Leavitt (BYU) and Beau Duronslet (PSU). Zack Davis can be equally valuable on defense if needed, as he has outstanding football instincts.
Jesuit's Werner is ranked our #2 DB State wide as he can play 3 or 4 positions and be the best at all of them. Right now he's a 1st team all state kid on both sides of the ball. Chase Morrison will most likely be ranked our #1 corner for 2015 class, while Sophomores Geremiah Maxie (5-8 170 So.) and Matt Ferguson (5-11 160 So.) add to a special 2016 class.
Overview
There will be no love lost in this years Holy War. If the Rams can win this there is a good chance they will be (11-0) two months from now, as the Mt Hood Conference shouldn't pose much of a challenge, much like the first two rounds of the state playoffs.
The Crusaders showed what they were capable of last week, blasting a good Union team. I for see Jesuit playing a similar game to the one against Aloha last season and making this close. The Rams have done well against Jesuit over the years, and is player for player the best team in Oregon. That said, I have feeling that the Crusaders will come out polished and pose some issues for CC.
This is definitely one of the toughest games to call all year. It could go either way and should stay within a touchdown margin, but I will say….
Prediction
Jesuit 28 – Central Catholic 27