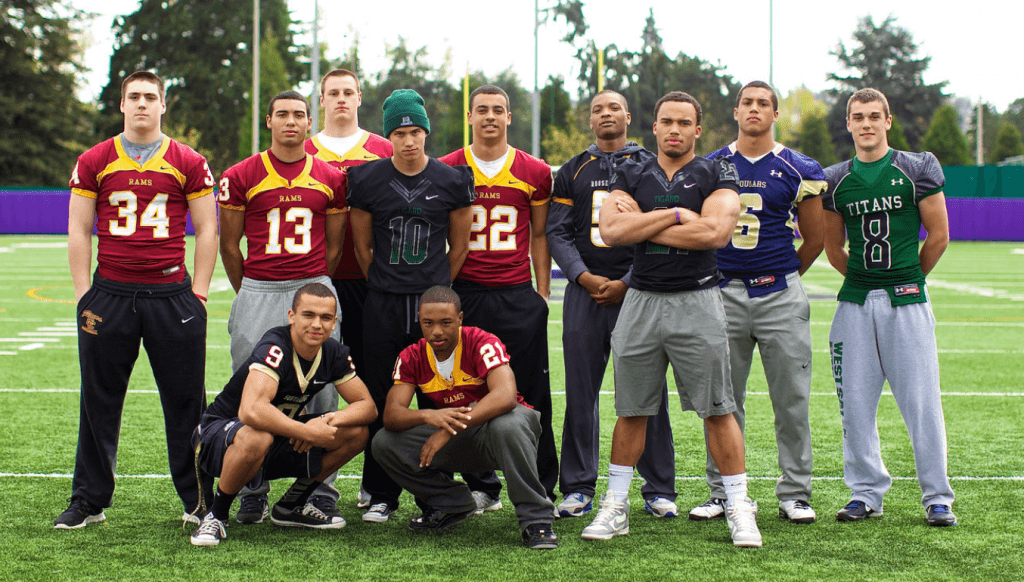 6A Top Ten
1. Tigard (3-0) – The Tigers most likely won't be challenged for the next two months as the Pacific Conference is down and these kids are very talented. The tandem of AJ Hotchkins and Manu Rasmussen is lethal, with Manu rushing 7 times for 175 yards and 2 TDs (71-68), dropping 50 on Glencoe in the first half. Jett Even is maybe the fastest rising QB in the Northwest giving the Tigers an added dimension that they haven't always had in the passing game. Daren Rodrigues has become one of the top slots in the state, and Jake Biglow is a Conference Defensive POY Candidate and just a really good football player. Look for them to blast their next 6 league opponents and win their first couple playoff games handily.
Next: @ Century (0-3)
2. Central Catholic (3-0) – Player for Player Central is the most talented team in the state. The Rams could never bury Lake Oswego, but that's a tall order. They feature three D1 kids in their backfield (Ryan Nall Sr, Cameron Scarlett Jr, Ronnie Rust So.), and a pair of freaky sophomore's that only make the Rams future even brighter (Lamar Winston So, Rust). The Holy War will be one of the toughest games to call of the year.
Next: @ #4 Jesuit (2-1)
3. Sheldon (2-1) – The Irish did what was expected, but South Eugene has improved quickly under Chris Miller. Kellen Strahm had 6 catches for 99 yards and a couple TDs, while QB Joseph Kuehn continues to be the surprise of the year, ballin' out every week.
Next: @ North Medford (2-1)
4. Jesuit (2-1) – I think Jesuit will come out and play well against CC, as the Crusaders stomped a good Union team last week 32-7. Joey Alfieri (Sr. FB) and Chase Morrison (Jr. RB) are the real deal, and Trent Werner is having an outstanding year. Both Henry Mondeaux and Christian Martinek can dominate a game defensively, being 6-5 and very athletic. I would not want to play Jesuit this week.
Next: vs #2 Central Catholic (3-0)
5. Southridge (2-1) – The Skyhawks have gotten back on track, as Arizona commit Jordan Morgan caught 3 TD passes in the first half, two from QB AJ Woodin in a beat down of Centennial. Southridge will have to play mistake free football to beat a very fundamentally sound Lake Oswego team on the road. Devin Martinez and Jake Pruit have both set the tone running the ball, and that most likely wont change.
Next: @ #6 Lake Oswego (1-2)
6. Lake Oswego (1-2) – I like this young LO group. Its a much different team from the previous 2 years, but the kids play team football. Sophomore Mitch Verburg will be one of the top QB's in the state for the 2016 class, while Nick Underwood and Jordan Horak will both be TRL Player of the Year candidates. Underwood has phenomenal balance when he is running the ball. LO couldn't hang with CC, but overall did a pretty good job. Junior's Zach Parker CB/WR, and RB Daniel Dennis both played very well.
Next: vs #5 Southridge (2-1)
7. Clackamas (3-0) – The Cavs played much better as the Dan Sherrell show continued. "Smiley" went for another 309 yards and 3 TDs, and Brody Haehlen dominated on defense and found the end zone on offense. When Clack is on they are tough to beat. Aloha isn't terrible and they got dominated. They should cruise this week as I am still trying to figure out how they lost to Reynolds last year.
Next: @ Reynolds (1-2)
8. Canby (1-2) – The best (1-2) team in the state as the Cougars have lost to OR and WA #1's Tigard and Camas. I will still take Canby against most as they should be able to do have there way with the Cardinals, especially up front.
Next: @ Lincoln (1-2)
9. Sunset (3-0) – The Willy Pflug show is now in full effect as he has hit on 79% of his passes for 900+ yards and 9 TDs over the first three games. He has outstanding targets in Jeff Bieber 6-4 and Josh Brown 6-6 with other kids stepping up all over the place. RB Charles Wenzel went for 144 yards and 3 Tds. The big question will be whether or not the Apollos can do the same thing in Metro League play.
Next: @ Aloha (1-2)
10. West Salem (3-0) – Maybe the most exciting team in the state thus far, that has relied on a phenomenal 2015 class to win. Cade Smith and Keegen Hlad are considered the top junior QB/WR duo in the state. The Titans took care of business blasting Bend 48-7, but Sprague will be dangerous and well prepared.
Next: @ Sprague (1-2)
5A Top Ten
1. Sherwood (3-0) – Maybe the most dominant 5A team ever. They blasted a good Hermiston club on the road 63-9, as Keegan Lawrence and Mickey Schaefer went for close to 300 yards and 4 Td's again on the ground.
Next: @ St Helens (1-2)
2. Silverton (3-0) – Dallas hung with the Foxes in the first half but they blew it open, grabbing a 38-7 victory. Silverton's D has only allowed 14 points this season, and has a legit offense led by Junior standout Cole Chandler at Quarterback.
Next: @ Corvallis (1-2)
3. West Albany (2-1) – The Bulldogs got back on track getting a big road win over a tough Crescent Valley team. They could not contain Jake Lacoste as he went for 278 yards and 3 Td's in the victory. West was fresh off a 48-0 drubbing by Sherwood so this win was necessary.
Next: vs Woodburn (0-3)
4. Ashland (3-0) – The Grizzlies got their biggest win in years, beating a Marist team that had never lost a MWL Conference game. Read more Right Here .
Next: @ Churchill (1-2)
5. Springfield (2-1) – The Millers have bounced back nicely after a week 1 loss to #2 Silverton. They trounced Willamette 54-6 after beating Corvallis by 40+ the week before. Sophomore QB Trever Watson is real.
Next: vs Eagle Point (1-2)
6. Crescent Valley (1-2) – CV played well and is a good football team. They have talented kids on both sides of the ball and have a legit shot come playoff time.
Next: @ Lebanon (0-3)
7. Wilsonville (3-0) – The Wildcats played there best game of the year, putting away Parkrose early. Derek Sunkle continued his tear going for 250 on the ground on 18 carries, with 4 Tds. The Cats cruised 42-6.
Next: @ Putnam (0-3)
8. Marist (1-2) – The Spartans lost their first conference game since joining the league in 2010. They are now in unfamiliar territory and will have to hope for some help from Springfield if they want a piece of the MWL title.
Next: vs Bend (0-3)
9. Hermiston (2-1) – Much like West Albany, Hermiston is a good football team that just ran into a flippin buzz saw in Sherwood. No one saw 63-9 coming as the Bowmen are just that good.
Next: @ Lewiston, ID
10. Sandy (3-0) – One of the most impressive teams thus far, beating Putnam 33-12 and a decent Wilson team the week before. The Pioneers look to be just getting better.
Next: @ Parkrose (2-1)