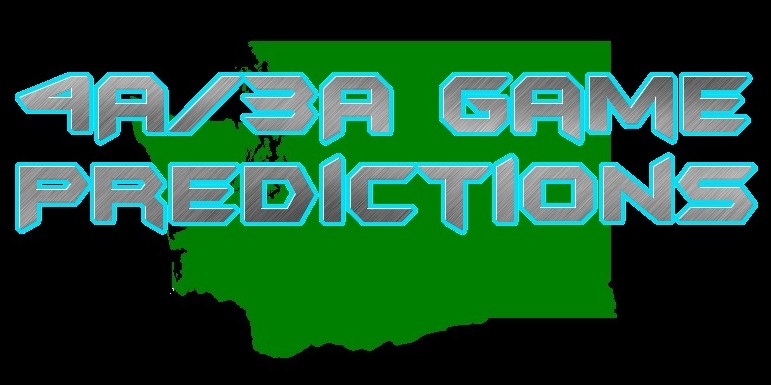 | | | | |
| --- | --- | --- | --- |
| Name | Wins | | Losses |
| Scott | 34 | – | 4 |
| Ryland | 33 | – | 5 |
| Jordan | 33 | – | 5 |
4A Top Ten
1. Camas Papermakers (2-0) @ Auburn Mountainview Lions (1-1)
I think it is safe to say the Papermaker Train is rolling. They are 2-0 and have hammered two of Top Ten teams from Oregon, including the team that was #1 at the time. QB Reilly Hennessey completed 17 of 33 passes for 264 yards and two TDs. Papermaker WRs were led by Zach Eagle (6-104) and James Price (4-108). The way things look right now, Camas may be on cruise control until the Union Titans come to town in week 7.
Picks: Ryland – Camas, Scott – Camas, Jordan – Camas
2. Ferris Saxons (2-0) @ Gonzaga Prep Bullpups (2-0)
One of the more impressive wins in week two was the 38-14 job the Saxons put on Shadle Park last week. They dropped 8-men into coverage all night against the potent Shadle Park passing game, but this week is going to be much different. Gonzaga Prep is a run heavy offense that rushed for over 400 yards in a week two win. Ferris has made their money this year with great play along the defensive line, and this week is going to be no different.
Picks: Ryland – Ferris, Scott – Ferris, Jordan – Ferris
3. Chiawana Riverhawks (2-0) vs Richland Bombers (2-0)
Right now Chiawana looks like the best team in the Mid-Columbia Conference. Through two games they have outscored their opponents 91-7. Last week in a big win over Kennewick, they showed offensive balance that coaches dream of when they rushed for about 140, and passed for another 240. The defense has been just as good finishing with six sacks, five turnovers and only allowing five first downs.
Picks: Ryland – Chiawana, Scott – Chiawana, Jordan – Chiawana
4. Eastlake Wolves (2-0) @ Skyline Spartans (1-1)
Arguably the biggest win of week two came when Eastlake dropped Eastside Catholic 27-21… You can read more about that game Right Here… This week they look to sweep the Sammamish Plateau when they travel about two minutes down the road, past Eastside Catholic, and onto the campus at Skyline High School. The Spartans are coming off a 38-23 win over Coeur d'Alene and will be up to the test. If you plan on going, you better get there early as this game will undoubtedly be highly attended.
Picks: Ryland – Eastlake, Scott – Eastlake, Jordan – Eastlake
5. Graham-Kapowsin Eagles (2-0) vs Federal Way Eagles (2-0)
This is a game that should have big implications on the SPSL South. If the Graham-Kapowsin Eagles come out on top, they will most likely go on to win the league. Shoud Federal Way win, they will have the inside lane on the way to a third straight Division crown. Runningback Teague James has been on a roll to start the season and will need another good game if GK is to win. Graham-Kapowsin is going to have to find a way to keep control of Federal Way speedsters Keenan Curran and Chico McClatcher, who have been running wild on defenses.
Picks: Ryland – Graham-Kapowsin, Scott – Graham-Kapowsin, Jordan – Graham-Kapowsin
6. Newport Knights (2-0) vs Woodinville Falcons (2-0)
This game is a rematch of last seasons 42-10 win for the Knights. Gone from Newport is Isaac Dotston (WSU), but the Knights look to be stronger. This will be a good test for them before heading into conference play, as the Falcons have outscored their opponents 84-7 through the first two games. The Knights have a stable of RBs led by senior Conner Baumann who on the season has18 carries-220 yards and 2 TDs. The Falcons are going to have to slow down the Knights running game, but not forget about TE Drew Sample who hurt them badly last season.
Picks: Ryland – Newport, Scott – Newport, Jordan – Newport
7. Jackson Timberwolves (2-0) vs Glacier Peak Grizzlies (2-0)
The duo of Trey Robinson and Keynan Foster continue to impress for the Timberwolves. They are two of the fastest players in the state and have proven almost impossible to tackle, especially in the return game. If the Grizzlies kick the ball to either player, they haven't watched enough film. Foster has two punt returns for TDs in two weeks, also adding a kickoff return in week one. They aren't just special teams wonders, Robinson had two receiving TDs last week. Nick White has started nicely and rushed for three TDs last weekend. Glacier Peak is one of the more surprising 2-0 teams in the state, and have done great work along the offensive line. Some polls even have the Grizzlies in the top ten.
Picks: Ryland – Jackson, Scott – Jackson, Jordan – Jackson
8. Bellarmine Prep Lions (2-0) vs Central Kitsap Cougars (2-0)
The Lions' offense hasn't exactly take off like last year, yet. QB Lou Millie, a converted RB, has done a good job thus far, but I believe he has yet to play his best football. The Lions were down 14-0 late in the third quarter to Lakes, but they stood up to adversity and a FG with just over a minute left would give them a 16-14 win on the road. After winning big over Bainbridge in week one, the Central Kitsap Cougars had to comeback to beat Enumclaw 27-24. This is a game that Bellarmine Prep should not lose, as they are the favorite in the Narrows 4A.
Picks: Ryland – Bellarmine Prep, Scott – Bellarmine Prep, Jordan – Bellarmine Prep
9. Bothell Cougars (1-1) vs Capital Cougars (0-2)
After an epic come-from-behind win in week one, the Bothell Cougars went into Bellevue and did what everyone else does… Got blasted by the nationally ranked Wolverines 49-6. Bothell is far too talented to be down long though. This week they come home to Pop Keeney for the first time to play a Capital team that has really struggled early on. Capital lost a ton of production off last year's state semifinal team, including RB Kai Van Sickle. Look for Bothell to run away with this one.
Picks: Ryland – Bothell, Scott – Bothell, Jordan – Bothell
10. Union Titans (1-1) vs Peninsula Seahawks (0-2)
The Jesuit Crusaders took their frustrations from a beat down the week before, out on the Union Titans last week in a 32-7 win. I still think Union is a top ten team in the state and they will get right back on the horse. Peninsula lost a lot of seniors off last year's state quarterfinal team, but do return some quality players. It will be tough for the Seahawks to hang with the Titans in this one.
Picks: Ryland – Union, Scott – Union, Jordan – Union
3A Top Ten
1. Bellevue Wolverines (2-0) vs Sammamish Totems (0-2)
Bellevue is nationally ranked again and wont be tested for a while. The last nine years between these two teams, Bellevue has outscored Sammamish 473-34. Only once have the Totems scored in double digits and that came all the way back in 2004 when Bellevue won 47-10. Expect to see a running clock.
Picks: Ryland – Bellevue, Scott – Bellevue, Jordan – Bellevue
2. O'Dea Fighting Irish (2-0) @ Issaquah Eagles (1-1)
This is a game I previewed yesterday and you can find it Right Here.
Picks: Ryland – O'Dea, Scott – O'Dea, Jordan – O'Dea
3. Juanita Rebels (2-0) vs #7 Mount Si Wildcats (2-0)
Last years game between these two was over and over quick as the Mount Si hammered Juanita 60-6. This year should be much different. The Wildcats lost virtually every skill position player from last year, but do return plenty of talent to make this game one that could go either way. The Juanita offense has been putting up great numbers and sophomore QB Tavin Montgomery paying at a very high level. Expect lots of points and a very close game. The winner of this game most likely finishes the season as the #2 seed out of KingCo.
Picks: Ryland – Juanita, Scott – Juanita, Jordan – Juanita
4. Eastside Catholic Crusaders (1-1) vs Lake City Timberwolves (ID) (2-1)
Last weeks Eastside Catholic dropped a close one to a very good Eastlake team. This week they welcome in one of the better teams from the state of Idaho. Lake City comes in with a single loss to Rocky Mountain (Meridian, ID) High School, who some consider to be that state's best team. Since then they won 42-10 over Kennewick, WA and 40-20 over Hillcrest (Idaho Falls, ID). The Crusaders have the weapons and line to play with anyone in the northwest and should win this game.
Picks: Ryland – Eastside Catholic, Scott – Eastside Catholic, Jordan – Eastside Catholic
5. Marysville-Pilchuck Tomahawks (2-0) @ Snohomish Panthers (0-2)
Runningback Austin Joyner is a prized recruit and one of the big reasons the Tomahawks are ranked so highly. Last week it was junior JJ Valencia that provided the spark as he scored three TDs in a win over Lake Stevens. Under first year head coach Kai Smalley, the Snohomish Panthers are one of the more improved teams in Wesco and it is only a matter of time before he has that program back on track. On paper this game is one-sided and headed for a running clock.
Picks: Ryland – Marysville-Pilchuck, Scott – Marysville-Pilchuck, Jordan – Marysville-Pilchuck
6. Lincoln Abes (2-0) vs Mount Tahoma Thunderbirds (0-2)
All signs point to an Abes victory. Second year head coach Jon Kitna and his coaching staff have done a phenomenal job changing the culture at Lincoln and installing a winning attitude. Senior RB Rayshaun Miller is one of the more overlooked backs in the state, and WR J'Maka Love is a player that has the ability to take any touch to the house. This game is homecoming for the Abes and the night will likely end early. They put up 62 against Stadium, and should do just about the same vs Mount Tahoma.
Picks: Ryland – Lincoln, Scott – Lincoln, Jordan – Lincoln
7. Mount Si Wildcats (2-0) @ Juanita Rebels (2-0)
See 3A #3 above.
8. Kamiakin Braves (2-0) vs Sunnyside Grizzlies (0-2)
After a smooth week one win over Prosser, Kamiakin went down to the wire with the Hanford Falcons before winning 33-27 to remain 2-0. Sunnyside on the other hand, they've only scored a total of 13 points through two weeks. Expect Braves QB Kylle Robertson to have a big game against a suspect Grizzlies defense.
Picks: Ryland – Kamiakin, Scott – Kamiakin, Jordan – Kamiakin
9. Shadle Park Highlanders (1-1) @ University Titans (0-2)
Last week might have been an eye opener for Shadle Park as the Ferris Saxons not only dropped eight-men into coverage, but were still able to get a pass rush. The Highlanders were held under 200 yards of offense as their WRs really struggled to find space. Some polls had University in their top ten to start the season and have quickly removed them. This is a game that Shadle Park should not lose and to prove they are not the same team as in years past, they will need to win.
Picks: Ryland – Shadle Park, Scott – Shadle Park, Jordan – Shadle Park
10. North Thurston Rams (2-0) @ Foss Falcons (2-0)
Rocky Patchin of North Thurston is one of the more underrated head coaches in the state. Right now the Rams are averaging just over 275 yards rushing a game and playing tough defense, which allows them to control the clock. Senior RB Hayden Maliska has carried 32 times for 220 yards and three TDs offensively, while also leading the team defensively. Maliska is one of the state more unknown two-way threats. Foss went to Alaska last week and put up 41 points on Juneau, a week after squeaking out a 7-0 win over Lake Washington.
Picks: Ryland – North Thurston, Scott – North Thurston, Jordan – North Thurston