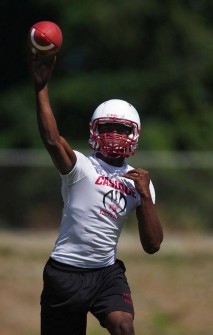 One of the more intriguing players to take the field so far this season in the state of Washington is Cascade (Everett) QB/DB Josh Smith. After two games, he has the Bruins at 2-0 and looking for more this weekend with a big game against Everett High School.
"It's been a fun start to the season, but we still have a long way to go," Smith told Northwest Elite Index recently. "It took a while for me to sort of get in the groove because it's a bigger town than I'm used to and a bigger school. I came from a small school in Florida, so it's been different for me, but I'm feeling more comfortable and I think things are starting to slow down for me."
So far this season, Smith has completed over 50% of his passes (17 of 25) for 300 yards while running for another 150 yards and a total of eight scores while throwing just one interception.
"It's been a lot of fun because we're winning obviously, but also because I think we can be so much better," Smith said. "I've started to get to know my teammates a lot better and things are starting to click for us. We have some talented guys here and with Randin (Cresilus) up front, our line is playing really well too."
When he showed up at the Barton Showcase at Interlake High School in Bellevue this summer, most of us were shocked to learn he had transferred to Cascade from Florida. One school, South Alabama, saw the talent right away and offered him and that led to a commitment and he remains committed to the Jaguars, but he's also keeping an open mind to other schools that could come calling.
"I'm committed to (South Alabama) and I'm good with that, but I'm also open to listening to other schools," Smith said. "Anyone that likes me is welcome to recruit me and if they are a better fit for me, well, that's something I need to keep an open mind to.
"So far, none have been talking to me yet, but I think if we keep winning and I keep improving, that could change. We'll see."
We will have more from Smith in the coming weeks as the season moves along and we will update news with him as it happens.