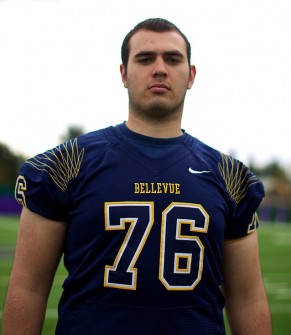 It was the 9th overall offer for the standout tackle, but his first out of the Pac 12. Speaking on how it went down he said, " I got in touch with Coach Broussard who said they would be offering me a full scholarship to come play football at UCLA." He continued, "At first I was speechless and thought I may have heard him wrong, as I was on my deck which is right next to the 520." Richey continued, "He reiterated what he said and I was just very grateful."
We currently have Richey ranked as one of our top 3 offensive lineman in Washington, as he looks to only be getting better adding the offer from the talented Bruins. He added, "Its a great academic school that's rich in football tradition, and possibly a top 10 team… I'm definitely looking forward to taking a visit."
Richey is part of a special Wolverine squad that is considered one of the top teams in America once again. They will be looking to capture their 6th consecutive state title under Butch Goncharoff, and Richey will be a big reason why. Bellevue features Washington's top two defensive lineman in Marcus Griffin (Washington State) and DE Shane Bowman (Oregon State), who are both committed to Pac 12 schools.
High profile recruit Henry Roberts (Jr. 6-7 270) will team with Richey and Griffin on the offensive line to make this years group special. Morgan added, "Chris Medzegian (Sr. 6-0 205) and Alec Palander (Jr. 5-10 230) will be a big part of our success, as they are like the old school Bellevue offensive line athletes that were undersized but could knock you on your tail."
Morgan is a class kid on and off the field and we wish him nothing but success moving forward. We will keep you updated as things happen.