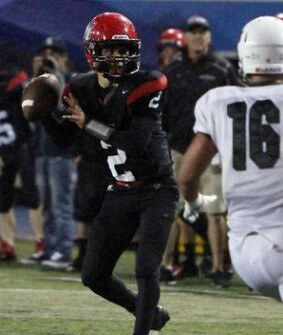 Over the last two years we have gotten to know a special North Medford group that is now reaping the benefits of all their hard work and dedication. The Black Tornado did the unthinkable last night, beating maybe the state's most dominant team over the last decade in the Sheldon Irish. The defending state champions hadn't lost a league game since 2006, just to put into perspective how big last nights win was.
Second year starting QB Troy Fowler (5-11 170 Jr.) hit one of the state's top Junior athletes in Tristen Holmes (6- 1 180), on a 65 yard touchdown pass in the 4th quarter to put North ahead for good. Fowler finished 16 of 35 for 305 yards and 2 TD's. One of the state's top dual threat athletes, Nick Janakes (6-0 190 Jr. RB/S), had another clutch performance scoring the other 2 TD's. He finished with 174 rushing and receiving yards, with a 28 yard TD reception from Fowler in the 4th.
The kids from down South are now (3-1 overall, 2-0 league) and in the drivers seat for the SWC title. Speaking with Janakes last night he says, "We have guys stepping up all over and its a complete team effort". Most of the kids were still in shock as they were getting ready to go on the local news. Fowler says, "I'm really proud of my guys, we will enjoy this tonight and then immediately get ready for Crater at home next week."
North Medford went (2-8) last season, as Sheldon finished (14-0) winning the state title. The Irish beat the Black Tornado 55-0 last year, as they have come a very long way in a short amount of time. They have a special 2015 class that has worked as hard as anybody over the off season to get to where they are at. As we have stated before, they made the trip up to Portland almost every weekend, training with us at our Portland Elite Events.
Jared Evans (6-3 195 Jr. WR/S) is ranked as one of the state's top junior WR's, with Edmond Polataivo (6-2 205 Jr. LB) and Colton Westfal (6-0 200 Jr. ) being two of the SWC's better backers. Janakes, Fowler, and Holmes continued to rave about their teammates, "Jeremy Sparks (5-10 165 Jr. OL) is one the hardest working most fundamentally sound lineman that we have ever had, and for him to do what he's doing at his size is incredible", says Fowler.
Janakes, "Sophomore Will Spence has stepped up and really played great… He has been crucial for us". The SWC is very balanced and each week will pose a different test. Roseburg is currently (4-0), while South Medford and Thurston will always present challenges. Give a lot of credit to Mike Mitchell and his guys, as the last decade for North has been tough to say the least. The tradition rich football school is now back in a position to win a conference title, with a majority of their starters still being underclassmen.
Every week is big in the SWC and we will keep you updated on all of the happening as the year progresses.