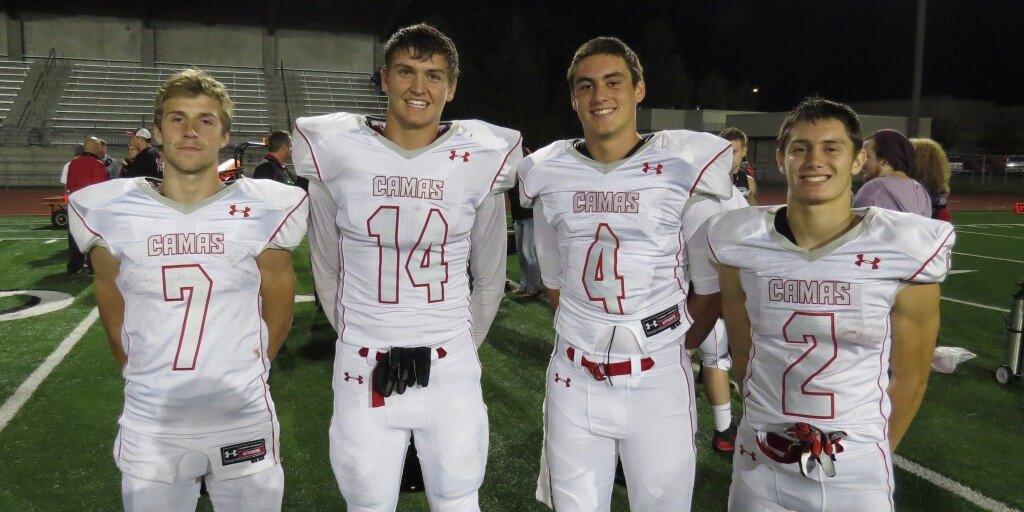 One of the more elite groups to ever come out of the Northwest is this years Camas Papermaker squad. Unless you have seen them play, its hard to describe why they are what they are.
With all due respect to the other WA teams I don't think Camas will be challenged the remainder of he year. They are led by our #1 ranked QB state wide in Reilly Hennessey (6-3 190 Sr.), who is committed to Eastern Washington. He has what Taylor Barton describes as the " It" factor, as he will most definitely be courted by other high profile D1 schools before signing day.
Camas lost in the state semi's last season to Skyline after going (12-0) and blasting almost everybody. It took the nation's top ranked QB in Max Browne, and one of the country's top 20 teams to beat them. The Papermakers are very similar to the 1995-96 undefeated Roseburg, Oregon teams who many consider the best ever out of the state.
Co-Conference Offensive Player's of the year Nathan Beasley (5-11 175 Sr. RB/S) and Zach Eagle (5-9 170 Sr. ATH) are back and even better, with the Papermakers having beaten opponents by an average margin of 55-15 covering the last 3 weeks. They faced two of Oregon's better teams in Jesuit (47-14) and Canby (48-7) to start the season, and then laid 69 on Auburn Mountainview last Thursday.
Beasley went for over 20 TDs last year and then five in the opener when they dismantled Jesuit. He was a 2nd team all league kid as a sophomore at DB, and may project there in college, but for the time being the kids been lights out offensively. Reilly says, "Nate is a baller, and does what he needs to do to get the job done". He continued, "He defies size with speed and durability and is easily the most overlooked player I have been around". Beasley is a 4.0 kid and someone that I have been a huge advocate of. He is one of the more exciting athletes in the Northwest.
As we have said many times before Eagle is the exception to the rule when it comes to undersized skill kids. He projects at the D1 level going for over 1000 yards receiving and 12 TDs last season. His ability to stop, start and accelerate is second to none as he currently sits on the FCS bubble with a host of schools.
Eagle had 7 receptions for 118 yards against Jesuit, and caught 6 balls for 138 yards and a TD against Canby. Junior James Price has been the surprise of the season, with multiple 100 yard games and TD's. Referencing Eagle Hennessey says, "The kids a stud, and the type of guy that makes everyone around him better". You could very well see Zach heading to Eastern with Reilly as the Eagles are extremely high on the standout slot receiver.
Last but not least is 6-5 220 pound NEI favorite Dylan White (6-5 220 Sr. LB/TE), who can play 3-4 different positions on the field due to his versatility. He is one of the better baseball players in the region projecting at the D1 level, while I see him being a steal on the football side of things. In my opinion Dylan is one of the more underrated athletes state wide as his versatility is off the charts.
White had an outstanding Junior season and started the year taking a 50 yard INT to the house against Jesuit. Hennessey adds, "Dylan's a great guy and a competitor, who loves to win."
We could talk for a long time about all of the talent that resides on the Papermakers roster. Head Coach Jon Eagle has done a phenomenal job of instilling the right values in all of his athletes. All of the kids just referenced are honor roll students, who could very well represent one of the best teams to ever come out of the Northwest.
Camas will not play national title contender Bellevue this season, but I would consider it a toss up in a hypothetical matchup. Look for the SW Washington kids to be ranked in the top 50 nationally before the season is over as I don't see them being challenged in 2013. Congrats to the entire Camas football community, this will be a special year to say the least.