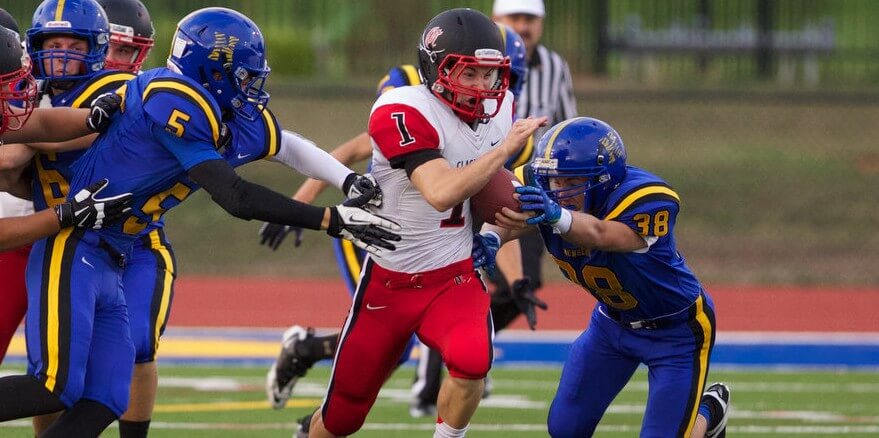 Taylor Jensen So. QB Forest Grove – The talented sophomore QB did what no other Forest Grove quarterback had ever done in a game throwing for 400 yards 2 weeks ago. He did the same thing this week going 22-34, for 434 yards and 4 TDs in the Vikings 43-34 Win over McMinnville. Jensen looks to be one of the top young QB's in the region.
Hayden Coppedge Sr. QB West Linn – Coppedge continues to look like a D1 kid, managing the offense as well as anybody and having another good game through the air going 12 of 14, for 299 yards and 2 TDs.
Central Catholic – The Rams are real. If they are going to win a state title it will be this season. Aidan Wilder played outstanding and showed why he is the state's top ranked QB. Cameron Scarlett could very well be the best junior in the state and Ryan Nall is an absolute freak. Jesuit was dominated in the second half and minus Alfieri it wasn't close.
Sam Inos Jr. ATH Tigard – One of the Pacific Conference's top underclassmen had a breakout performance catching 3 of Jett Even's 5 Td passes (23, 53, 68)
Jonathan Boland Jr. QB Parkrose – Another one of the fastest rising Junior's state wide. He went 18 of 32 for 413 yards and 5 Td's against Sandy Friday, while also rushing for 139 yards on 23 carries.
Joey Alfieri Sr. RB/LB Jesuit – He almost single handily kept Jesuit in the ball game against Central Catholic, rushing for 220 yards on 24 carries, and 3 TDs, in the Crusaders 45-31 loss
Daniel Sherrell Sr. RB Clackamas – Sherrell leads the state in rushing adding 203 yards and 4 TDs against an average at best Reynolds D; He now has 812 yards and 12 TDs on the season.
Conner Mitchell So. RB Oregon City – Mitchell is one of the top players in the Pacific NW for the 2016 class. He continued his tear with 28 carries for 167 yards in O.C'S 31-21 win
Kurt Moon Jr. WR West Linn – The talented 6-5 underclassmen caught 2 TDs (34, 15) and will be one of the state top 10 WRs for the 2015 class when we release the rankings later this week.
Eric Dungey Jr. QB Lakeridge – Dungey's stock continues to rise throwing for 282 yards, while carrying 31 times for 122 yards, and 2 TDs. He could end up being the most recruited QB in the 2015 class.
Barlow RBs – The Bruins lost another close game 22-20 at Grant, but Sr. Garrett Childress had a day going for 180 on the ground, while Junior talent Dillon Payne ran for 119.
McNary Comeback – A very up and down Celtic team pulled off an incredible comeback. Down 25-0 at the half to Mountain View, McNary scored 26 unanswered to win the game 26-25.
Billy Nelson Jr. RB/CB Roosevelt – Nelson already holds a PSU offer and averaged over 20 yards a touch Friday; 4 rushes, 87 Yd's & 3 rec 70 Yd's, with 2 total TD's
Glencoe Defense – The Crimson Tide put the clamps down on a Newberg offense that had been playing well so far this year in the 6-0 win.
Nick Jankaes Jr. RB North Medford – Janakes continues to be one of the most impressive junior's in the state.. He was a big part of the Black Tornado upset of the #3 Sheldon Irish, going for 174 rush/receiving yards and 2 Tds
Louie Germain Sr. RB West Linn – The 5-8 Germain is just good. He's not big (5-8) or a prototypical back but he added another 229 yards and 5 TD's, giving him 11 touchdowns in the last two weeks.
Jett Even Sr. QB Tigard – The senior QB dropped 42 on Century during the first half, throwing for 217 yards and 5 TD's
Austin Brisbee Jr. QB Westview – One of the fastest rising Jr. QBs in the state. Brisbee has helped the Wildcats to a (3-1) record going 27 of 38, for 385 yards and 3 TD's in their 48-29 win over Gresham.
James Schell-Buchanan Sr. ATH Roosevelt – One of the state's top corners did his thing offensively, catching 7 passes for 102 yards and 2 TDs in the Roughriders 47-27 win over Wilson
Vincent Vy ATH Parkrose – The talented Bronco wide out caught 5 passes for 169 yards and 4 of Boland's 5 TD's, as Parkrose beat Sandy
Taylor Travess Sr. RB Springfield – The returning Co conference player of the year who led the state in picks helped the Millers blank Eagle Point 48-0, as he carried the ball 9 times for 136 yards and 3 TDs adding 1 INT.
Anthony Gomez Sr. RB South Medford – The talented two way threat averaged over 30 yards a carry on Friday, rushing 5 times for 159 yards in the Panthers 32-7 win over South Eugene.
Levi Holden Sr. RB Roseburg – The 5-6 Holden helped the Indians start (4-0), carrying the ball 22 times for 167 yards and 2 TDs, not including his 65 yard TD reception and a 90 yard kick return.