**This list is a way to showcase this weeks top performances. I am sure I missed a few and would like to know the ones I did. You can either comment on here or send me an email at Ringerland@gmail.com.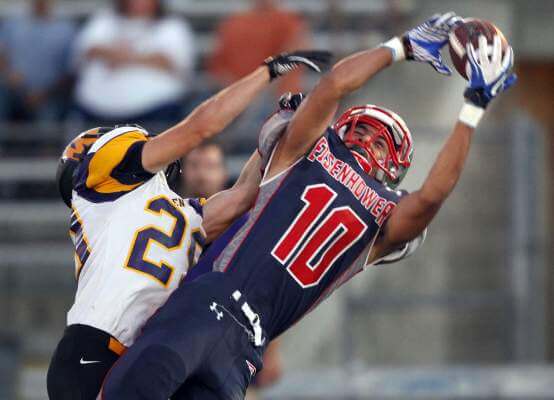 Chris Sawyer, So. QB Eisenhower / Darius Pati, Sr. WR Eisenhower – In a big 44-14 win over Eastmont, Sawyer went 15 of 23 passing for 297 yards and 5 TDs. Eight of those yards went to Darius Pati, who finished the night with 165 yards and 2 TDs. This is a big bounce back win for the Cadets who lost in week two to Moses Lake.
Grayson Madland, Sr. QB Rogers (Puyallup) – In a 43-40 win over rival Emerald Ridge, Madland completed 25 of 36att empts for 350 yards, 3 TDs. He also chipped in with 11 carries for 51 yards and 2 TDs rushing as the Rams got their first win of the season.
Christian Cummings, Sr. RB Tumwater – The explosive senior carried 18 times for 261 yards and 4 TDs. Cummings also scored on a punt return as the top ranked Thunderbirds downed Inglemoor 41-24 on the road.
O'Dea Fighting Irish Rush Defense – With a big body like Jaruis McDade in the middle, and an attacking set of LBs led by Jack Flor, it should be no surprise the Irish defense is tough up the middle. What is surprising is that they held Issaquah to negative-3 yards rushing on the night. Through three games the Irish have only allowed 29 total rushing yards.
Henry Jarvis, Sr. RB Eastside Catholic – Helping get the Crusaders back on track following a week two loss, Jarvis carried 27 times for 248 yards and 2 TDs in a 34-30 win over Lake City High School (Coeur d'Alene, ID). The Crusaders came into the week ranked 4th, but will sure move up after the Juanita loss.
Rowan Parmenter, Fr. QB Cedar Park Christian – In the first start of his varsity career, Parmenter threw 4 TD passes and ran for another score as Cedar Park Christian blasted Chief Leschi 65-0. The Eagles are 2-1 headed into their first league game this week with Chimacum.
Leon Siofele, Sr. RB Union – The senior finished with 27 carries for 239 yards and 3 TDs in a 30-24 win over Peninsula. Siofele is averaging over 200 yards per game, and almost 12 yards per carry for the 2-1 Titans.
Jordan Kitna, So. QB Lincoln – Kitna finished with 293 yards and 7TDs on 12 of 14 passing as the Abes blasted Mount Tahoma 64-0 on Homecoming. It was the second straight shutout for Lincoln who beat Stadium 62-0 in week two.
Ronnie Evenden, Sr. RB Prairie – Evenden carried 21 times for 225 yards and scored 3TDs, but it wasn't enough as the Falcons lost 29-20 to Evergreen. It was Prairie's first loss after starting the season 2-0.
Jared Douglas, Sr. QB Anacortes – In a 27-23 come-from-behind win over Sehome, Douglas rushed 41 times for 185 yards and 2 TDs. The senior also completed 5 passes for 159 yards and 2 more TDs. The win pulls Anacortes to 2-1 on the season with Lynden Christian coming to town this week.
Henderson Belk, Sr. TE Kamiak – Belk is one of the more underrated and unknown TEs in the state and he finished with 4 receptions for 119 yards and two TDs. The Knights now sit at 2-1 after a 35-19 win over Shorecrest.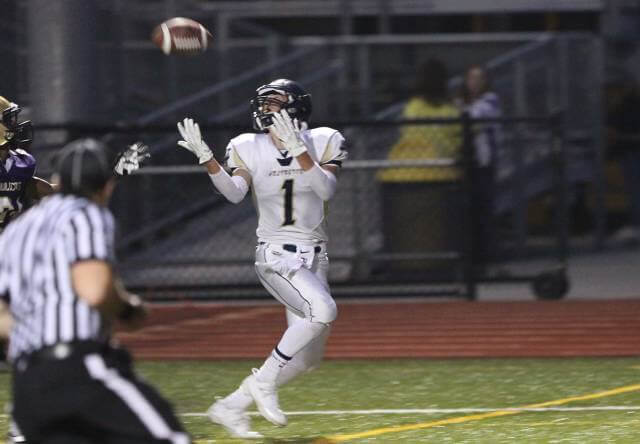 Max Gray, Sr. ATH Arlington – Gray did everything the coaches asked of him when he rushed 10 times for 99 yards and 2 TDs, completed 2 passes for 27 yards and another score. He also had a big 33 yard reception on 3rd and long late in the game to help the Eagles win the Stilly Cup, as they beat Stanwood 34-21.
Lucas Petersen, Jr. QB / Jalani Phelps, Sr. WR Lynden – The defending champs are 3-0 after a 27-20 win over a tough Mount Baker team. Petersen continued to shine completing 15 of 24 passes for 274 yards and 2 TDs. Jalani Phelps finished the night with 8 receptions for 136 and a score.
Kurt Calhoun, Sr. RB Zillah – The top ranked Zillah Leopards hammered Naches Valley 64-7 on Friday night. Calhoun rushed just 7 times for 127 yards and 3 TDs (47, 35, 30 yards). The Leopards face a very good Royal Knights team this week in what is one of the state's biggest games.
Gunner Vanderbilt, Sr. RB Connell – In the Eagles 34-12 win over Cle Elum, Vanderbilt rushed 33 times for 188 and 4 TDs (8, 13, 5, 6 yards). He also had one catch of 31 yards that went for a fifth TD.
Isaiah Simpson, Sr. RB Wilson – The two-way star needed just 9 carries to rush for 230 yards and 3 TDs as the Rams moved to 3-0 with a 41-7 dismantling of Shelton. It is the second straight week Wilson has blown out an opponent after last week's 66-9 win over Bremerton.
Joey Zamora, Sr. QB Chiawana – Another big week for the Riverhawks as they blasted the Richland Bombers 42-7. Zamora finished 18 of 23 passing for 283 yards and 3 TDs. Chiawana is now 3-0 and appear to be headed to a #2 ranking after previous number two Ferris lost.
Dillon Sugg, Sr. QB Wenatchee – The high powered Panthers appear to be rolling again as they hammered unbeaten Moses Lake 49-14. Sugg finished the game 13 of 15 passing for 250 total yards and six total TDs.
Brett Rypien, Jr. QB Shadle Park – Getting back on track after a tough loss to Ferris, the Highlanders took out some frustration on University with a 40-17 win. Rypien was 23 of 30 on the day, with 273 yards and 5 TDs. Four of his TD were to senior WR Tanner Pauly.
Emilio Zamarripa, Jr. QB Toppenish – In a 34-0 win over Wapato, Zamarripa completed 11 of 17 passes for 241 yards and 3TDs. The win moves the Wildcats to 1-1 in the CWAC 2A conference and 2-1 overall.
Denham Patricelli, Sr. WR Tahoma – The big wideout finished eight catches for 199 yards and a 1 TD, but it wasn't enough as the Bears lost to upstart Auburn Riverside 49-35. The Bears came in the heavy favorite, but the Ravens appear to be one of the SPSL North's top teams.
Braiden Beckman, Jr. LB Kentridge – One of the better LBs in the 2015 class, Beckman continues to put up impressive number defensively. This week he had 10.5 tackles and a fumble recovery in the Chargers loss to Auburn.
Daniel Ziegler, Sr. ATH Sehome – Ziegler did a little bit of everything for the Mariners on Friday night, but it wasn't enough as the were beaten by Anacortes. He finished the night with 15 carried for 129 yards and 2 TDs. He also completed 6 passes for 79 yards, and had a 99 yard kickoff return for a TD.
Austin Joyner, Jr. RB Marysville-Pilchuck – What might be considered a bit of a slow night for Joyner, he finished with 11 carries for 181 yards and 3 TDs as the Tomahawks remained unbeaten with a 48-17 win over Snohomish. Expect to see Marysville-Pilchuck move up in the rankings this week after #3 Juanita lost.
Squalicum Rushing Attack – After getting blasted last week, the Storm rebounded with a 42-6 win over cross-town rival Bellingham. Seven Storm rushers combined to finish with 442 yards on the ground, led my Jr. QB Clark Hazlett's 158 and Sr. RB Nick Manchester's 136.
Brandon Thompson, Fr. RB Yelm – Huge night for the ninth-grader who rushed for 225 yards on 20 carries and 3 TDs as the Tornadoes beat Stadium 47-21. Yelm is now 2-1 with a non-conference game against winless Shelton up next week.
Bobby Jacobs, Jr. RB Washougal – In a 35-0 Washougal win over Fort Vancouver, Jacobs rushed 23 times for 226 yards and scored three touchdowns. The Panthers move to 3-0 on the season and have outscored their opponents 98-7.
Dalton Balentine, Sr. RB Ephrata – In a 30-6 win over East Valley (Yakima), Balentine rushed 29 times for 227 yards and a TD (49 yards). The Tigers are now 2-1 on the season with a game against winless, and scoreless Wapato next week.
Nick Wood, Jr. Gonzaga Prep – In an upset win over Ferris, Wood finished with 10 carries for 102 yards and a TD. He also caught 5 passes for another 107 yards and 2 more TDs. The Bullpups are undefeated and face two tough challenges back-to-back when they travel to Shadle Park and play host to Mead. Winning both of those would put a strangle hold on a playoff spot as they finish the season with only one real test.
Mitch Fettig, Sr. ATH / Derrick Becker Sr. QB Olympia – Fettig caught five passes for 130 yards and 3 TDs, while Becker completed 11 of 13 passes for 250 yards and 4 TDs to help the Bears route Timberline 34-7. The win moves Olympia to 2-1 on the season as they head into conference play.