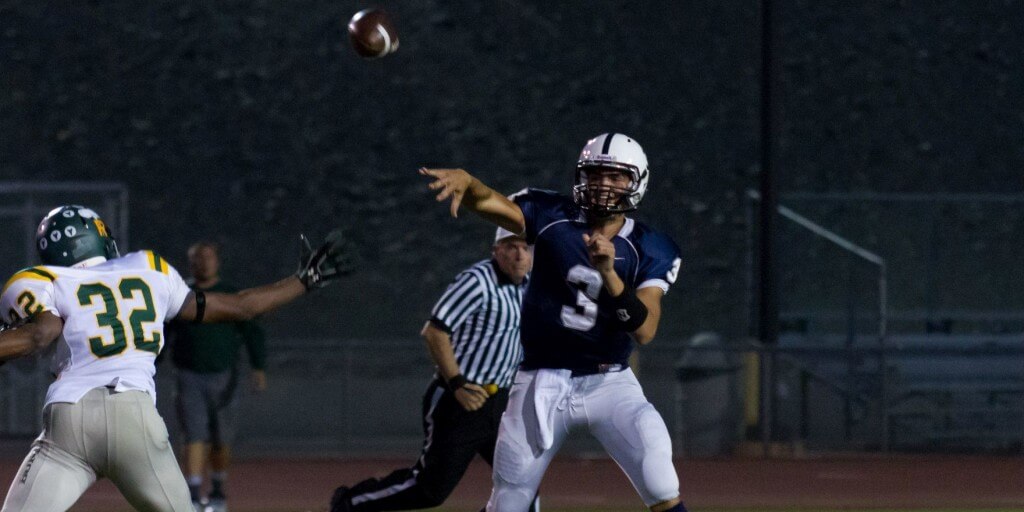 4A Top Ten
1. Camas Papermakers (3-0) W 69-24 @ Auburn Mountainview Lions (1-2)
The Papermakers continue to take care of business. They started slow against Auburn Mountainview, but once they got rolling they showed why they are the top ranked team in 4A. Reilly Hennessey and the offense are making things look very easy right now averaging almost 55 points per game.
Next: vs Lakes Lancers (0-3)
2. Chiawana Riverhawks (3-0) W 42-7 vs Richland Bombers (2-1)
Right now Chiawana appears to be the best team in Eastern Washington. The Riverhawks have outscored their opponents 133-14 through three weeks of the season. This week should be easy, but the following three weeks they play host to Wenatchee and Kamiakin, then travel to Coeur d'Alene, Idaho to play a good Lake City team.
Next: @ Pasco Bulldogs (0-3)
3. (T) Graham-Kapowsin Eagles (3-0) W 39-21 vs Federal Way Eagles (2-1)
GK made a big statement this week by beating FW. Along with Puyallup, they are the only undefeated teams left in the SPSL South. Puyallup plays @ Curtis this week and hosts Federal Way next week, should they win both the week 7 game between GK and Puyallup will decide the South. They've been the NEI favorite to win the league since day one and it will remain that way unquestioned.
Next: @ Emerald Ridge Jaguars (0-3)
3. (T) Newport Knights (3-0) W 40-9 vs Woodinville Falcons (2-1)
There was no doubt about this one as the Knights hammered the previously unbeaten Falcons. The offense is really clicking and they have shown to have one of the toughest defenses in the state, as they are surrendering 10 points per game thus far. This week they play in prime time on Root Sports.
Next: @ Issaquah Eagles (1-2)
5. Gonzaga Prep Bullpups (3-0) W 38-35 vs #2 Ferris Saxons (2-1) The Bullpups make their first appearance in the top ten after a hard fought win over Ferris. RB Nick Wood was the story of the night as he finished over 100 yards rushing and receiving while Gonzaga Prep put up over 500 yards of total offense. They are in the middle of a tough three game stretch that will see them play the top teams in the GSL in Ferris, Shadle Park and Mead.
Next: Shadle Park Highlanders (2-1)
6. Ferris Saxons (2-1) L 38-35 @ Gonzaga Bullpups (3-0)
A week after holding Brett Rypien and Shadle Park to less than 200 yards passing, the Saxons defense had no answer for the Bullpups running game. Three Gonzaga Prep backs rushed for over 100 yards. The next couple weeks should be easy for the Saxons to get back on track, before facing upstart and undefeated Mount Spokane.
Next: Rogers (Spokane) Pirates (0-3)
7. Bellarmine Prep Lions (3-0) W 41-0 vs Central Kitsap Cougars (2-1)
The story so far for the Lions has been the play of their defense. Through three games they have allowed just 28 points. The offense is starting to click as players get adjusted to new positions, and the offensive line begins to come together.
Next: @ South Kitsap Wolves (1-2)
8. Bothell Cougars (2-1) W 42-14 vs Capital Cougars (0-3)
Bothell got back into the win column by thrashing winless Capital. They enter league play this week when they travel to Sammamish to take on the Eastlake Wolves, who fell out of the top ten this week after losing to Skyline. With the status of Eastlake RB Drew Lewis up in the air, the Cougars may come in as the favorite to win.
Next: @ Eastlake Wolves (2-1)
9. (T) Union Titans (2-1) W 30-24 vs Peninsula Seahawks (0-3)
Getting back on track this week, the Union Titans relied on Leon Siofele to carry the load. The senior RB rushed for 239 yards and 3 TDs and is averaging over 200 yards a game. Expect much of the same this week as the Titans look to finish non-league play with a win.
Next: @ Bonney Lake Panthers (0-3)
9. (T) Skyline Spartans (2-1) W 21-6 vs #4 Eastlake Wolves (2-1)
Cracking the top ten for the first time this week on the heels of a big win over Sammamish Plateau rival Eastlake, the Spartans appear as though they may have shaken off the shock of their week one smashing at the hands of Bellevue. They enter league play this week by playing host an undefeated Roosevelt team that they beat twice last season.
Next: vs Roosevelt Roughriders (3-0)
Ryland Spencer
1. Camas
2. Chiawana
3. Newport
4. Graham-Kapowsin
5. Gonzaga Prep
6. Bellarmine Prep
7. Ferris
8. Bothell
9. Union
10. Skyline
Jordan Johnson
3A Top Ten
1. Bellevue Wolverines (3-0) W 49-0 vs Sammamish Totems (0-3)
As expected Bellevue hammered Sammamish and will most likely have no problems again this week when they travel to Lake Washington. They are nationally ranked and will not likely be tested again til the playoffs.
Next: @ Lake Washington Kangaroos (1-2)
2. O'Dea Fighting Irish (3-0) W 51-26 @ Issaquah Eagles (1-2)
RB Myles Gaskin is playing at a very high level right now. It appears as though he isn't happy til he gets to 200 yards in a game. The speedster is led in the backfield by Jack Flor and the general consensus right now that is that both should already have multiple offers right now. Add in QB Pierre LeDorze and I don't see many teams being able to stop the Irish.
Next: vs Seattle Prep Panthers (1-2)
3. Eastside Catholic Crusaders (2-1) W 34-30 vs Lake City Timberwolves (Coeur d'Alene, ID) (2-2)
It took a come-from-behind win, but the Crusaders are back on track after losing in week two. One of the more underrated RBs in the state, Henry Jarvis continues to rack up a ton of yards on the ground. The Crusaders are on a collision course to an October 18th matchup against O'Dea, until then they shouldn't have a problem.
Next: @ Bainbridge Spartans (0-3)
4. Marysville-Pilchuck Tomahawks (3-0) W 48-17 @ Snohomish Panthers (0-3)
Austin Joyner continues to run wild and should have no problem getting to 2,000 yards this year. The Tomahawks are the best team in the Wesco 3A North and should not be challenged until the Wesco Championship game.
Next: vs Shorewood Thunderbirds (1-2)
5. Mount Si Wildcats (3-0) W 23-14 @ #3 Juanita Rebels (2-1)
We all missed on this one. The Wildcats went to Juanita and outside of a two minute stretch at the end of the first half, completely outplayed the Rebels. Mount Si is one of the best coached teams in the state, and head coach Charlie Kinnune is an early candidate for coach of the year.
Next: vs Interlake Saints (0-3)
6. Lincoln Abes (3-0) W 65-0 vs Mount Tahoma Thunderbirds (0-3)
Two weeks in a row the Lincoln Abes have shutout their opponents. Two weeks in a row the Lincoln Abes have put up 60+ points. Sophomore QB Jordan Kitna is playing at a very high level right now, and the defense is really as tough as they come.
Next: @ #10 North Thurston Rams (3-0)
7. (T) Kamiakin Braves (3-0) W 51-6 vs Sunnyside Grizzlies (0-3)
The Braves appear to be the top 3A team in the MCC. They have a well balanced attack led by QB Kylle Robertson and RB Umid Ramizov. This week they play rival Southridge in what should be a tough test. You can watch that game on the Washington Sports Network .
Next: Southridge Suns (2-1)
7. (T) Juanita Rebels (2-1) L 23-14 vs #7 Mount Si Wildcats (3-0)
With a great opportunity to make a statement, the Rebels dropped the ball. The offense fumbled on its first possession and never really got on track. They did score 14 straight points to make it a three-point game, but it was never really that close.
Next: @ Liberty Patriots (2-1)
9. Shadle Park Highlanders (2-1) W 40-17 @ University Titans (0-3)
Following a week two loss where their offense never really got going, the Highlanders got back to winning by blasting University. Brett Rypien was back in full record breaking form and WR Tanner Pauly again found his way into the endzone. The next three weeks will be huge as they face teams that are currently undefeated.
Next: vs Gonzaga Prep Bullpups (3-0)
10. (T) North Thurston Rams (3-0) W 22-20 @ Foss Falcons (2-1)
This is week one of back-to-back games against tough teams as the Rams play host to Lincoln before traveling to play undefeated Wilson. RB/LB Hayden Maliska has proven to be one of the best two-way players in the state, providing leadership on both sides of the ball while being the leading rusher and a top tackler.
Next: vs Lincoln Abes (3-0)
10. (T) Glacier Peak Grizzlies (3-0) W 49-35 @ 4A #7 Jackson Timberwolves (2-1)
Right now there might not be a more surprising 3-0 team in 3A outside of Glacier Peak. Head Coach Rory Rosenbach has done a phenomenal job this year having to replace a ton of talent lost to graduation. They head into league play as hot as any team and should now be considered the favorite.
Next: vs Mountlake Terrace (1-2)
Ryland Spencer
1. Bellevue
2. O'Dea
3. Eastside Catholic
4. Marysville-Pilchuck
5. Mount Si
6. Kamiakin
7. Juanita
8. Lincoln
9. Shadle Park
10. Glacier Peak
Jordan Johnson
1. Bellevue
2. O'Dea
3. Eastside Catholic
4. Marysville-Pilchuck
5. Mount Si
6. Lincoln
7. Juanita
8. Kamiakin
9. Shadle Park
10. North Thurston
2A Top Ten: By Ryland Spencer
1. Tumwater Thunderbirds (3-0)
2. Lynden Lions (3-0)
3. W.F. West Bearcats (3-0)
4. Sumner Spartans (3-0)
5. Lakewood Cougars (3-0)
6. R.A. Long Lumberjacks (3-0)
7. Cheney Blackhawks (3-0)
8. Ellensburg Bulldogs (3-0)
9. Fife Trojans (3-0)
10. Prosser Mustangs (2-1)
Others: West Valley (Yakima) Rams (3-0), Lindbergh Eagles (3-0), Othello Huskies (2-1), Burlington-Edison Tigers (2-1), Mark Morris Monarchs (2-1)
1A Top Ten: By Ryland Spencer
1. Zillah Leopards (3-0)
2. Cascade Christian Cougars (3-0)
3. Royal Knights (3-0)
4. Montesano Bulldogs (2-1)
5. River View Panthers (3-0)
6. Woodland Beavers (3-0)
7. LaCenter Wildcats (3-0)
8. Mount Baker Mountaineers (2-1)
9. Charles Wright Tarriers (3-0)
10. Cashmere Bulldogs (2-1)
Others: Okanogan (3-0), Freeman (3-0), King's (2-1)