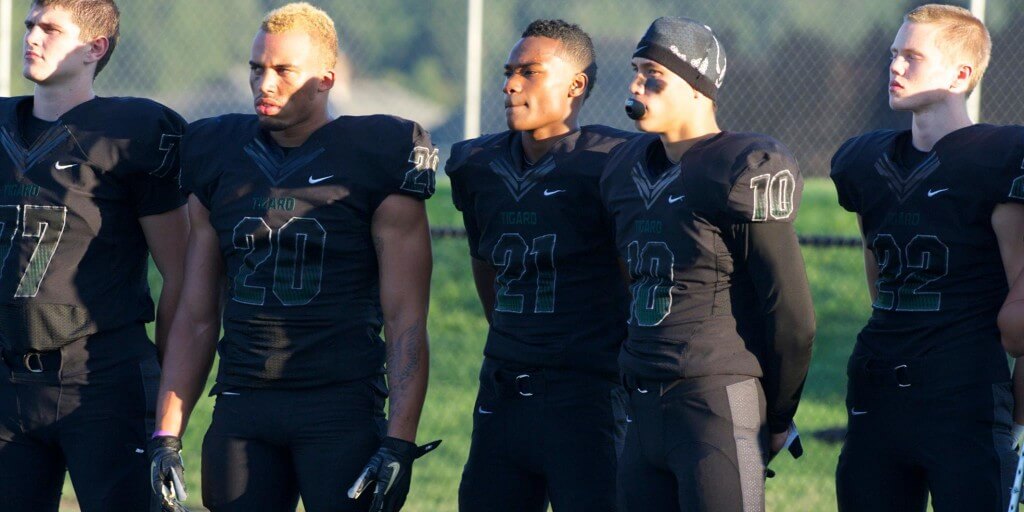 6A Top Ten
1. Central Catholic (4-0) – The Rams are the real deal and feature what could be double digit D1 offer athletes on one team. Something almost unheard of. Aidan Wilder played outstanding against Jesuit, and Cameron Scarlett is potentially the top junior athlete in Oregon. Ryan Nall is an absolute beast out of the backfield as they will be tough for anyone to stop. Wilder picked apart the Crusader secondary any time he needed a first down and the 45-31 win wasn't that close.
Next: vs Reynolds (1-3)
2. Tigard (4-0) – It will be a fairly uneventful couple months for the Tigers as they are just that good. They dropped 42 on Century very quickly through the air, as Jett Even has blossomed into one of the top QB's in the Northwest. Much like CC, look for Tigard to be (11-0) going into the state quarterfinals.
Next: vs McMinnville (3-1)
3. Southridge (3-1) – The Skyhawks are now healthy and very dangerous. I feel that when they are healthy they are as good as anyone. Jake Pruit and Devin Martinez have a done good job running the ball, and Jordan Morgan has 4 TDs in the last two games. Logan Sackley and Danny Tanabe are back and Southridge should run the Metro.
Next: vs Beaverton (3-1)
4. Sheldon (2-2) – The Irish lost their first conference game since 2006 to one of the top up and coming programs state wide in North Medford. The 21-17 loss was a shock to everybody, but Sheldon is one of the most well coached teams anywhere in the west and they will still challenge for a title.
Next: vs South Medford (1-3)
5. Jesuit (2-2) – Jesuit hung in the first half, and Joey Alfieri kept them in it in the 2nd (24-220-3 TD's) but it wasn't enough as CC was just to good. Sunset could pose a challenge for the Crusaders as they have played them tough over the last couple years. The passing game was non existent making it almost impossible to beat someone as good as Central.
Next: vs Sunset (4-0)
6. Clackamas (4-0) – The Cavs are off to a great start but have played average competition, and will now play 5 games that will all be tough. The TRL is that balanced and the Pacers are a real threat this week. Dan Sherrell has continued his tear (812 yards 12 TDs), but the conference season will pose different challenges. TE/DE Brody Haehlen is having a phenomenal year and Zach Farnes is one of the top defensive players in Oregon.
Next: vs Lakeridge (3-1)
7. Lake Oswego (1-3) – The Lakers are still the team to beat until someone does in the TRL. There decade long conference winning streak is most definitely in jeopardy, but the Lakers are fundamentally sound and will always be one of Oregon's best. They have played two of the state's best in the last two weeks (CC, Southridge). West Linn could very well win this ball game.
Next: vs West Linn (2-2)
8. Canby (2-2) – The Cougars got up big early on Lincoln and cruised to a 49-24 victory. Sam Bodine found the end zone 3 times and Canby should challenge for the TRL title. Oregon City will be a big test as they are young but playing well.
Next: vs #9 Oregon City (4-0)
9. Oregon City (4-0) – O.C. is one of the more exciting teams in the Northwest, with a plethora of young talent on the roster. Senior's Jonathan Hall QB Matt Oades WR have been lights out, as the Pioneers beat the undefeated Pacers at home. You can expect to hear a lot about (Hunter Knighton Jr WR, Trevon Bradford So WR, Conner Mitchell So RB) over the next couples years.
Next: @ #8 Canby (2-2)
10. Roseburg (4-0) – The Indians have really proved themselves thus far, traveling to Thurston and beating a decent Colts team. 5-6 Sr RB Levi Holden did his thing going for 4 TD's.
vs South Eugene (2-2)
5A Top Ten
1. Sherwood (4-0) – Its almost like everybody is playing for 2nd place. They would be one of the better teams at the 6A level. They will be done at half almost weekly.
Next: vs Liberty (3-1)
2. Silverton (4-0) – The Foxes are the real deal and made quick work of Corvallis 56-13. RB/LB Max Wilson (14-197-2 TD's) is having a Player of the year type season and Jr QB Cole Chandler (10/11, 146, 2 TDs- 1 half) is doing much of the same. This week will determine the conference championship and should be one of the top games of the 2013 Oregon season.
Next: @ #3 West Albany (3-1)
3. West Albany (3-1) – Sherwood did what no other team had been able to do over the last three years and hold Jake Lacoste to 67 yards on 22 carries. The Foxes will try to replicate this and win at West after beating them for the conference title last season.
vs Silverton (4-0)
4. Ashland (4-0) – This Grizzlies will capture the conference title with a win, but Springfield has been playing very well over the last three weeks. Look for Ashland to pack the house and potentially get their first conference title in some time.
vs #5 Springfield (3-1)
5. Springfield (3-1) – POY Taylor Travess has come into his own, and Sophomore QB Trever Watson is one of the best in the state. The Milers have played great the past 3 weeks dropping the hammer on Eagle Point 48-0 on Friday. If they can go into Ashland and win they will control their own destiny when they play Marist.
@ #4 Ashland (4-0)
6. Marist (2-2) – I can imagine it wasn't a fun week of practice after the loss to Ashland. Marist blasted Bend 55-0 in a rebound game and should continue playing better with their big matchup against Springfield looming.
@Willamette
7. Crescent Valley (2-2) – Look for Dallas to present a challenge as they are actually a pretty decent team. CV has talented athletes up and down the board, but the Dragons will most likely remain competitive. The MWC Schedule is brutal.
@ Dallas (3-1)
8. Hermiston (3-1) – The Bulldogs got a close win over Lewiston, ID after Sherwood rolled through town. Look for them to finish strong and drop 50+ on TD this week.
@The Dalles (1-3)
9. Roosevelt (3-1) – The Roughriders have played well over the last three weeks and look to be back on track. Billy Nelson averaged over 25 yards a touch last Friday with multiple TD's and James Schell-Buchanan got in the mix with 7 catches for 102 yards and 2 TD's in their 47-27 win over Wilson.
vs Benson (0-4)
10. Wilsonville (3-1) – The Cats lost in a tough double overtime game to Putnam 28-26, who is better then there record indicated. It was definitely a tough loss , but Wilsonville remain good regardless.
@ Mt View (2-2)