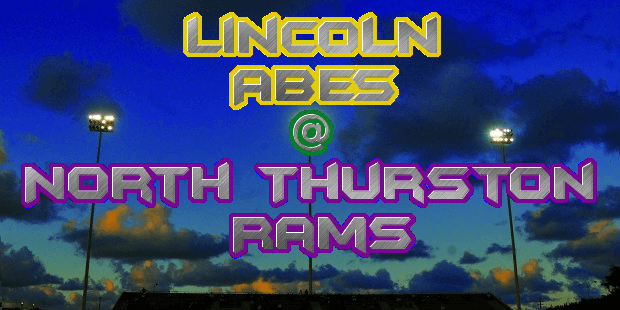 Quarterbacks
Advantage: Lincoln
Sophomore QB Jordan Kitna (6'0″ 160) has done a great job through his first three starts. Last week in a big win over Mount Tahoma, Kitna completed 12 of 14 passes for 297 yards and 7 TDs. Kitna is one of the top QB prospects in the 2016 recruiting class. North Thurston's Ryan Mets (Sr. 6'1" 180) is a very capable QB, but the Rams do not rely on him like Lincoln does with Kitna. On the season he has thrown for just 229 yards, but he is completing nearly 60 percent of his passes. Given more opportunities Mets would more than likely shine, but he has only bee asked to pass 24 times on the season as the Rams prefer the power run game.
Runningbacks
Advantage: North Thurston
Ram RB Hayden Maliska (Sr. 5'11" 190) is one of the more underrated players in the state. He is averaging just over 100 yards per game on the ground (6.7 per carry, 315 yards total and has three touchdowns. Where North Thurston gets the advantage is in their depth. Senior Josh Ramirez (5'10" 190, 69 ypg) and junior Josh Mosquera (5'6″ 170, 47 ypg) both combine for another 100 yards per game for the Rams who as a team rush for 234 yards per game.
Lincoln counters with Rayshaun Miller (5'9″ 175). The senior shows good speed, great vision and is one of the better backs in the Narrows league. Last season Miller rushed for 258 yards and three TDs in limited action.
Wide Receivers
Advantage: Lincoln
Abes senior J'Maka Love (5'11" 185) is one of the state's best all-around athletes. He was moved to QB last season and proceeded to lead the team in rushing with 445 yards and 5 rushing TDs. With the emergence of Kitna at QB, Love has been returned to his more natural WR spot and is doing rather well. When I attended Lincoln's week three matchup vs Stadium, there was no do doubt Love was the most athletic player on the field. Senior Kashawn Johnson (6'1″ 180) give Kitna another good target at receiver with good hands a great playmaking ability.
The Rams don't throw a lot, but when they do their top target is sophomore WR Brandon Morgan (6'3″ 175). Through three games Morgan has 5 catches for 125 yards and a TD. He is one of the top WRs in the 2016 recruiting class and an athlete we are very excited about at NEI.
Offensive Line
Advantage: Even
Both teams do a good job in their own way. North Thurston like to run the ball and they have one of the better run blocking teams in the area. Senior Alex Rice (6'6″ 315) is one of the top lineman in Washington. He is currently ranked 17th on the NEI player ranking for the 2014 class. Many of the other North Thurston linemen play two way and you will read about them later.
Lincoln also features a big guy on the OL as junior Ben King (6'2″ 375) anchors from his spot at center. Ben Puapuaga (Jr. 6'3″ 265) is probably the best of the bigs for the Abes and will be on our 2015 player rankings when they are rereleased.
Defensive Line
Advantage: North Thurston
North Thurston senior Jake Grantham (6'2″ 225) is the leader along then line and has 16 tackles, including 6 for a loss, and 3.5 sacks. Niko Martinez (Jr. 6'0″ 280) and Lamar Brawley (). Ben King does see time both ways for the Abes and does a great job clogging the middle. I expect him to see plenty of time in this game as the Abes will need to slow down the running game.
Linebackers
Advantage: North Thurston
Hayden Maliska is the unquestioned leader of the Ram defense. He will most likely end up being a three year all league player and is one of the best state wide. Junior Grant Williams (6'2″ 245) plays an outside LB spot and really gives them another big body along the front. Luke Yanna (Jr. 6'0″ 200) and Seth Meredith (Jr. 6'1″ 180) round out a very strong group of linebackers. Meredith had two INTs last week.
The Abes also feature a tough set of LBs and one of the better in the 2015 class with BJ Hawthorne (Jr. 6'1″ 215). He is a player I have been keeping an eye on for some time and he will be highly ranked when our class rankings come out. Alongside Hawthorne is senior Ike Castro (5'10" 200) who flies around the field hitting almost everything in site.
Defensive Backs
Advantage: Lincoln
Junior safety Dehonta Hayes (5'11" 180) of is one of the state's top DBs in the 2015, maybe even #1. He has a great ability to read a play and has unbelievable overall athleticism that makes us believe he is D1 caliber. He is the type of player any coach would like to have roaming the secondary. Seniors Rayshaun Miller and Keenon Kwon (5'11" 185) are two of the better DBs in Narrows 3A. Both have good speed and can run with anyone.
Junior CB Malachai Hicks saw time last week and came up with a game changing INT for North Thurston. Another junior, Emilio Romero is the lone safety for the Rams who feature a three man secondary.
Overview
This game is a great test for both teams. You have two contrasting styles as North Thurston is going to look to control the clock by running the ball and playing tough defense. Lincoln is more of a quick strike offense that relies on their team speed. Whichever team comes out on top will have the early lead on way to a league title. A lot of people consider Timberline to still be the league favorite, but I feel either of these teams is very capable of beating them.