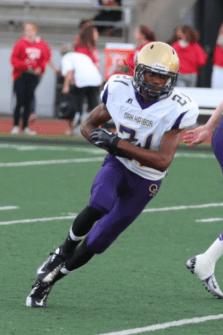 In 2012 the Oak Harbor Wildcats featured one of the state's better rushing attacks. Trough just three games this season the Wildcats (2-1) are averaging over 400 yards rushing per game, 150 yards better than a year ago.
Junior Dejon Devroe (5'10" 150) is the leader of the pack thus far rushing for 461 yards on just 56 carries, and also leads the team in TDs with five. "I just try to do my best on and off the field," Devroe told NEI. "My goals for this season is just to embrace the amazing teammates and coaches I play with/for and if its gods being win a ring."
The leading returning rusher for the Wildcats coming into the season was senior Sheyenne Sams (5'8″ 170). In nine games last season, Sams rushed 70 times for 452 yards and 5 TDs, helping the Wildcats into the playoffs. He missed the first week of the current season, but returned in close win over Arlington with 164 yards and three TDs. "I have nothing to loose and little time to accomplish whatever it is I decide," Sams said.
He continues, "I haven't really set any goals besides aiding the team as much as possible. We have been pushing our bodies from day one and after every game, with what feels like minimal time to recover."
Sams is an athlete we saw at Barton Elite Events over the offseason. He showcased his speed and agility, consistently blowing by oncoming backers. Same is also a track athlete, completing in sprints and the long jump.
The player with the toughest job is probably Julian Faralan (Sr. 5'8″ 155). He has the task of replacing FB Fred Webster who finished last season with 186 carries, 1034 yards and 9 TDs. Thus far Faralan has done a great job with 62 carries for 327 yards and a TD.
"He isn't the biggest full back I've seen, but he's got heart and he gets us the dirty yards we need to convert," Sams said of Faralan. "He really is an asset to the family."
One of the big reasons the running game has been so successful is the play of the offensive line, and for Sams it is specifically the play of guards Tyler Adamson (6'5″ 235) and Jackson Constant (5'11" 255). "Our pulling guards make me feel super safe coming around the outside all I see is green turf," Sams said.
He continued, "Matt Zafra, Ray Quinday, and Blaine Coleman, they block their butts off. Our line is the reason we rush as good as we do. They go all out."
The Wildcats are coming off their first loss of the season, a 14-13 defeat to Lake Stevens. This week they enter league play when they travel to play the Everett Seagulls (0-3), before returning home for three straight games. They finish the regular season with a trip to Marysville-Pilchuck, the #4 ranked team in 3A.
I look forward to following these three great athletes, and will keep you updated as they each have a legit shot at rushing for 1,000 yards.