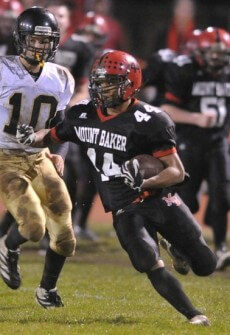 When it comes to the Mount Baker football team, it's been made clear once again this season that head coach Ron Lepper is going to focus on running the football. It's also clear that when senior running back Izaiha Schwinden has the ball in his hands, arm tackles won't bring down the bruising back.
Schwinden, who is entering only his second season on varsity, has paved the way for the Mountaineers ground game this season and is coming off a strong performance in Baker's near upset of the Lynden Lions last Friday night.
In that game, Schwinden rushed for 80 yards against the Lions' stout defensive line and had two touchdown runs. Mount Baker lost that game 27-20, but Lepper said he was proud of the way Schwinden battled throughout.
"I know he wanted to play really well against Lynden last Friday night because last year (vs. Lynden) was probably the worst game he had," Lepper said. "He just mentally got taken out of that game and he didn't like how that settled. He came in with a great attitude Friday and he wanted to prove to himself, against a team like Lynden, that he's the kind of kid that can drive into the block and get tough yards."
The 5-8, 165-pounder has gotten those tough yards throughout the season for Mount Baker (2-1), rushing for 316 yards and five touchdowns.
"I'm the kind of guy who doesn't really look for contact, but if we need a couple of extra yards, I'm ready to lower my shoulder if I have to," Schwinden said. "Our offensive line and receivers have been doing great this season too opening holes for us."
Schwinden entered the 2013 campaign listed as the starter for the first time in his career. Last year, he finished with 875 yards and 10 touchdowns, but backed up talented then-senior RB Jake Schleimer, who rushed for 1,779 yards and 26 touchdowns. Knowing Schwinden would be his go-to-guy, Lepper said he gave him a clear message before the summer.
"I told him that if he was going to be our feature back this season, he was going to carry the ball quite a bit," Lepper said. "He carried 19 times against Lynden and I can guarantee you he took contact 19 times. He knew he had to get in better shape and he did that. He did a great job of getting into the weight room and working hard in the offseason. He's one of our captains and he's one of those guys who worked hard to get better. Everything he's gotten, he's earned."
Getting in better shape is something Schwinden said he knew he had to do if he wanted to reach his maximum potential this fall. He said he spent countless hours in the gym this summer with senior quarterback Andrew Zender and the two pushed each other each day.
"It was kind of exciting knowing I was going to be getting the ball so much, but it also gave me a lot of drive to work harder to prepare," Schwinden said. "I really wanted to focus on working out and conditioning. Cardio was big for me this summer because I wanted to be in my best shape so I would never get winded during games."
"He's probably our biggest threat right now and there's no doubt about it," Lepper added. "The way we play football is we're going to run the ball first and foremost. We know we're going to go to him when we need some tough yards or in a situation where we need a big first down. He's the guy who we want with the ball in his hands."
The Mounties, who finished in third-place of the 1A state tournament last season, will take on Cedarcrest at 7 p.m. on Friday and will look to improve their record to 3-1. Although the team is taking things one week at a time, they're also ready to make a late postseason push, Schwinden said.
"My biggest goal is helping this team carry on from what we did last year," Schwinden said. "We want to get back to state and hopefully get a little further. I think as a team, we're a good group of guys and we have the talent to do just as well as last season."