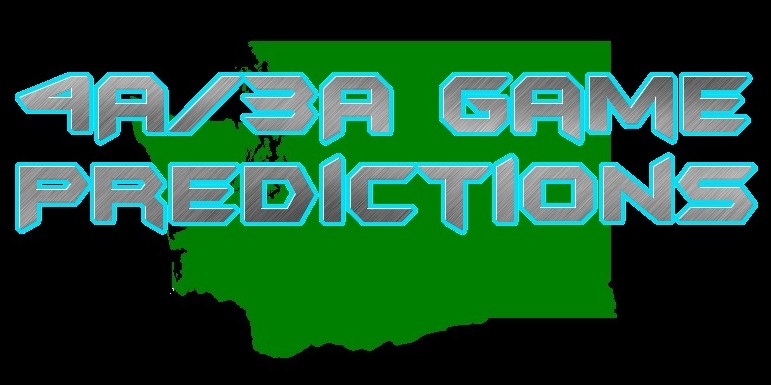 | | | | |
| --- | --- | --- | --- |
| Name | Wins | | Losses |
| Ryland | 48 | – | 9 |
| Jordan | 48 | – | 9 |
4A Top Ten
1. Camas Papermakers (3-0) vs Lakes Lancers (0-3)
Seeing Camas live for the first time last week solidified for me their #1 ranking. They started a little slow, but once they got going they showed explosion and an ability to score at will. Lakes on the other hand has had a bit of a problem getting their offense going, having yet to hit 20 points in a game this season. Expect to see a running clock in this game.
Picks: Ryland – Camas, Jordan – Camas
2. Chiawana Riverhawks (3-0) vs Pasco Bulldogs (0-3)
This is a rivalry game as the two teams share Edgar Brown Stadium. That is about all this game is. This really is a mismatch as Chiawana is one of the highest scoring teams in the state, and Pasco is struggles in most aspects of the game. Joey Zamora and company will have no problem with this one. Should see a running clock.
Picks: Ryland – Chiawana, Jordan – Chiawana
3. (T) Graham-Kapowsin Eagles (3-0) @ Emerald Ridge Jaguars (0-3)
The Eagles are riding high right now after beating Curtis and Federal Way on back-to-back weeks. Junior QB Trevor Asbjornsen is really starting to come into his own. He has done a great job through three games and continues to get better each week. This is a game the Eagles should be able to walk through.
Picks: Ryland – Graham-Kapowsin, Jordan – Graham-Kapowsin
3. (T) Newport Knights (3-0) @ Issaquah Eagles (1-2)
The Knights are clicking offensively. Putting up 40 points on a good Woodinville squad is not easy. Issaquah started the season by dismantling Interlake, but have fallen on hard times as of late. The offense still continues to put up decent points, but the wins are not there. This concludes three straight home games for Issaquah, and they will not want to go 0-3 in that stretch.
Picks: Ryland – Newport, Jordan – Newport
5. Gonzaga Prep Bullpups (3-0) @ 3A #9 Shadle Park Highlanders (2-1)
The Bullpups have been running the ball as good as anyone in the state and RB Nick Wood is emerging as a star. The Highlanders are known for throwing the ball all over the field with high profile QB Brett Rypien. This is a tough test for both teams and could have an impact on playoff positions, even though the two are in different classifications. I really think you could pick either way and make a case for it.
Picks: Ryland Gonzaga Prep, Jordan – Gonzaga Prep
6. Ferris Saxons (2-1) vs Rogers (Spokane) Pirates (0-3)
The Saxons are coming off a tough loss to Gonzaga Prep, and what better way than to play a team that has struggled to win more than one game a year for about the last decade. Ferris isn't having many problems on offense and the defense was playing great, but took a stumble in last weeks loss. You can expect a running clock in this one.
Picks: Ryland – Ferris, Jordan – Ferris
7. Bellarmine Prep Lions (3-0) @ South Kitsap Wolves (1-2)
The Bellarmine Prep defense has been tough this season. The offense is really starting to come into its own, and just in time as they start league play this week. Lou Millie is getting more comfortable by the week and teams are going to have to find ways to contain him. The Wolves started with a big win over Kentridge, but have struggled defensively the last two weeks. They will need to step up is South Kitap is going to win.
Picks: Ryland – Bellarmine Prep, Jordan – Bellarmine Prep
8. Bothell (2-1) Cougars @ Eastlake Wolves (2-1)
Bouncing back after being smack around by Bellevue, the Bothell Cougars go into league play confident, while the Eastlake Wolves are reeling after losing to Skyline. At the beginning of the year I picked Eastlake to win the division, but star RB/DB Drew Lewis is injured and that might be the tipping point. If Bothell wins, it should set up a week 8 game vs Woodinville to decide the Crest Division.
Picks: Ryland – Bothell, Jordan – Bothell
9. (T) Union Titans (2-1) @ Bonney Lake Panthers (0-3)
Union RB Leon Siofele is one of the state's leading rushers through three games and should be the focus of the offense for the rest of the season. The ability to run the ball will really open of the passing game for junior QB Nolan Henry. Bonney Lake is one of the better winless teams in the state. The first three teams they played are a combine 8-1 on the year, with the one loss being to Union. The Panthers may enter league play winless and still make a run into the playoffs.
Picks: Ryland – Union, Jordan – Union
9. (T) Skyline Spartans (2-1) vs Roosevelt Roughriders (3-0)
Skyline has really bounced back after its week one loss to Bellevue. They have played back-to-back tough games and managed to get by. In many years past, this game would've been a cake walk for the Spartans, but Roosevelt is no longer an easy game. Roughrider head coach Matt Nelsen has done an absolutely phenomenal job at turning the program around, but they are still a few skill players short of really competing for a KingCo Championship.
Picks: Ryland – Skyline, Jordan – Skyline
3A Top Ten
1. Bellevue Wolverines (3-0) @ Lake Washington Kangaroos (1-2)
Another week, another blowout win for the Wolverines. That was the story last week… And it will be the story this week. It is possible that Bellevue has a running clock in every game from here on out.
Picks: Ryland – Bellevue, Jordan – Bellevue
2. O'Dea Fighting Irish (3-0) vs Seattle Prep Panthers (1-2)
Big rivalry game that O'Dea has absolutely dominated. The last time Seattle Prep beat O'Dea was in 1980! And it isn't going to happen this year. O'Dea FB/LB Jack Flor picked up his first offer (Sacramento State) the other night as he continues to get better by the week. The Irish defense is just too tough right now. Could see a running clock here.
Picks: Ryland – O'Dea, Jordan – O'Dea
3. Eastside Catholic Crusaders (2-1) @ Bainbridge Spartans (0-3)
Since the injury to OL Drew Springfield, the Crusader offense just hasn't really been able to get going. He is still a few weeks away, but it shouldn't be a difference this week. Bainbridge is having a really tough time is just about every aspect of the game. The defense is giving up close to 47 points per game. Highly likely you see a running clock.
Picks: Ryland – Eastside Catholic, Jordan – Eastside Catholic
4. Marysville-Pilchuck Tomahawks (3-0) vs Shorewood Thunderbirds (1-2)
The Tomahawks offense is clicking on all cylinders and it seems like RB Austin Joyner is good for close to 200 yards a week. Marysville-Pilchuck should cruise in this one, and through the regular season until Wesco Championship week.
Picks: Ryland – Marysville-Pilchuck, Jordan – Marysville-Pilchuck
5. Mount Si Wildcats (3-0) vs Interlake Saints (0-3)
The Wildcats made a statement last week that they are still one of the top teams in KingCo, by beating a team most people considered to be on of the top. RB Bailey Takacs is really starting to come around as the offensive line has been on its game early in the season. This is another game that should see a running clock.
Picks: Ryland – Mount Si, Jordan – Mount Si
6. Lincoln Abes (3-0) @ #10 North Thurston Rams (3-0)
The first time Jordan and I have differed in since week one! I really do think the Abes are one of the better teams in the state, but this matchup is not good for them. North Thurston is going to run the ball, control the clock and keep the high powered Lincoln offense off the field. If Lincoln is going to win, they will need to score early and be tough up front on defense. They are capable, I just don't see it happening.
Picks: Ryland – North Thurston, Jordan – Lincoln
7. (T) Kamiakin Braves (3-0) vs Southridge Suns (2-1)
Every week there is one game that I kick myself for and this might be it. Frankly, I am just a huge fan of Southridge RB Kadin Diaz. This is a game that could have big implications on the MCC race for 3A. If Kamiakin wins, they will surely be the top seed heading into the playoffs. These two rivals will have Lampson Stadium rocking and rolling.
Picks: Ryland – Southridge, Jordan – Kamiakin
7. (T) Juanita Rebels (2-1) @ Liberty Patriots (2-1)
The Rebels had a big chance last week and really didn't play their best game. If they are to get back into the playoff picture, they absolutely have to win this week. QB Tavin Montgomery never really got going last week as the Rebels offense struggled to find consistency. The defense didn't play all that bad, but didn't make the adjustments needed to get Mount Si out of their comfort zone. If the Juanita no-huddle offense can pick up the pace and get Montgomery going, the Rebels should get back into the win column.
Picks: Ryland – Juanita, Jordan – Juanita
10. (T) Glacier Peak Grizzlies (3-0) vs Mountlake Terrace Hawks (1-2)
The Grizzlies are one of the real surprises so far in 2013. They are now considered the front runner in the Wesco 3A South, as they have found ways to beat a few of the better teams in the conference.
Picks: Ryland – Glacier Peak, Jordan – Glacier Peak