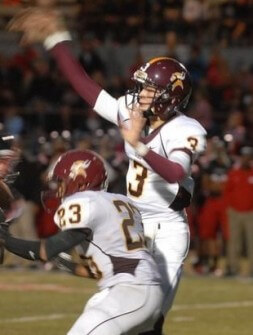 One of the more exciting teams in Oregon thus far has been the Forest Grove Vikings (3-1). Head coach Dwight Jensen has done a great job of building the program, with his son being one of the more talented sophomore athletes in the region.
Taylor Jensen has started his career off with a bang, doing what no other Viking quarterback had ever done, in throwing for 400 yards in a single game a couple weeks ago. He did the same thing again this past week, making everyone stand up and take notice. Jensen threw for 434 yards and 4 TD's, going 22 of 34 through the air in the Vikings 43-34 upset win over McMinnville.
The 6-4 QB has been lights out so far this season, and is experienced beyond his years growing up in a football family. His overall athletic ability and size make him one of the more appealing recruits for the 2016 class. Forest Grove hasn't exactly been a football power over the years, but Coach Jensen has started to change that. In 2010 they won two playoff games for the first time in school history.
Last year's freshman team had a winning record for the first time in recent memory, setting the tone for the years to come. Gio Tayetto (5-5 155 Sr. RB) has been clutch out of the backfield, and two way starter Ethan Thursam (Sr. WR/DB) currently leads the team in receiving. 2nd team all league WR Zac Collins (6-2 185 Sr.) is back, and brings much needed leadership and overall athleticism to a team that will need his experience if they want to win in the playoffs.
Referencing his team Coach Jensen says, "We have some key guys playing both ways, and have had some other kids step up and do well." Tate De Sully (Sr. OL) and Jake James (Sr. C/DE) both return after all league seasons last year, with Luis Fernandez (Sr. OL) and sophomore standout Ben Godfrey (6-5 220 OL) being one of the better underclassmen in the state.
Forest Grove has consistently scored points this season (35, 49, 43) but was also blanked by Tualatin 14-0. Last weeks win was big against traditional rival McMinnville who was (3-0) coming in. Cody Smith is the teams defensive leader (Sr. Strong Safety) with Senior LB Tony Matiaco playing a big role defensively. The Vikings will continue to get better, especially with the development of their young quarterback.
Jensen has many of the intangibles needed to play a high level of collegiate football with continued progression. The Pacific Conference is balanced, other then Tigard, who could very well be the best team in Oregon. They will play the Tigers on the last night of the regular season, and expect to be in a position to make a post season run.
Exciting times out in FG as the Vikings have a chance to be football relevant for the first time in awhile. Coach Jensen and his group are getting better by the week, and the remaining games will be telling. Coach says, "We have to come prepared every week if we want to win our conference games, and we are working hard to achieve this."
We wish all of the Forest Grove athletes continued success and will bring you updates as they happen.