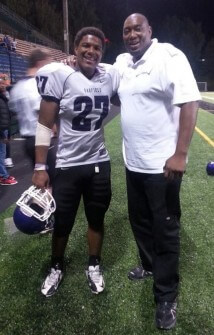 One of the fastest rising junior's in the state of Washington is out of Seattle's Garfield High School. Amahn Edwards (6-2 215 LB) is a familiar name to the area, in that his father is former Seahawk and NFL vet Antonio Edwards.
Amahn trained with us at the Barton Football Academy earlier in his career while at our Seattle Elite events, but has grown a great deal since both on and off the field. He spent the summer in Moultrie, Georgia with his dad working out and working on his game.
Over the last year he has added about 2.5 inches and 30 pounds to an already very athletic frame. Speaking with his mother Michelle she says, "When I went to the airport to pick him up from his trip I didn't even recognize him."
Having his father as a resource has been huge as you can't teach NFL experience and things learned within. Antonio spent 7 years in the league and is now a coach back in his hometown. Speaking to Amahn he says, "We trained hard but I learned a lot more in the way of stances, alignments, and drops."
You can expect Amahn to be ranked among the state's top linebackers for the 2015 class, as he has been one of Washington's best early this season. The younger Edwards recently ran a 4.62 40 yard dash, with a 300 pound bench and 400+ pound squat. He will wrestle and compete in track this year as well.
Referencing Amahn's progress and the summer work they put in Antonio says, "I think he worked hard and did well, we were able to go over different run and pass scenarios and how to acknowledge different plays based on how people lined up". This was just one of many valuable lessons learned in a very productive off season.
Garfield is currently (1-3) with a very tough Kingco schedule ahead. The Bulldogs will need Edwards to step up if they want to have a chance moving forward. You can't teach size, speed, and NFL genes and Amahn has all three. We will keep you updated as the season progresses as the younger Edwards looks to be one of the state's best.