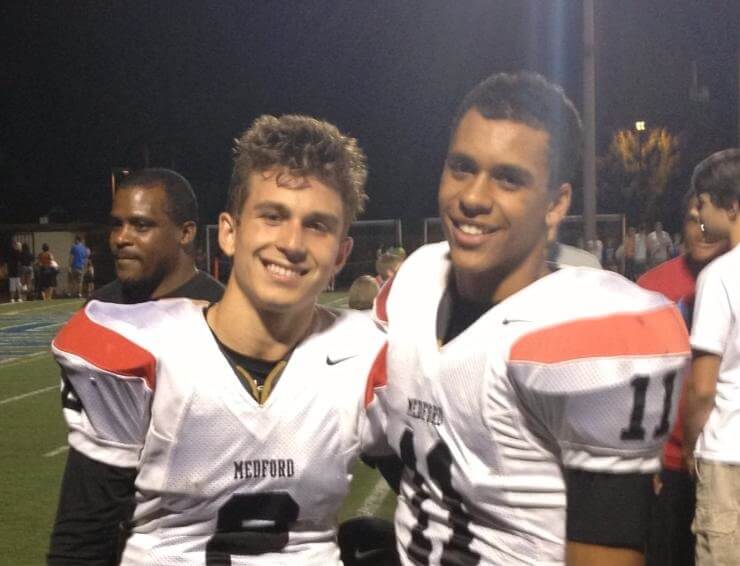 Daren Rodrigues Sr. Slot Tigard – Maybe the breakout player of the year state wide; He again went off catching 5 passes for 153 yards and a TD
Devin Martinez Sr. RB Southridge – Martinez is now in a groove rushing 23 times for 191 yards a TD with two called back in the Skyhawks 35-7 win over Beaverton
West Albany Defense – The Bulldog D put the clamps down on the Foxes who were averaging 42.5 points per game. #3 West Albany beat #2 Silverton 13-0
Troy Fowler Jr. QB North Medford – One of the state's best underclassmen continued to thrive hitting on 27/36 passes, for 473 yards and 6 Tds, while also rushing for 1.
Ty Fox Sr. QB Crater – The talented senior continued to air it out compiling some pretty ridiculous numbers in the 61-45 loss to North Medford… 26/45, 519 yards, 4 passing TDs
Zach Hannnan Jr. RB Grants Pass – You will see Hannan listed as one of the top Jr RB's when the new rankings are released this week; He carried the ball 9 times for 193 yards and 3 TDs (67,50, 43) against Thurston.
Manu Rasmussen Sr. RB Tigard – One of the state' s best might not see the field in the 2nd half in the regular season; He carried 10 times for 140 yards and 2 TDs in their 58-0 blowout over Mcminnville.
Jared Evans Jr WR North Medford – One of the state's best Jr WR's caught 8 passes for 126 yards and 2 Td's.
Kainoa Hanchett Sr RB Glencoe – For the second week in a row Hanchett has come up big, this time offensively, rushing for 293 yards and 3 TDs in their 49-22 win over Hillsboro.
Keenan Springer Sr. RB Mountain View – The Cougars got a much needed win against a good Wilsonville team, led by Springer's 22 carries for 162 yards and 2 TDs.
Jonathan Boland Jr. QB Parkrose – The human highlight reel that is Boland did his thing rushing 27 times for 168 yards, while passing for 4 TDs in their 36-21 win over Putnam. He now has nearly 1500 yards passing and 19 TDs via the air.
AJ Woodin Sr. QB/Jordan Morgan Sr. WR Southridge – The talented duo are leading the state title contender and looked great Friday. Woodin was 7-11 for 159 yards and 2 Td's, both to Arizona commit Morgan who now has (6) on the year.
Cade Smith Jr. QB West Salem – Cade once again did a little of everything rushing 13 times for 78 yards and 4 TDs, while completing 11/13 passes for 107 yards in a 48-7 win over Lincoln
Holden Oglesbee Sr. WR Central Catholic – Oglesbee has been playing opposite maybe the fastest rising Sr WR in the Northwest in Zack Davis and doing a phenomenal job; He caught 7 passes for 91 yards and 2 TDs
Banks/Garrett Markham – Banks is one of the better 4A teams in the state, and QB Markham has played outstanding this season going 64/93, for 901 yards, 9 Td's/0 Int's on the year; They beat Scappoose 21-0
Thomas Harris Sr. RB Sprague – The Oly's are a potential top 10 team and Harris went off against Grant rushing for 236 yards and 2 Tds in the 34-14 win.
West Linn – The Lions did what no other team had been able to do in the last 48 tries in beating Lake Oswego and ending its near decade long conference wining streak.
Joey Alfieri Sr. RB/LB Jesuit – One of the nation's best LB's may also be Oregon's top RB. He carried the ball 34 times for 343 yards and 6 Td's in the Crusaders 62-20 win over previously unbeaten Sunset.
Tyler Lunceford Sr. RB Wilson – The 1st team all league DB from last season continued his tear offensively rushing 36 times for 247 yards and a TD against Jefferson in their 40-14 win.
Alex Boyd Sr. DL West Albany – Boyd went off accounting for 5 of the teams 9 sacks in the big win over #2 Silverton.
Tyler Cox Sr. OL Southridge – One of the state's top lineman absolutely dominated at the line of scrimmage against Beaverton accounting for countless Pancake blocks.
Sherwood RBs – The Bowmen only passed twice in their 62-12 win over Liberty, but accounted for 10 rushing TD's, 3 from Keegan Lawrence.
Richie Mock So. RB Putnam – The super talented sophomore had his 4th consecutive 100+ yard performance rushing for 125 yards.