**This list is a way to showcase this weeks top performances. I am sure I missed a few and would like to know the ones I did. You can either comment on here or send me an email at Ringerland@gmail.com.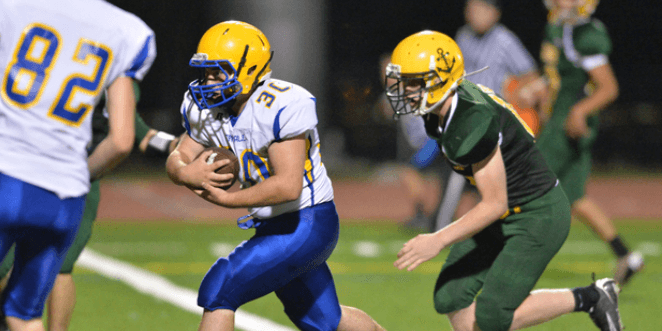 Mabton Vikings Football – Congratulations to the Vikings who beat Riverside (OR) 29-6. The win snaps a 35 game losing streak! Their last win came all the way back on October 16th, 2009 over the Highland Scotties by a final score of 32-22.
Marcus Nightingale, Jr. RB Ferndale – The Eagles used a 35-28 come-from-behind win over Burlington-Edison to remain unbeaten. Nightingale carried 26 for 190 yards and 3 TDs.
Jack Neary, Sr. QB Issaquah – In one of the bigger upsets of the weekend, the Eagles blasted third-ranked Newport 48-28. Neary completed 16 of 28 passes for 304 yards and 4 TDs. The senior signal caller is one of the area's fastest rising recruits and he showed why on Friday night.
Teague James, Sr. RB Graham-Kapowsin – James and the Eagles were featured yesterday on NEI. Friday night he carried 21 times for 259 yards and 4 TDs. GK is should be sitting all alone in the #3 spot when the new 4A top ten is released.
Justin Smalley, Sr. RB Battle Ground – The Tigers head into league play on a two game winning streak after a 44-21 win over Auburn Mountainview. Smalley carried 34 times for 234 yards and scored 4 TDs and will be a key player as they Tigers look to get into the playoffs.
Brett Rypien, Jr. QB Shadle Park – The high profile Rypien completed 27 of 40 passes for 347 yards and 5 TDs (8, 11, 34, 36 and 21 yards) as the Highlanders got a big 42-13 win over previously undefeated Gonzaga Prep.
Tyler Yarber, Sr. RB Rochester – Yarber makes the list for the second time this season when he rushed for 237 yards on 34 carries and a TD. The Warriors beat Hoqiuam 24-12 to move to 3-1 on the season, and 2-0 in league play. The next two week are huge for Rochester as they travel to Elma and Montesano, the only other teams without a loss within the league.
Eli Whitmire, Jr. ATH Woodland – The Woodland Beavers are for real! They traveled to play the defending 1A champion Montesano and came away with a 47-3 win. Whitmire did a little bit of everything to the tune of 311 all-purpose yards. He scored TDs three different way, rushing, receiving (2) and on a punt return.
DeJon Lynch, Sr. RB / Brandon Tuilaepa, Sr. RB Sumner – Lynch carried 10 times for 139 yards and two TDs, while Tuilaepa had 15 carries for 143 yards and also had two TDs. The two explosive backs combined to help give the fourth ranked Spartans a 35-6 win over Clover Park.
Kurt Calhoun, Sr. RB Zillah – The Leopards continued to roll and made a huge statement this week by blasting #3 Royal 45-14. Calhoun carried 24 times for 222 and 3 TDs (65, 1 and 2 yards). Zillah is currently the top ranked team in the 1A classification.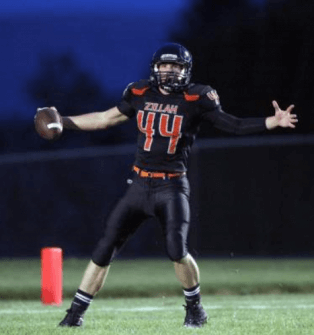 Austin Otis, Sr. RB Lake Stevens – One of the state's leading rushers went absolutely wild on Friday night leading the Vikings to a 49-13 win over Monroe. Otis broke a school record by rushing for 292 yards on 24 carries and get into the endzone 4 times. He is now over 700 yards on the season with 7 TDs.
Latrez Jones, Sr. RB / Bryce Garcia Sr. RB Meridian – The Trojans got their first win of the year by beating the Sehome Mariners 41-36. Jones carried 24 times for 148 yards and 4 TDs (4, 1, 3 and 45 yards), while Garcia finished with 22 carries, 145 yards and a five-yard TD.
Brendan Illies, Jr. QB Puyallup – In a loss to Curtis, Illies completed 21 of 38 passes for 391 yards and 5 TDs. Illies is on of the state's top junior QBs and now has 1,225 yards, 17 TDs and is completing over 57% of his passes.
Dayzel Wilson, Jr. WR Bothell – Possibly the top WR in the 2015 class, Wilson caught 7 passes for 245 yards and 2 TDs as the Cougars belted Eastlake 45-18.
Donny Ellersick, So. QB Ellensburg – In replacing the injured starter, Ellersick completed 14 of 26 passes for 252 yards and 4 TDs (7, 36, 36 and 49 yards) to lead the Bulldogs to a 51-7 win over Grandview. Ellensburg is now 4-0 and moving up in the top ten rankings.
Cooper Beucherie, Sr. RB Sultan – The Turk got a big 41-14 win over rival Granite Falls in the Black and Blue Bowl. Beucherie rushed 25 times for 257 yards and 3 TDs. The win brings Sultan to 2-0 in league play with a matchup against King's looking next week.
Cole Karstetter, Sr. RB / Jalen Hicks, Jr. ATH Ferris – Karstetter paced the Saxons with 215 yards on just 13 carries and 2 TDs (61 and 73 yards), while Hicks rushed 8 times for 78 yards and 3 TDs (10, 3 and 18 yards) as Ferris bounced back with a 42-0 win over Rogers (Spokane).
Alex Riley Sr. LB / Vinny Le, Jr. LB Auburn Riverside – The Ravens moved to 4-0 on the year with a 19-6 win over Kentlake. The defense is led by Riley who finished with 11 tackles on the night, and 28 on the season. Le who had 10 tackles the previous week, came up with 3 tackles, 2 for a loss and 2 fumble recoveries. The Ravens are playing some of the best football in school history and are on the verge of the top ten rankings.
Rama Rudolph, Jr. RB Tri-Cities Prep – Rudolph was a workhorse in a 31-24 win over Davenport when he carried 44 times for 297 yards and 3 TDs. The 5-foot 4-inch sparkplug is now at 700 yards for the season to go along with 7 TDs.
Peninsula Seahawks Offense – The Seahawks got their first win of the year with a big 52 point outburst against Mountain View. Junior QB Robert Kvinsland completed 16 of 23 passes for 298 yards and 2 TDs, one to senior WR Ian Hodge who finished with 80 yards on the night. Senior RB Avega Siolo only needed 19 carries to rush for 226 Yards and 2 TDs, while junior RB Levi Alton also chipped in with 3 TDs. Senior WR Will Hopkins was also over 100 yards receiving on the night.
Reilly Hennessey, Sr. QB Camas – The Papermakers blasted winless Lakes 49-0 with Hennessey going 11 of 17 for 279 yards and 3 TDs (75, 54 and 8 yards). The Eastern Washington commit also took off for an 8 yard TD to put Camas up 28-0 in the first quarter.
Izaiha Schwinden, Sr. RB Mount Baker – Schwinden needed only 11 carries to rush for 207 yards and 4 TDs in a 56-0 win over Cedarcrest. The Mountaineers are now 3-1 on the season.
Kylle Roberton, Sr. QB / Austin Gutierrez, Jr. WR Kamiakin – In a 42-21 win over rival Southridge, Robertson finished with 17 completions for 388 yards and 3 TDs. All three touchdowns went to Guiterrez who had 4 catches for 143 yards.